A car emergency / safety / breakdown kit is an assortment of vital supplies that are often neglected until of course, when they're needed. Some new cars come with a very basic kit, though these are limited and often need to be extended.
Car safety emergency kits come in various forms including first aid kits, breakdown kits, winter kits and European travel kits. kits can be purchased in pre-packed form and vary considerably in price from a basic package of around £15, up to around £200 for an extensive kit.
Purchasing a pre-packaged safety kit is solution ideal to some as requires very little effort other than making the purchase itself. However, some prefer to make the kit themselves simply because they already have many of the components required, or they can't find a pre-packed safety kit that covers their specific needs and intends on purchasing the items individually.
Covered in this section is what goes in a car emergency kit, the various components recommended for car first aid, breakdown, winter travel and European travel kits. Use the check lists below as a guide for how to make your own specific kit for your requirements.
How to Make a Roadside First Aid Kit
Whichever kit you intend on building, it should in part, contain a first aid section that is independently packaged as first aid, is clearly visible and easily accessible within the entire kit.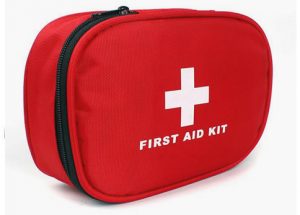 A roadside first aid kit can be used for various situations (not only related to motoring) and should contain:
Plasters in various sizes
Sterile gauze dressings from sizes small to large
Two or more sterile eye dressings
Bandages and safety pins
Disposable sterile gloves
Tweezers
Scissors
Alcohol-free cleansing wipes
Sticky tape
Antiseptic cream
Distilled water for cleaning wounds
Eye wash and eye bath
How to Make a Car Emergency Breakdown Kit
This car emergency breakdown kit should contain the above first aid kit within its own bag. This check list will assemble a basic emergency roadside breakdown kit.
High visibility vest for roadside safety
Hazard warning triangle
Foot pump with gauge in case of a puncture
Work gloves
Torch (ideally waterproof) & batteries and spares. Or a windup torch.
Small fire extinguisher
Paper towels
Bottle containing engine coolant – if your engine overheats, this can cool it down and get you going again. See what is engine coolant.
Bottle containing windscreen washer fluid – driving in muddy, wet spray from other vehicles can be hazardous if you're unable to clear your front windscreen.
Foil blanket
Also consider:
LED hazard warning light / LED flare
Tow rope
Jump leads
How to Make a Car Winter Emergency Kit
These items are to be included with the first aid kit and the emergency breakdown kit as above.
Ice scraper
Windscreen de-icer
Also consider:
Thermal blanket
Hand warmer packs
Small folding shovel
De-icing salt
Shoe grips for ice and snow
European Travel Car Kit
This European travel car kit is a legal recommendation for traveling through European Union countries. The items you are legally obliged to carry in your car depend on which country you are in at any given. If you are stopped by the police in an EU country where you are not carrying a compulsory component from the list below based on their laws, a fine will be imposed. The European travel car kit check list below will enable you to drive in all EU countries legally. If you are intending on driving to European countries, see driving in Europe for further information.
Breathalyser Kit – though this is a legal requirement only in France, there is no fine for non-compliance, so it's your choice essentially whether to pack this item.
Headlamp converters – there is a fine imposed if your vehicle has not had its headlamps converted. Please note however, some vehicles headlights are designed to work for driving on either side of the road and do not require converting. Check with your manufacturer or vehicle manual.
GB sticker –  GB Stickers are compulsory within the EU unless your UK registration plates display the GB Euro-symbol.
Warning triangle – this is compulsory to display in the event of a breakdown in the majority of EU countries.
High visibility jacket – a hi-vis jacket is compulsory to be worn in the event of a breakdown in certain EU countries.
First aid kit – a first aid kit is currently compulsory only in Austria.