There are some great new car deals out there but how can you make sure you get more from Ford than you thought you could afford?
Here are the things to do and say that will make sure you leave the new car showroom with the ideal deal on the car of your dreams.
Be prepared
Treat your car purchase like your driving test itself. To get the best deal and bag yourself a bargain, you need to do all your homework and preparation before you pull in to that forecourt.
Thoroughly research your car choices online by reading reviews covering factors such as reliability, safety, car insurance group and fuel economy. For further help on car in insurance and how to save money, see:
Make more than one visit to car showrooms and go to more than one dealer. Make it clear on each visit whether you are thinking of purchasing today or just researching. If considering a purchase today, one dealer may offer you a considerable discount compared to another. If you leave negotiating on price until the day you are ready to purchase you will make sure you have all the facts and figures at your fingertips.
Be prepared to wait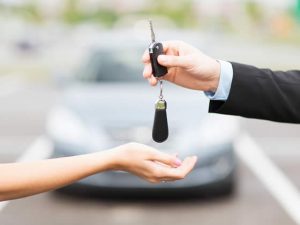 As with all consumer purchases there is seasonality to car sales and timing your purchase can help you to strike a better deal. Weekends and late nights during the week will always be busier times so if you can arrange your negotiations until a quieter time during the week you will have a better chance of a salesperson's undivided attention.
Similarly at the end of each month sales staff will be looking to close sales to reach their target and may be more amenable to reducing their commission on a single deal in order to hit their monthly budget.
In March and September the latest number plate changes can promote a surge in car sales so timing your purchase just before this can help you to choose a quiet time to negotiate a great deal.
Many new models of cars are released between July and October and new car dealers are often incentivised to clear existing models to make space for new arrivals. Keep your eye out for news of a new model coming and you may be able to purchase the existing one at a great price and get lots of extras thrown in to boot.
Keeping some things up your sleeve
If you are fortunate enough to be able to pay cash do not think that the offer of a cash payment will secure you a better price. In fact, the opposite is the case: much of a car dealer's potential profit can be built into the finance deal so focus on negotiating a price before you discuss purchase method.
Similarly leave discussing any trade-in you may have on an old car until you have negotiated your price or you risk losing sight of your original goals.
Take it one step at a time
Be clear in your negotiations and always negotiate each component of your car deal separately to make sure you get the best offer for each. Negotiate on price first, package second (extras and warranty) and anything else last. If you find the salesperson mixing together the discussion of price, package, financing, leasing and trade-in negotiations simply say you wish to finalise your agreement on price first before considering other areas.
Beware of monthly payment negotiations. They can leave it hard to lose sight of the target final price you entered the negotiation with.  A low monthly payment is not always a good deal as it could leave you paying much more before your payment term finishes.
Test drive your finance options
Part of your new car research should also be looking into how you will finance your purchase. If you need a loan it is worthwhile finding out how interest rates compare from banks and elsewhere rather than taking a reduction on the price of your car in exchange for what could be a higher interest rate on a car dealer's loan.
Once you have negotiated your price and looked at a dealer's finance options you can re-open negotiations for extras or further discount on the price if you are happy with what is on offer. All car dealers will have incentives they can share with you for securing finance deals.
Ask for extras but do not pay for extras
If negotiations on price have stalled but you still wish to drive a deal move on to extras. An extended warranty package, roadside assistance, upgraded stereo equipment, alloy wheels or air conditioning can all add value to your car, even mats and mud flaps and a full tank of fuel can be worth nearly £200.
Having said this beware of extras that are offered at the end of the deal. Things like as rustproofing, fabric protection or paint protection are largely unnecessary on a new car and can always be sourced cheaper elsewhere. Remember you have researched the car you want and are happy with it as it is.
The golden rules of getting a good deal
By all means take someone with you to help you stay focused and follow these golden rules to get a good deal.
Know what you want – do not start negotiating on price until you know exactly what you want.
Know what you want to pay – research the price of the car.
Choose your time – negotiate at the best times for securing a deal only.
Keep it simple – negotiate one thing at a time, starting with price.
Keep focused – do not get side-tracked by other areas such as financing and trade-ins or extras till you are happy with the area you are discussing.
Keep smiling – enjoy yourself and get a great deal.
Buying new car tips
Thoroughly research your car of choice before viewing. Research for reliability, repair costs, safety and other running costs such as fuels economy and servicing.
Visit a variety of dealers and showrooms for the best options and prices.
Try to time your purchase when a newer model is coming out. This way the current model is often reduced significantly in price.
If you are unable to negotiate on price satisfactorily, negotiate on extras.