Turning right at a junction can often be more challenging than turning left as you have 2 lanes of traffic to deal with. This can be especially difficult at high speed roads.
Examiners will of course have you turning right at T-junctions during the driving test and some of these junctions can be difficult. Turning right at junctions makes one of the biggest test failures. It's important to get your timing right for the turn and of course the correct procedure.
This tutorial will guide you through the correct process for turning right at junctions to help you pass the driving test.
Procedure for approaching T-junctions to turn right
If you have already been taking driving lessons, you will be familiar with the MSM routine (Mirror, signal, manoeuvre). We need to use a slightly enhanced version of this for turning right at T-junctions, called MSPSL. This is the same mirror, signal, position, speed and look procedure for turning left at a junction, with a few changes for turning right.
Locating a T-junction
Locating a junction ahead as early as possible is essential as it will give you plenty of time to think about the procedure and observation when you get there. Many driving tests are failed as a result of not identifying a junction until it's too late. You should be looking well ahead for give way signs, traffic lights and stop signs.
Quieter residential roads may have none of these signs, if this is the case you need to be driving much slower and be looking for junction lines, traffic crossing in front of you and other such observations like breaks in houses that can indicate a junction. Upon locating the junction up ahead, the MSPSL routine will need to be implemented in good time.
Mirror, signal, position, speed and look
Let's take a look at the procedure your need to learn for turning right at a junction.
Mirrors and signal
The diagram shows a car turning right at a T-junction. The car labelled 'M' is where we start by looking in the interior main mirror, followed by the right side mirror. A signal to the right is then following the mirrors. A signal is required regardless of whether there is other traffic or not.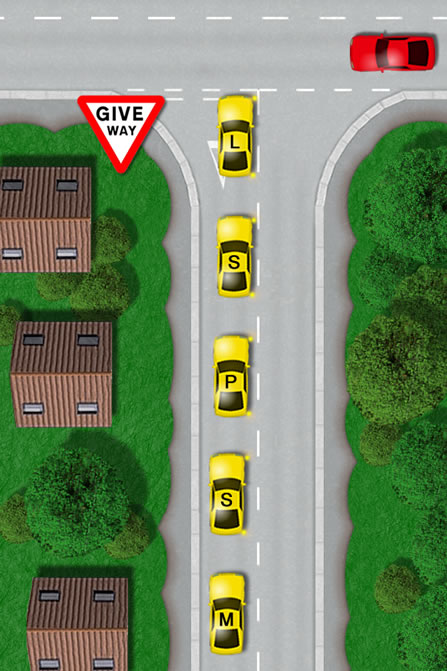 Position
For the position of your car when turning right, head over to the centre line in the road. If the road is wide enough for 2 vehicles at the junction line, position your car just left of the centre line. this will allow cars turning left to pull up to the junction line and not have to wait for you to go. If the road is wide enough for only 1 vehicle at the junction line, position your car in the centre of your side of the road as positioning too far right may make it difficult for cars turning into your road.
Speed
Turning right at a junction requires crossing 2 lanes and therefor the approach speed often needs to be slower than if you are turning left. You will need to asses if the junction is open or closed but in most cases continuously use the brake gently until you are at an appropriate speed for 1st gear, often around 5mph. If the junction is open, you may be able to slowly proceed in 1st gear without the need to stop.
Look
Look up and down the road you intend to take as early as possible to establish if it is open or closed junction and to see if it is clear to proceed without the need to stop. It's important to be looking for cyclists and pedestrians crossing as well. Remember, you need to approach a T-junction for turning right very slowly to give you plenty of time for observations. If you are not entirely sure it is safe to proceed, stop the car just before the junction line.
The driving test will involve many junctions where the examiner will ask you to turn right. There is also likely to be a busy junction so the examiner can assess your ability to judge approaching traffic. This can be difficult for learner driver to assess whether it is safe to proceed or remain stationary. To give you an idea if it is safe to proceed or not, think of yourself as a pedestrian trying to cross the road that you wish to join.
If, as a pedestrian, you feel it is safe to walk across both lanes, it is then safe for you to proceed out of the junction in your car. If you wouldn't cross as a pedestrian, then wait. It is of course better to be on the side of caution than to pull out and impede other traffic. This will fail your test for sure. Being hesitant to the extreme can on occasions fail a driving test, although not often. It's better to gain a minor or two for being slightly too hesitant than to gain a serious or even a dangerous and failing.
Turning right at a closed junction
Examiners tend to like T-junctions and turning right on the test. They may use very busy junctions or closed junctions. A closed junction is often narrow and very difficult to see into, often due to hedges, fences etc. If you are turning right at a closed junction, it is essential that you have excellent car and clutch control. Edge forward very slowly and keep looking left and right. You must be prepared to stop quickly. For an example of a closed junction, see:
Frequent mistakes at junctions
Turning right at a junction is most certainly at the top of the top 10 reasons to fail the driving test. Some of the main points to gaining minors or failing the driving test are due to inappropriate speed for the conditions and observing the junction too late. This tends to result in:
Checking mirrors and signalling too late
Braking too harshly to stop at the junction line
Coming to a stop over the junction line
Coming to a stop too early before the junction line
Lack of observation of cyclists
Not giving way to pedestrians crossing the road
Turning right at a T-junction also results in:
Bad judgement on pulling out and forcing other vehicles to slow down
Being too hesitant and taking too long to pull out
Pulling out into the road and stalling
Cyclists at junctions
If you are making a right turn at a T-junction and a cyclist in front not too far from the junction, hold back from the cyclist. Cyclists can often be unpredictable and could swing out in either direction at the last moment.
Essentially, keep behind the cyclists unless you are absolutely confident you will be able to overtake safely, in plenty of time and with ample distance from the cyclist. When turning right at a junction, beware of cyclists on the road you wish to join. They can be very difficult to see and can be hidden behind the window pillars of your car.
TUTORIALS RELATED TO JUNCTIONS