When purchasing something new, we all want a guarantee in case we're not happy or something goes wrong with it. With a guaranteed pass driving course, it is a service and not a product and as such, the exact definition of the word 'guarantee' may become a little vague as technically you cannot guarantee that anyone will pass the driving test as no driving instructor has the ability or authority to stand by this.
Let's take a look at the guaranteed pass driving course and what you get for your money. We'll also take a look at the plus and negative aspects of a guaranteed pass course and allow you to assess whether it is beneficial for you.
WHAT IS A GUARANTEED PASS DRIVING COURSE
As previously mentioned, a driving school or instructor cannot guarantee a driving test pass. The guarantee is therefore in providing sufficient knowledge and skills (driving lessons) to pass the driving test. 'Sufficient' meaning however many driving lessons necessary. Unlimited free retests aren't necessarily part of the course unless this is stipulated within the advert.
A guaranteed pass driving course is simply implying that enough driving tuition is provided until the test is passed. The driving tuition itself may be time limited, for example it has to be completed within 12 months. Having said that, many guaranteed pass driving courses do genuinely offer unlimited driving lessons and unlimited retests as part of the original cost.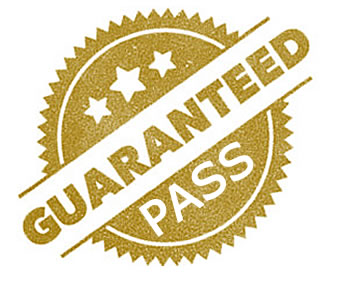 Is a guaranteed pass driving course worth it?
Any driving school or instructor is of course a business. Any business needs to make money to survive, so in reality, providing unlimited driving lessons and driving tests is counterproductive. So the guaranteed pass course is designed around pass rate statistics.
In 2012, test candidates faced around a 45% chance of passing the practical test first time. Second attempts came in at 48.2%, so statistically it's unlikely that with a guaranteed pass driving course, the school or instructor will need to pay for any more than two or three driving tests at most. If you do fail your first driving test, it's likely that consecutive free driving lessons will be kept relatively minimum before your second test attempt.
Guaranteed pass driving courses will vary significantly not only in price, but what is involved. When making inquiries about a guaranteed pass course, ensure you read the small print and be aware of:
the amount of free driving tests on offer. Is it really unlimited?
the course duration and structure. Can I take lessons when I want?
the amount of lessons on offer if I fail my first attempt
the location. Do I need to attend a specific location or do I get picked up?
the ability to secure a refund if I cancel the course with good notice
a certain percentage of my fees being refunded if I pass first time
Guaranteed pass driving course prices
Let's take a look at some figures. Guaranteed pass driving courses typically cost from between £1500 to £2000. For that, you will receive an initial 30 or 40 hours of driving lessons with a free driving test. Test failure will result in further limited driving lessons and a further free test, often limited up to three.
If you compare that to a normal driving lesson course or 30 hours, let's say 40 hours for those that need a little extra, along with a driving test is going to cost around £1000, probably a little under.
Should I take a guaranteed pass driving course or not?
One thing you are guaranteed of with this type of course, especially if it is unlimited free tests, is a good level of service and high quality driving lessons. After all, if a driving instructor doesn't provide this, they will be paying out on extra driving lessons and tests.
Ultimately whether you should invest in a guaranteed pass driving course or not really depends on the type of person you are and your abilities. If for instance you've already had a go at driving a car, you feel that you pick it up easily and are generally a confident person within this area, a guaranteed pass course is likely to cost you much more financially than normal driving lessons and intensive crash courses.
A guaranteed pass driving course for some is really more about putting a learner driver at ease than saving money. If you are inclined to stress and worry about failing a driving test and needing further driving lessons as a result, a guaranteed pass course will offer security in this area. This very fact of reducing the stress for potential future financial outlay may even go some way in helping you pass the test first time.
Some people do not pick up driving skills naturally. We are all good as some things, other things not so great. If you have had a little go at driving, find it difficult, confusing and stressful, a guaranteed pass course will likely benefit you, especially if the course offers unlimited driving lessons and unlimited free retests.
At the end of the day, you are in most cases going to pay over the odds for a guaranteed pass driving course compared to a normal course. However, as mentioned above, you aren't going to have a driving instructor taking you for a ride to get more lessons out of you and you will receive top quality tuition, as it's simply not in an instructors interest to make it last any longer than it has to.
The Driver and Vehicle Standards Agency (DVSA) may also implement new changes to the way learner drivers take driving lessons and when they can take the practical test. In the future, individuals may be required to learn to drive for a minimum of 12 months be becoming eligible to sit the practical driving test. This, if it became law, will rule out the option of intensive crash courses, whether guaranteed pass or not.
Best guaranteed pass driving course
If you are interested in taking out a guaranteed pass course, here are some tips and advice on what to look for.
Free consecutive driving lessons
The free consecutive driving lessons after a test failure is more important than the free tests. It's the driving lessons and experience gained by these that gets you through the test. Ensure that driving lessons are offered for free in the event of a test failure and are not time limited in terms of when they must be taken by.
Free driving tests
A driving school that genuinely offer free unlimited retests will likely have a good deal of confidence in their ability to get you through the test sooner than a school that offers a limited amount of free tests only. The fact of having unlimited free tests will also help to ease any anxiety you have on failing.
Time limited
Some guaranteed pass driving courses may be time limited. They may offer unlimited lessons and tests but is limited to a 12 month period for example. If your schedule is a little unpredictable then it's probably best not to go with a time limited course. You must however be willing to accept a minimum amount of driving lessons per month to keep your driving skills active.
Related information