A trainee driving instructor or Potential Driving Instructor (PDI) as referred to by the Driver and Vehicle Standards Agency (DVSA) is an individual who can legally teach people to drive for pay before they have passed all the required tests that enable them to become fully qualified.
To become a trainee driving instructor, an individual must successfully pass 2 tests. The ADI Part 1 and ADI Part 2, plus they must have received a minimum of 40 hours training towards the final ADI Part 3 test. Often regarded as the most difficult of the 3 tests, the ADI Part 3 test has around a 30% pass rate.
Although a trainee driving instructor will have passed 2 of the 3 tests and will have received 40 hours of training for the final test, a trainee driving instructor will be relatively inexperienced.
As a survey conducted by the government some 12 years ago demonstrates that a learner driver being taught by a trainee driving instructor is 25% more likely to fail the driving test, the question of whether trainee driving instructors should be permitted to teach the public could be asked.
A trainee driving instructor licence last for a maximum of 6 months and within this 6 months the instructor must attempt the ADI Part 3 test as usually only 1 trainee licence is permitted. This 6 months of training is essential to many for the successful completion of the part 3 test.
The problem lies within instructors and driving schools not disclosing information to inform learners that they are being taught by a trainee instructor who will likely have little experience within the industry.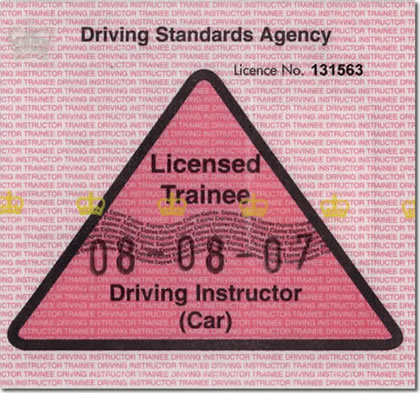 Just because an instructor is a trainee doesn't necessarily mean you're doomed to certain test failure. On the contrary, many trainee driving instructors put in a little more effort than fully qualified instructors.
The DVSA should however make learner drivers more aware that they could be taught to drive by a trainee driving instructor by perhaps provide information contained with their provisional driving licence. A learner driver can then make an informed decision on whether to take driving lessons from a trainee at perhaps a slightly reduced rate or to request a fully qualified instructor.
How do I know if a driving instructor is a trainee
A trainee driving instructor cannot run their own driving school, the must only teach under another established driving schools name. Therefor when making initial contact with the driving school, you can ask if the instructor assigned to you is a trainee or fully qualified.
Also, all driving instructors whether qualified or part-qualified must by law clearly display their licence in the front windscreen of the car whilst teaching. The licence can be removed for driving tests however. A trainee driving instructors licence is pink such as the image above, whilst a fully qualified instructor know as an Approved Driving Instructor (ADI) licence is green. Either licence must be clearly displayed in the windscreen and if no licence is displayed, do not take driving lessons with the individual.
Am I likely to fail if I use a trainee driving instructor
Not necessarily. Much of what makes a driving instructor good is their ability to interact with individuals. How they relay information and the ability to keep a learner calm and as relaxed as possible.
A fully qualified instructor will have passed all 3 tests, but may have only very recently qualified or teaches very little and may be little more experienced than a trainee. A good driving instructor possesses excellent communication skills, the ability to adopt alternative teaching methods, is calm, patient and ideally has a good few years' experience of teaching in your area.
A driving instructor isn't legally obliged to inform individuals that they are a trainee and are hardly likely to do so through fear of putting a learner off teaching with them. A simple check of their licence on display will put your mind at rest and if you do discover they are a trainee and are not too happy, perhaps ask the instructor if they are willing to offer a discount of lesson prices based on this fact.
Assessment driving lesson
If you are not familiar with a driving school or instructor that you intend on taking driving lessons with, it is important that before you book an entire course with them, that you initially take a assessment driving lesson. This assessment lesson not only allows the instructor to assess you, but for you to assess them.
It will allow you to see if you feel at ease with the instructor and that you clearly understand their teaching methods. It does of course also allow you to see if they are fully qualified or trainee.
Illegal driving instructors
It isn't illegal to teach a learner to drive without having a licence, it is however to teach a learner to drive without a licence for pay. If an instructor is requesting payment but is unable to produce either a green or pink trainee driving instructors licence then you can inform the DVSA. Driving instructors licenses should also be within the valid dates shown on the licence.
A legally licensed driving instructor not only provides you with the sound knowledge that they have undergone the appropriate tests involved, but each instructor whether qualified or trainee must undergo a CRB check. If you suspect a driving instructor is teaching illegally, you can contact the DVSA by telephone or e-mail.