The Green Card system was originally established in 1949 with two primary objectives. The Green Card system allows for easier passage of vehicles between the borders of countries that comply with the Green Card system. The Green Card system also protects the interests of victims of an accident by a foreign registered vehicle.
How to get Green Card insurance
Green Card is not in itself car insurance and offers no cover. Green Card is a document that provides proof that the minimum legal requirements of third party liability insurance are met. The minimum legal requirements are valid in all participating countries and is covered by the individuals own car insurance policy.
You may simply ask your own insurance provider to provide you with a Green Card certificate, although they have no obligation to do so. Not all countries require a Green Card, but if you intend on traveling to a country that does, you must ensure that your car insurance provider can issue you with one, find an alternative provider that can or obtain border insurance at the point of entry into the country.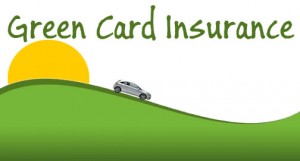 Green Card insurance Europe
It is not required that a Green Card by law is used to travel and cross borders in Europe. Each European Union country complies with the First Directive on Motor Insurance meaning each motor insurance policy issued in the EU must provide the minimum of third party liability insurance for traveling between each European Union country.
Green Card insurance countries
The Green Card document is recognised in over 40 countries and includes all counties in Europe. The table below details all Green Card countries and whether a green card is essential or not.
| Green Card countries | Green Card needed |
| --- | --- |
| Albania | Yes |
| Andorra | No |
| Austria | No |
| Belarus | Yes |
| Belgium | No |
| Bosnia and Herzegovina | Yes |
| Bulgaria | No |
| Croatia | No |
| Cyprus | No |
| Czech Republic | No |
| Denmark | No |
| Estonia | No |
| Former Yugoslav Republic of Macedonia | Yes |
| Finland | No |
| France | No |
| Germany | No |
| Greece | No |
| Hungary | No |
| Iceland | No |
| Ireland | No |
| Islamic Republic Of Iran | Yes |
| Israel | Yes |
| Italy | No |
| Latvia | No |
| Lithuania | No |
| Luxembourg | No |
| Malta | No |
| Moldova | Yes |
| Montenegro | Yes |
| Morocco | Yes |
| Netherlands | No |
| Norway | No |
| Poland | No |
| Portugal | No |
| Romania | No |
| Russia | Yes |
| Serbia | No |
| Slovak Rep | No |
| Slovenia | No |
| Spain | No |
| Sweden | No |
| Switzerland | No |
| Tunisia | Yes |
| Turkey | Yes |
| Ukraine | Yes |
Am I covered to drive in Europe
Your car insurance policy may or may not cover you to drive in European Union countries. Before doing so, read your insurance policy documentation or call your provider. If you are insured, it is highly likely that you will be covered for third party only and will need to extend this cover if third party is not sufficient.
Green Card insurance cost
Green Card insurance is an extension of your current car insurance and the cost is not for the actual Green Card document. Your car insurance policy may already cover the minimum legal requirements for Green Card and some insurance providers offer this for free for a limited time.
If your current car insurance policy does not extend to the Green Card to the extent that you wish, it's likely that you will need to upgrade your current insurance policy, which will typically incur an extra fee. Check initially your car insurance documentation to see the type of Green Card coverage your policy covers.
Should I get a Green Card
In the EU countries that do not require a Green Card to cross borders it is not necessary. By taking a Green Card however, will help to resolve any issues quicker should any arise.
OTHER TYPES OF CAR INSURANCE AND INFORMATION