Keep clear road markings are placed at areas on the highway to advise drivers to not stop or park within the two lines of the keep clear marking.
Keep clear markings are used to keep the flow of traffic resuming and can often be seen at side roads that lead off from a busy main road that typically has traffic congestion. Business or private entrances that lead off of a traffic congested road may also utilise the keep clear road markings.
Other locations that they can be utilised are areas where pedestrians frequently cross a road, but where a pedestrian crossing has not been inaugurated.
Keep clear road marking law
Keep clear road markings are advisory only. The Road Traffic Act has no legislation that can prosecute a driver for stopping on keep clear road markings although if stopping in such a location results in an accident, it may be used to reinforce evidence in court.
Other road markings such as the white zig zag road markings use legislation to enforce no parking and certain yellow zig zag lines prohibit parking or stopping within the times shown on a sign.
Keep clear road markings and the driving test
Although it's not illegal to stop on keep clear road markings, the driving examiner expects a good level of common sense and consideration to other road users from a driving test candidate.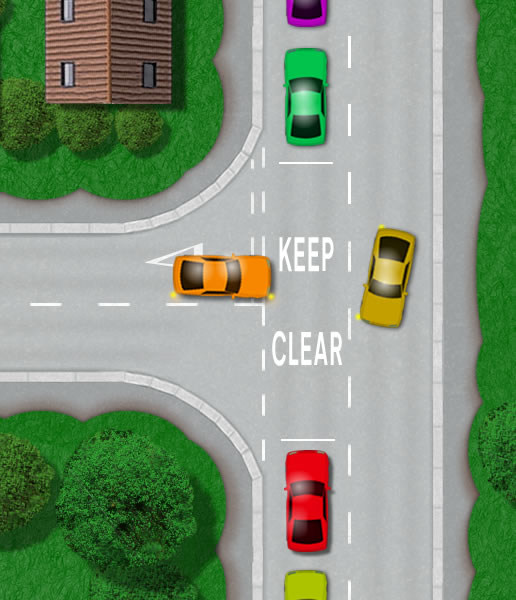 If during a driving test you stop on keep clear road markings, it really depends on the circumstances that will dictate whether the examiner will fail or pass you in this instance.
Try to avoid stopping in such areas by keeping a safe distance from the vehicle in front and by remaining vigilant for road markings. Granted, they can be difficult to see, especially if they are well worn and not clearly visible. The examiner will take this into account.
However, if you do stop in a keep clear zone and you are aware that you have done so, acknowledge this to the examiner. They will at least then be aware that you are aware of the mistake you have made rather than being completely oblivious to it.
The circumstances and the ramifications will then become the deciding factor. Generally, if your actions impede another road user, it's likely to fail your test. Or if for instance you stop in a keep clear area because you were driving too close to the vehicle in front, this alone may fail your test even if it has no effect on other vehicles.
Other types of Keep Clear Road Markings
Below are various other types of road marking that must be learnt for the theory and driving test.