This section covers the official Driver and Vehicle Standards Agency (DVSA) driving test centre pass rates for each individual UK test centre. Statistics are based on pass rates for test centres in operation between the months April 2018 through to March 2019. Each test centre's monthly pass rate statistics are listed along with the overall pass rate for that period.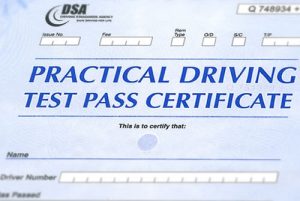 You may notice that pass rates for each test centre can vary considerably, some having very high pass rates, whilst others quite low. The pass rates for specific test centres often relate to the driving conditions around the centre. City-based test centres with busy roads and complicated traffic systems tend to how the lowest pass rates, whilst test centres located in quieter areas with less challenging test routes tend to have higher pass rates.
A test can be booked at any DVSA test centre within the UK, so if you feel that a test centre with a higher pass rate may benefit you, you can choose that centre to take your test. The test centre of your choice does not have to be the one closest to you.
Find your test centre pass rates
Use the A-Z menu to locate the practical test centre of your choice. Statistics range from April 2018 through to March 2019.
National Driving Test Centre Pass Rates
For the annual period of April 2018 through to March 2019, the total amount of practical driving tests conducted is 1,664,219. The total amount of practical driving tests passed is 761,972. The national driving test centre pass rate based on these dates is 45.8%
Driving Test Centre Top 10 Failures
Check out the top 10 driving test failures from all UK practical driving test centres combined from year 2006 through to 2019. You might be surprised to find that not an awful lot has changed over the years.
Best and Worst Driving Test Centre
Here, we'll take a look at the top 10 best and the top 10 worst driving test centres based on DVSA pass rate statistics.
FIRST TIME DRIVING TEST PASS RATES
Detailed are statistics for test candidates who passed the practical driving test first time. Data covers all UK test centres.
Automatic Driving Test Pass rates
These statistics detail male and female driving tests taken in a car with automatic transmission from between August 2016 to August 2017.
DRIVING TEST PASS RATES BY AGE
Statistics detail the age of the test candidate, the total amount of driving tests taken, the total amount of test passes and the pass rate for that age group.
Male and Female Pass Rates
Statistics covering the first time driving test pass rates for males and females.
ANNUAL DRIVING TESTS
How many driving tests taken each year for all DVSA driving test centres. Statistics include total annual tests conducted. Ever wondered who has the highest pass rate; men or women? Statistics also include overall pass rate for males, females and a total combination of all driving tests.
Driving test centre pass rates
Browsing the pass rate statistics may help you find the most difficult driving test centre, along with the easiest. Each test centre has their own particular driving test routes that involve challenging areas. Choosing a test centre with a particularly high pass rate may increase your chances of passing overall, it could be difficult as you will not be familiar with the local test routes.
Whether your test centre has a low or high pass rate, before your driving test it is recommended that you gain knowledge of the local roads and routes that you will likely take during the test. A driving test will usually include the most difficult roads and traffic systems in the area and will typically include:
Practice the particularly difficult roads and traffic systems local to the test centre to increase the chances of passing. Choosing a local good driving instructor is beneficial. They will have first-hand experience of the areas the examiner will take you during the driving test.
DRIVING TEST PASS RATES Previous Years
Detailed are the pass rate statistics for the year 2011, 2014, 2015 and 2016.