During driving lessons, a great deal of learner drivers drive very well and make few mistakes. When it comes to the driving test however, nerves suddenly play a massive part and completely change the way you drive.
Although the driving test is a realistic as it can be, the fact that nerves play such a large role, do to a certain extent make it an unrealistic scenario.
With this in mind, choosing the best driving test time is essential to give any learner the best chance of passing.
Detailed is what you can expect at the various times of day, along with the best driving test time to take your practical.
Driving test times are usually as follows: 08:10, 09:07, 10:14, 11:11, 12:38, 13:35 and 14:32. Driving test times are however dependent on each individual driving test centre and a particular centre may use a different driving test time structure.
If a driving test centre is located in an area where there is a long driving test wait time, in the summer months during periods of longer daylight, a test centre may offer later test booking times. Driving tests are conducted only during daylight hours.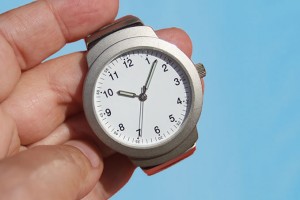 Saturday driving tests at certain test centres may also be an option. It is however optional for a driving examiner to work on Saturdays and is also dependent on there being sufficient demand for Saturday test bookings for a particular test centre. Saturday test bookings require a higher fee than weekday tests.
Saturday driving tests may be available at certain test centres all year round, for limited weeks only or not at all, as it's dependent on the aforementioned factors.
Best Time for Taking a Driving Test
Although some may say that the best time for a driving test is irrelevant as you should possess the ability to handle any situation, driving test nerves play a significant factor and so choosing an appropriate time for the test is important. The best driving test time is dependent on many factors. Initially consult your driving instructor if you have one. Your driving instructor is likely to have a thorough knowledge of the traffic situation throughout the day and will match this to your driving ability.
Early driving test
Early driving test times of 08:10 and 09:07 will see you taking your driving test during rush hour. How much of a rush hour is relative to where you live. Although you may occasionally hear that a test candidate remained stuck in traffic jams throughout the duration of their test, making it easy, is not often the case.
The examiner doesn't want to be stuck in traffic as this will not fully test your ability at driving and runs the risk of returning to the test centre late. During early driving test times, an examiner will choose driving test routes that are less likely to result in traffic queues, making the driving test run smoother and on time.
Early driving test times are more likely to encounter frantic drivers trying to get to work, parents on the school run and a higher percentage of cyclists and pedestrians. Early test times are much more likely to involve traffic queues to some degree however, and so you need to weigh up the odds of the likely hood of the 'advantage' being stuck in traffic queues and the disadvantage of competing with high volumes of frantic drivers and cyclists.
If however there are some areas within the test routes of your test centre that you are not confident on such as busy multi-lane roundabouts, these maybe disregarded during early morning rush hour tests to avoid delays.
Ideal driving test time
Probably the best driving test time is outside of rush hour. Driving test times of 10:14 and 13:35 being the ideal choice as this will also avoid the slight traffic increase that may occur during lunchtime. These test times with minimal traffic will likely see the examiner taking you over a broader amount of road types such as dual carriageways for example. Roads such as dual carriageways can often be disregarded from the test routes during rush hour due to the risk of traffic queues or accidents. Although these may be an increase the variety of roads taken during quieter times of the day, providing you are familiar and confident with test routes, the reduced amount of traffic should make 10:14 and 13:35 the best driving test times.
Late afternoon or evening driving tests
As with the early morning tests, these times may be subject to rush hour and depending on your opinion, are best avoided. The benefit of the later tests however is that during the winter season, there is a far less likelihood of the test being cancelled due to icy roads.
Friday driving test
Although driving examiners need to keep within an excepted boundary of test passes or failure for the average pass rate for a given test centre, it is a myth that examiners have a weekly quota of passes that they are allowed. You will stand just as much chance of passing the driving test on a Friday as you would a Monday. Having said that, driving examiners are closely monitored for their pass rates. See are driving tests fixed for further information.
Saturday driving test
If the area you live in is often quieter during a Saturday, it may be worth the extra expense of booking a Saturday driving test. The quieter roads are likely to increase your chances of passing.
Winter driving test
During the winter season, driving tests are frequently cancelled by the DVSA due to icy roads. Even if the main roads have been salted and are clear, driving tests incorporate back residential streets for manoeuvres as well as other aspects. Back streets are not always salted and for this reason tests get cancelled. Booking an early driving test during the winter months stands a higher risk of being cancelled than a later test. Ice often thaws out as the day goes on and is assessed on an hourly basis by the examiners, often allowing them to conduct later in the day tests.