From 14 April 2020, the driving theory test will be changing. Changes are being made to the case study which is part of the multiple-choice section of the theory test. Currently, a case study involves the test candidate reading a short story or scenario. Five questions will then be asked about the case study and the test candidate is required to answer one of the multiple choice answers available.
Changes on 14 April 2020 will see the case study changing from a written format to video. Instead of reading a case study, the test candidate will watch a video clip and at the end, answer 3 questions about it.
What is a Theory Test Case Study?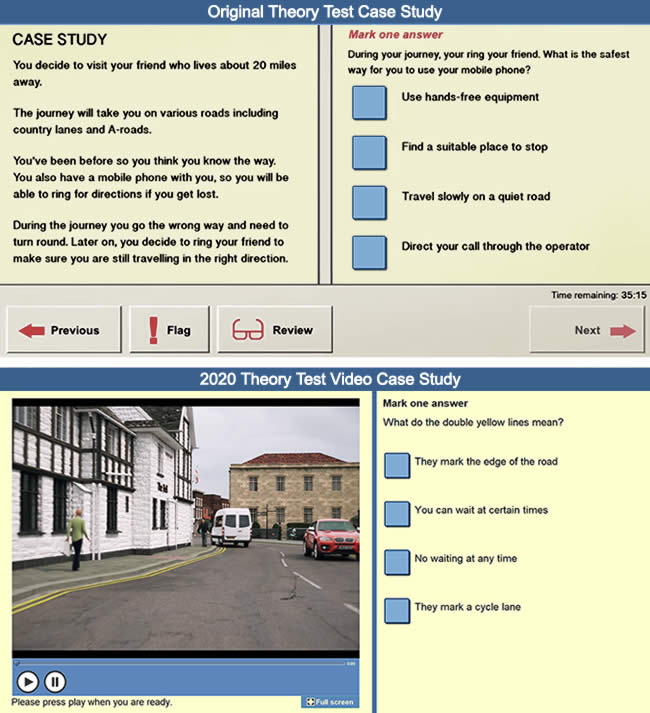 The theory test case study is part of the 50 multiple choice questions that make up the first section of the driving theory test. Case studies focus on specific events or scenarios that may potentially happen to you as a driver. After the new 2020 case study video has played through, you'll be asked three multiple-choice questions to test your knowledge.
There will be no audio to the video and you can replay the video as many times as you wish. So for example, you can watch the video, then answer a question, then watch the video again before answering the next question. On the case study video screen you'll have the option to:
play the video.
pause the video.
move to a specific part of the video on a progress bar.
watch the video using the full screen.
Why is the Theory Test Changing?
The video case study helps to represent a more realistic version of events and the changes will make the theory test more accessible, especially to people with a:
reading difficulty (such as dyslexia).
learning disability.
developmental condition (such as autism).
Is the Rest of the Theory Test the Same?
Yes, the remaining parts of the theory test are staying the same. You'll still be required to:
answer 50 multiple-choice questions within 57 minutes.
answer 43 out of the 50 questions correctly to pass the multiple-choice part of the test.
After the multiple-choice part, watch 14 video clips for the hazard perception section, where you can score up to 5 points for each developing hazard.
Theory Test Support
Theory test support and adjustments can be made for individuals that have:
reading difficulty.
disability.
health condition.
Support and adjustments to the theory test include:
additional time to take the test.
someone to read what's on the screen and record your answers.
someone to reword the questions for you.