Detailed in this section is the validity of a full and current Chinese driving licence for those who are intending on visiting, studying or coming to live in the United Kingdom.
In the UK, you must be at least 17 years of age to drive a car or motorcycle, 18 to drive a medium sized vehicle such as a vehicle between 3500gk and 7500kg with a trailer up to 750kg and 21 years of age to drive a large lorry and/or bus.
An ordinary driving licence allows you to drive cars, motorcycles and small vehicles that weight no more than 3500kg and allows for no more than 8 passenger seats. A vocational licence allows you to drive minibuses, buses and medium sized vehicles weighing over 3500kg and able to tow a trailer over 750kg.
Great Britain has arrangements with certain countries that allow for driving licence exchange agreements. These are called 'designated countries' of which Hong Kong is one of them. The rest of China is outside of the designated agreement.
Becoming Resident to Great Britain
Generally speaking, you'll be classed as UK resident if you have your main home in the UK, who have spent 6 months in the UK out of the last 12 months and has registered with a medical practitioner.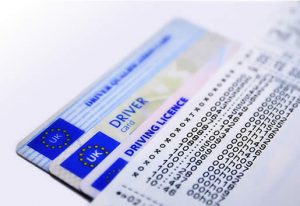 If you have become UK resident and hold a Hong Kong driving licence, you can drive in the UK for 12 months from the date of residency. Within this time, you'll need to exchange your Hong Kong licence for a UK licence. You'll have 5 years to do this.
For the rest of China (excluding Hong Kong), you can drive in the UK for 12 months only. If you wish to continue to drive, you will need to apply for a UK provisional driving licence, pass the theory test and pass the practical driving test.
Visitors to Great Britain
Visitors to Great Britain who hold a full Chinese or Hong Kong driving licence can drive within the UK for a maximum of 12 months. After this time you must stop driving and are not entitled to exchange your licence for a UK one, or take a UK driving test to obtain a UK driving licence.
Chinese Students studying in Great Britain
You can drive in Great Britain for 12 months if you've got a non-European Union (EU) driving licence or international driving permit. If you do not yet have a driving licence, or if your licence is not from a designated country, first apply for a GB provisional driving licence, then you'll need to take a theory test and practical driving test. You can apply for a full licence once you have been in Great Britain for at least 6 months.
Driving in the UK
If you are an experienced driver from China and have never driven on UK roads, it may prove beneficial to take a short refresher driving course. This will typically consist of a small amount of driving lessons to help build confidence and safety from driving on UK roads – particularly beneficial due to the UK driving on the opposite side of the road to China.
The UK practical driving has many different requirements to the Chinese test, so if you plan on taking a UK test but hold a full Chinese driving licence, refresher lessons will enable you to learn all is needed to pass.
Exchanging Hong Kong driving licence for UK driving licence
Providing you are a UK resident and hold a valid and full Hong Kong issued driving licence, you can exchange your licence for a GB licence for up to five years since you became a resident. A fee will apply. Order the D1 form from the DVLA and follow the instructions provided.