Whilst for some it may be an ideal solution to have two driving tests booked within a short time from each other in case the first is failed, unfortunately the Driving and Vehicle Standards Agency (DVSA) only permit one single practical driving test to be booked at any one time.
There isn't any work around for this because when making a driving test booking, your personal details, provisional driving licence number and theory test pass certificate number must be provided.
As your provisional driving licence must be shown to the examiner before taking the driving test, two driving tests cannot be booked.
If you attempt to book another practical driving test whilst you currently have a booking in place, the DVSA system will see that you already have a test booked and will not allow you to continue.
At certain times of year, busy driving test centres can incur long waiting times for driving tests. The waiting times can on occasions exceed 10 weeks, especially if an examiner is unable to attend due to sickness or other reasons.
Finding Short Notice Driving Tests
An option to potentially aid in finding a short notice test if you failed your first test is to look for vacant slots that become available due to other learners cancelling or rescheduling their driving test.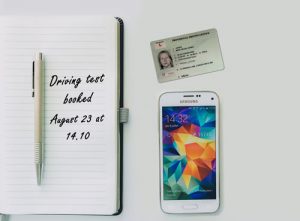 Even if you have a test already booked, you are permitted to reschedule your test free of charge to an earlier date (providing it is no less than 3 working days before your test is due) or you will lose your fee and have to pay for the new test booking.
You can book another driving test as soon as you fail, although you must wait a minimum of 10 working days before you are able to sit another test. Saturdays are classed as a working day.
Frequently asked driving test questions