A question frequently asked by learner drivers or anyone intending on taking the UK practical driving test is how many manoeuvres are there in the driving test?
Previously you would be asked by the examiner for two manoeuvres during a driving test, since the introduction of independent driving in October 2010, the current UK practical driving test usually only has a single manoeuvre that is required. Recently the driving test has changed. The independent driving part of the test (which previously lasted for around 10 minutes), now last for 20 minutes and effectively replaces one of the manoeuvres.
There are however occasional instances where two manoeuvres can still be requested although this is infrequently asked for by the examiner.
Two manoeuvres could be requested if roads are busy and congested; the examiner doesn't particularly wish to spend the duration of the driving test stuck in traffic or perhaps the examiner may feel your control of the vehicle is somewhat lacking during a manoeuvre and therefor may request another.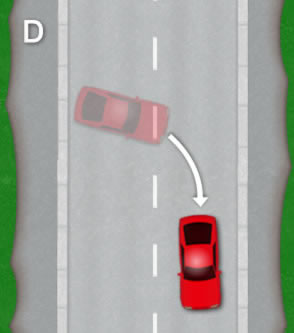 There are 4 possible manoeuvre on the driving test. Turn in the road and reverse round a corner are no longer requested by examiners. The possible 4 manoeuvres are: parallel parking, forward bay parking (driving into a bay and reversing out) reverse bay parking (reversing into a bay and driving out) and parking up on the right -(side of the road).
All manoeuvres should however be practiced until perfected as a manoeuvre completed unsuccessfully may render the entire driving test a failure.
Reverse parking or parallel parking as it is also referred to is still frequently requested although bay parking is dependent on whether a driving test centre has bay in which the manoeuvre can be performed in, or whether there is a suitable supermarket in the local area.
Another test centre close by may be used for the bay parking manoeuvre if your test centre has no parking bays. Complete tutorials for all driving test manoeuvres can be found in the driving test tutorials section.
DRIVING TEST RELATED INFORMATION