When searching for a driving school or instructor to start your driving lessons, a relatively frequent question is what are your pass rates. A driving school or instructors pass rate may to some extent be meaningless.
There is no official record that the general public have access to when looking for a driving school's pass rate, so it is essentially down to the school or instructor to keep track of their pass rates.
Some driving schools or instructors do not even keep a record of their pass rates as they see little point in doing so.
So, is it worth asking for a driving schools pass rate? Possibly, possibly not, but as there are no official statistics for the public to rely on, it's not too likely that a driving instructor is going to inform you that they have a well below the average pass rate as it's unlikely to secure them any work.
Even the Driver and Vehicle Standards Agency (DVSA) themselves do not have accurate records. When a driving instructor takes a test candidate to a driving test, the examiner records their Personal Reference Number (ADI number) off of their licence that is displayed in the front windscreen.
A driving instructor does not have to leave their licence in the windscreen during a test however and can remove it if he or she feels that a candidate is highly likely to fail. Driving instructors must legally display their licence only when they are teaching driving for pay.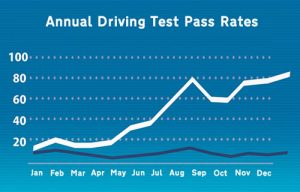 Another example of how inaccurate a driving schools pass rate can be is whether their stated pass rates are for first time driving test pass rates, second time, third etc.
So if a driving school is counting all the test passes into their pass rates, regardless of whether they passed first time or fifth time, it's likely they will have a very high pass rate indeed.
So if asking for a driving schools pass rate, ask if these statistics are for first time test passes. With all that in mind, even if you do ask for a driving schools pass rate, don't base your decision on whether to employ their services on their statistics, even if they are great. Try instead to find a driving school off of recommendations from previous learners or perhaps online reviews.
Ultimately however, before booking an entire course up with a school or instructor, take an assessment lesson. With this initial lesson, you will get a feel of the instructors teaching methods, whether you understand them clearly and if it looks like you will get along.
Other frequently asked questions