There's no rule and regulations that prevent you from printing out your own L plates and using them on your own vehicle to teach a learner driver or to use on a motorbike.
The printable L plate template can be saved and printed by saving it as an image (jpg) or by downloading and printing the printable L plate template Pdf file. Although printing your own L plates may save you money, ensure that they are secured to a vehicle in such a way that they are resistant to rain, dirt and can withstand a high level of wind resistance.
To save the printable L plate template below, click on the image to enlarge it, then right mouse click and save to a location on your system. The template image will be saved in full UK regulation size. Once saved, you can open the image in any image editing software to print the L plates. Cut out the L plates along the marked areas on the image.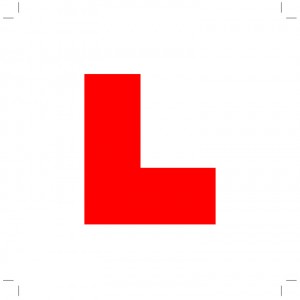 Download the L plates in PDF format
Alternatively you can download the template in Adobe PDF format. See:
Related information to L plates
The L plates information section below provides details about UK L plates and where they should be placed on your vehicle.