Becoming a driving instructor can be a rewarding career choice. The career as a driving instructor can be however be challenging, and is certainly not an ideal career choice for everyone.
Many companies claim to offer endless supplies of learners with minimal costs. Although this is sometimes the case, not all these companies live up to the expectations that they are offering. It can take a little while to find the right franchise that suites your needs and when you become established in your area, things can get a little easier by obtaining recommendations and being able to dictate the hours you wish to work. Discussed is advice, tips and the official routes needed on how to be a driving instructor.
The driving instructor training aspect, along with advice on how to find the best training and how best to avoid spending a fortune is covered in more detail in the Best driving instructor training section.
Requirements for driving instructor application
Before looking into how to be a driving instructor, you will need to have held your full UK, European Union or European Economic Area unrestricted car driving licence for a minimum of four out of the past six years before you join the register when you qualify. Within those past four years, you must not have been disqualified from driving.
It is also unlikely that your application will be accepted if you have more than 3 fixed penalty points on your licence and you are only allowed to drive vehicles with an automatic transmission due to a disability. If you feel this criteria is met satisfactorily, you can apply for an enhanced criminal record check.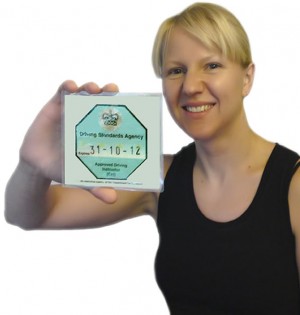 Driving instructor criminal record check
Another prerequisite of applying to become a driving instructor and registering with the Driver and Vehicle Standards Agency (DVSA) is to undertake an enhanced criminal record check. The DVSA uses the Criminal Records Bureau (CRB) to obtain criminal record checks. Before applying to become a driving instructor, the criminal record check must be completed.
Criminal checks are done via Capita Recruitment Vetting Service (CRVS). To request a disclosure application form or details of how to apply online call the CRVS Help line on telephone number 0870 850 2455. You will then receive a disclosure report and reference number. The reference number will need to be put on your potential driving instructor (PDI) application form.
Driving instructor application
Once the above has been completed, you can then start the ADI qualifying process and apply to the DVSA to become a PDI. There are 2 options available;
Driving instructor training
Now the application stage of the qualifying process is done, you can now begin to look at the training aspect of how to be a driving instructor. There are 3 tests involved in becoming fully qualified.
ADI Part 1
Largely based on the typical theory test of learner drivers, the ADI Approved driving instructor) Part 1 test involves answering 100 multiple choice questions within 90 minutes. Each four subject areas have 25 questions where 20 must be answered correctly to pass this stage of the ADI Part 1. The hazard perception element of the ADI Part 1 is again similar to the learner drivers hazard perception although harder as it requires a minimum achievement of 57 points out of 75 to pass this section of the ADI Part 1. Further information for this initial test to become a driving instructor can be found in the ADI Part 1 section.
ADI Part 2
The ADI Part 2 is a test of your driving skills and is the second test required to become a driving instructor. You will need to demonstrate safe, controlled driving whilst being courteous to other road users. The ADI Part 2 test is taken over a one hour period and will feature 3 or 4 manoeuvres compared to the learner test that features only one. The emergency stop will be required with only 6 minor driving faults allowed.
ADI Part 3
The ADI Part 3 is to test your ability to teach learners and is often the most challenging part of the qualifying process. In 2009-10, the pass rate for the test of instructional ability was only 34%. This test is divided into 2 sections each lasting 30 minutes where the examiner takes on the role of a leaner driver. The first section is teaching a novice driver and the second a more advanced. Each section has a pre-set test designated by the examiner which can be for example teaching the turn in the road. Both section must be passed by reaching a minimum score of 4 out of 6.
You have unlimited attempts to pass the ADI Part 1 and three attempts at passing the ADI Part 2 and 3. If you fail either on the third occasion, you will need to wait 2 years from the date you passed your Part 1 before you can start the whole process again.
On completion of your Part 2 exam and have received a minimum of 40 hours training for your Part 3, you will be eligible to apply for a trainee driving instructor licence often known as the 'pink' licence. This licence will entitle you to become a trainee driving instructor and teach for pay for a maximum of 6 months. Within this period you will need to take your Part 3 exam.
Useful contact information
Listed is useful contact information for taking the steps to becoming a driving instructor. The Driver and Vehicle Standards Agency (DVSA) are responsible for any issues you have regarding licensing.
Driver and Vehicle Standards Agency
Address
The Axis Building
112 Upper Parliament Street
Nottingham
NG1 6LP
DVSA telephone number: 0115 936 6666
Test booking & general enquiries: 0300 200 1122
Website address: www.direct.gov.uk
Criminal Records Bureau help line: 0870 90 90 778
Download the DVSA Guide to the Approved Driving Instructor Register (ADI 14)