In the UK, you must of course be fully qualified before you are permitted to advertise your services and begin running your own driving school. If running your own driving school is your ultimate intention, it's probably best to get started sooner rather than later.
As with every business, there's a lot of competition out there, so if you're not even at the training stage, preparation for starting your own driving school early on should make things a little easier when the time comes. Detailed here are tips and advice on how to start a driving school.
Where to Start?
The benefits of starting your own independent driving school (sole trader) are being your own boss and to a certain extent, working the hours of your choice. Over time, good driving instructors receive a good amount of work from recommendations – essentially free advertising.
Free advertising that gets results is every businesses dream and this can often be achieved via a website and a good ranking on Google. With the huge amount of competition out there, this isn't always easy and so plan your website and kick it off as soon as possible.
Why Make a Website so Soon?
New websites generally float around in no-mans land on Google and take a while to become established. With updates, good quality content and age, they become trusted and inevitably reach higher rankings on searches and the higher the ranking, the more free functioning advertising you'll get.
As a potential instructor who's yet to become qualified, you can't legally advertise your services, but that doesn't mean to say you can't start your website and publish some pages full of useful tips or anything else you can think that may be of benefit. Create your driving school name and logo and start your website as soon as possible.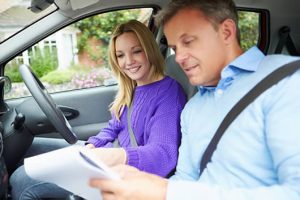 By the time you're qualified and you become independent, your website will be in a better position that will work for you. Keep adding quality content, advertise your services and you should see your website increase rankings.
Paid Advertising
Once you become qualified, if your site isn't yet in a position to gain enough referrals from Google via natural listings, you can use Google Adwords to advertise your services. By using this service, you'll shoot to the top of page one.
It's free to set up but you'll need to pay each time a visitor clicks on your site and prices range depending on the level of Adwords competition in your area that are competing for the same advertising space. The higher up page one of the results you are, the more each click costs.
Social Networking
This is another area you can start early on. Get your name out there on social networking sites, build your business name and pages, linking it to your website. Again, you can't advertise services until qualified, but it'll get you established in the system.
Facebook can work well for independent driving schools as this media is used heavily by the demographic you'll be targeting. As with your website, frequent updates and content will gain likes and will produce greater traffic over time. More traffic generally equates to more business.
Other Methods of Exposure
Once you have started your driving school and are fully qualified, it's all about getting your name out there to be seen by as many people as possible. Internet directories may put some business your way, though there's little point in doing this until you're fully qualified. Target directories that are in your specific field of work else you'll waste a lot of time. Driving Test Tips has a free driving school directory which is a good place to start.
Advertising in your local newspaper is an option. Parents (the people who usually pay for driving lessons) are your target market here as younger people tend not to read newspapers. Mixed results tend to occur from newspaper advertising due to this media being a dying trend. But if an ad is cheap, then it could be worth a try.
Leaflet dropping is great local exposure, though you must consider that many of these leaflets will not reach your target audience, in other words, someone actively looking for driving lessons. If you can print off some cheap leaflets and find someone to distribute them (such as a young family member for some extra cash), then it may be worth considering.
How to Start your Own Driving School
If you're absolutely sure you want to run your own independent driving school, then get started sooner rather than later – even if you're not yet qualified.
Choose a name for your school. Doesn't have to be catchy, but ensure it's easy to remember.
Register a domain name that best fits your company's name.
Choose a hosting package for your website (this is where it's stored). You can find a shared server that costs as little as £20 per year.
Install WordPress (it's free) and either buy a premium template (pre-made website) or there are free ones too!
Post a few pages of useful tips and advice to give your website some content. Google will index this and over time you'll start gaining in rankings, especially if you add new content.
Start a social media campaign. The best performers are Facebook and Google+. You can write about related news, changes that are happening with the DVSA and general advice. Over time you'll gain more views which equals potential customers.
You can't advertise your services until you're qualified, but the sooner you start these the more benefit you'll see when you do finally become an ADI.