At the moment, the running costs for keeping a car, legally on the road are very high, especially for young and new drivers.
With ever increasing fuel prices, taxing your car and of course car insurance which has seen a massive 40% increase over the last year, combined with extra running costs of your vehicle such as servicing, it is becoming increasingly difficult for young drivers to keep a car on the road. Unfortunately it is new or young drivers who are to blame for these large car insurance increases as they are statistically more likely to have an accident. As a result and as of late, car insurance companies have inflated the price of third party fire and theft to deter young drivers.
It is now often cheaper for new or young drivers to opt for comprehensive insurance, which comes in at a hefty price. The single most important factor on keeping costs to a minimum is to choose the best car for new and young drivers. Although the car is important, the insurance itself can often be confusing, especially when it comes to the small print. The car insurance help section offers advice on purchasing the best types of car insurance for young and new car drivers.
Young driver insurance statistics
Until recently, women generally got a better deal with car insurance as one in three young male drivers will write off a car within a year of passing the driving test. It is half as likely that a young woman will.
Speed as we all know kills. Death by dangerous driving caused by the under 20's accounts for one quarter of convictions.
A lack of driving experience would account for one quarter of driver under the age of 21 lose control of their car during an accident.
Around 250,000 drivers between the age of 17 and 20 are currently driving without car insurance.
It is the accumulation of this that has pushed up insurance premiums, especially for younger drivers. There are however many ways which can aid in keeping this costs down.
What is the best car for young or new drivers
Car insurance is separated into categories or groups. There are 50 in total, 50 being for the most powerful or expensive cars. As a young or new driver, an ideal car will fall into category 1 to 3. Cars that fall into this group will not only be the cheapest to insure, but will offer the best fuel economy.
An example of cars falling into category 1 to 3 are as follows below. Some of the vehicles in the lower insurance group may also be in higher groups if the engine size is larger and/or has extra modifications. The general rule is that the best cars for young or new drivers are small as they tend to have smaller engines.
Category group 1 –
best for young and new drivers
Vauxhall Corsa 1.0i 12V Expression 3d (2006 onwards)
Citroën C1 1000cc (from 2005 onwards)
Fiat Panda (from 2004 onwards)
Chevrolet Spark (2010 onwards)
Seat Mii (2012 onwards)
Skoda Citigo (2012 onwards)
Volkswagen Fox (2006 – 2012)
Volkswagen Up (2012 onwards)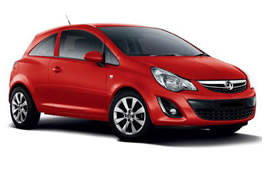 Category group 2
Citroën C3 (2002 – 2010)
Dacia Sandero (2013 onwards)
Fiat Panda 4×4 (2005 – 2010)
Fiat Qubo (2009 onwards)
Ford Ka (2009 onwards)
Nissan Pixo (from 2009 onwards)
Peugeot Partner Tepee (2008 onwards)
Skoda Fabia Hatchback (2000 – 2007)
Skoda Fabia Estate (2001 – 2007)
Smart Fortwo Coupe (2007 onwards)
Smart Fortwo Cabriolet (2007 onwards)
Toyota Aygo 1000cc (from 2005 onwards)
Toyota Yaris Hatchback 1000cc (from 2006 onwards)
Vauxhall Corsa Hatchback (2003 onwards)
Category group 3
Chrysler Ypsilon (2011 onwards)
Citroën Nemo Multispace (2009 – 2012)
Fiat Seicento (1998 – 2004)
Fiat Fiorino (2008 onwards)
Ford Fiesta (2008 onwards)
Kia Picanto (2011 onwards)
Kia Rio (2011 onwards)
Peugeot 107 1000cc (from 2005 onwards)
Peugeot Bipper Tepee (2009 onwards)
Toyota IQ (2009 onwards)
Vauxhall Adam (2012 onwards)
Vauxhall Corsa Hatchback
Volkswagen Fox (2006 – 2012)
Volkswagen Polo Hatchback (2002 – 2009)
Volkswagen Polo Hatchback (2009 onwards)
These are just examples of ideal cars for new drivers. Having small engines, these cars will be economical and will also fall into the lower road tax bracket. If you intend on getting a more powerful car soon after, make sure you get a quote as even a slightly more powerful car can make you premium increase dramatically.
Keeping the costs down for young or new drivers
If you only use your car for a limited small amount of miles, a limited mileage policy may be your best choice. Taking an advanced driving course such as the Pass Plus Scheme will increase your driving skills, make you a safer driver and many car insurance companies will offer a discount off your premium once completed. This discount can be up to 30% which is a massive saving.
It's also worth considering purchasing a diesel as a diesel engine on a like-for-like model will produce less CO2 emissions. Lower CO2 emissions will result in greatly reduced road tax premium. A diesel will also be more economical at the fuel pumps, although more expensive. It's not always cost effective to purchase a diesel, especially for those that do not cover high mileage each year. See petrol or diesel cars, which is better for further information.
Keeping your car parked off-road, ideally in a garage will go a little way to keeping your premium down as will purchasing a car with a alarm or immobilizer. Choosing a car that is only 3 – 4 years old is less likely to break down than an old model.
When you are getting a car insurance quote, ask the provider about voluntary excess. For example, if your car is involved in an accident and it is your fault, you will need to pay the voluntary excess. The higher the voluntary excess you choose, the less your insurance premium will be. A fashionable or desirable car is likely to cost more to insure as it is at a higher risk of theft.
Tips for new and young drivers
Essentially, you will need to ring-around as many insurance companies as possible. Use the car insurance comparison companies, but bear in mind that some insurance providers are not a part of the comparison companies.
Quick tips for young and new drivers
Choose a car with a small engine
Ideally it should be fitted with an alarm or immobilizer
A diesel version is likely to cost less for road tax
A diesel car is likely to be more economical than its petrol equivalent
Any modifications outside the standard specifications will cost you more
Take an advanced driving course such as Pass Plus
Consider a limited mileage policy if appropriate to your circumstances
Park your car off road or in a garage
Increase your voluntary excess
A less desirable car is likely to be cheaper to insure
Get as many quotes as possible. You will be amazed how much they all vary
Buying a new car tips
If you intend on buying a new car, read our buying a new car tips guide on how to save money.