Around 75,000 cars are stolen in the UK each year. Though this is a huge number, it's considerably less than vehicle thefts of some 15 years ago with over 300,000 vehicles stolen each year within the UK.
Cars of old often required little more than a wire coat hanger to gain access. Things have fortunately changed significantly with most vehicles coming equipped with a range of devices intended on defeating the car thief.
Reasons for car theft vary, though the professional, 'steel to order' car thief represents a particular thorn in the side for vehicle manufacturers. Stolen cars are often quickly shipped abroad or broken for parts. Either way it makes good profit for the thief who's career depends on staying one step ahead of a manufacturers anti-theft systems.
So if we're up against professionals, how are we supposed to protect our cars from theft?
Think Like a Car Thief
Having a car stolen is not only a huge inconvenience, but can cost due to the increase in motor insurance premium based on making a claim. It can also result in the loss of unprotected no claims discount.
So to make life a little harder for the car thief, we need to think like one. Most of us aren't wandering around looking for cars to take and so having the same mindset as a thief doesn't come naturally.
Unless it really is a complete wreck that you drive, then almost all cars are up for grabs and different cars are stolen for different reasons. The opportunistic joyrider will take advantage of whatever they can get, though hot hatches are their favourite. Ram-raiders tend to prefer heavy 4×4's and the professional car thief will usually opt for the high-end vehicle. See the UK's top 10 most stolen cars.
How to Prevent Car Theft
Here's some useful tips on what car thieves are looking for and that may help protect you against becoming the next victim of car theft.
1. Choose a Safe Place to Park
It's always a bonus when we manage to find some free parking, but is it secure? A quiet back-alley might be free, but it's an ideal location for a car thief to gain entry. Choosing a secure parking location such as those displaying the Park Mark Safer Parking logo significantly reduces risks.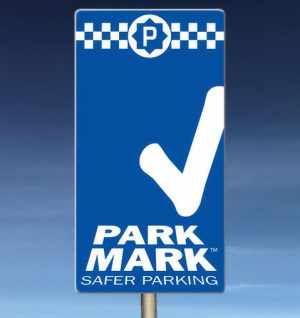 These parking locations have undergone specific assessments by police officers to ensure they meet a particular safety standard for vehicles and people. Sure there is a fee to pay, but you'll be happy in the knowledge that your vehicle is parked legally and securely. You can visit the Park Mark website to search for a parking facility.
2. Remove Personal Items
Smash-and-grab thieves walk the streets searching for vehicles that contain goods. They will avoid secure areas (see above) and are looking for personal items left in cars. One of the most common mistakes car drivers and passengers make is leaving handbags, briefcases, sat navs and mobile phones in an unattended vehicle. If you use a portable sat nav, even leaving the ring mark on the windscreen may be enough to encourage a thief to try their luck.
If possible remove items of value, or if this isn't convenient, store them in the boot so out-of-sight. keep your vehicle as tidy inside as possible – an untidy car is often a sign that goods may be contained within the vehicle and is an attractive signal to thieves. You should also consider that personal items may not be covered, or have limited cover depending on your car insurance policy.
3. Keep Your Keys Secure
Long-gone are the days of hot-wiring cars. It's almost impossible to steal a modern vehicle without either using 1, the keys for the vehicle or 2, by employing special hardware and software hacks used by some professional thieves. The latter, being a more challenging method of launching a 'career' in car theft, means most thieves opt for an attempt at obtaining the keys.
Keeping your vehicle keys safe and secure is therefore every bit as important as keeping your vehicle secure. Letterbox fishing is a popular method developed by thieves. A simple long rod with a hook on the end is sufficient to push through the letterbox to hook the keys. Vehicle owners that leave keys on a sideboard, shelf or key hangers just inside the front door are at risk. Thieves may also try the backdoor and windows that are not locked or secured.
4. Install Anti-theft Devices
Many modern vehicles come fitted with alarms. Having a car alarm is better than not, though the problem is that most people don't take any notice of them. There's not much that can prevent a professional technically adept car thief from breaking into your car – though additional security is often enough to make them avoid your vehicle and look for an easier target.
Speed is of the essence for car thieves, install devices that make your vehicle unappealing such as a steering wheel / gear stick locks, personal wheel clamps and engine immobilisers.
Other deterrents include window etching with the car registration number and vehicle identification number (VIN). If these numbers are changed by criminals, it also means they will have to replace all the glass in the vehicle, else it'll be difficult to move the car on. This is an expensive job and something they don't want to do.
Trackers present a particular deterrent to thieves – if the car is taken, the location of the vehicle is immediately reported to the police. This requires a device being fitted to your vehicle and for a third party organisation to monitor your vehicle 24/7. As such, there is an annual fee. Whatever your deice, make it known to thieves by simply having a sticker informing them that this vehicle is fitted with an alarm or tracker.
Garages are great as they keep your vehicle out of sight and out of mind. However, your average garage is pretty easy to break into. Installing a removable security post or T-bar keeps things far more secure.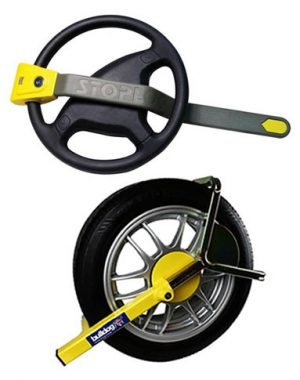 5. Turn Off and Lock Up
There are various types of car thieves, not all professional and in our busy, often stressful lives it's easy to leave our vehicle unlocked. Joyriders take advantage of drivers that do just that – unattended vehicles with the keys inside the car. This could be leaving the vehicle running whilst left on your driveway or on the forecourt of a petrol station whilst you go and pay. Thieves strike with speed and unpredictability. Always close windows and lock up regardless of how long you intend on taking.
There has been a recent rise in car thefts during the winter months. Thieves have been targeting unattended vehicles left on roadsides or driveways where owners leave the car running to warm up and defrost windows. Though it's far more pleasant to enter a warm, thawed out car, insurance companies may offer significantly reduced compensation for stolen vehicles having been left unattended with the keys in the ignition.
6. Start Up and Lock Up
As mentioned above, unless professional, your average car thief cannot take your car without the keys. For this reason, certain thieves have taken to carjacking. This simply involves the thief approaching your vehicle when you are stationary waiting at traffic lights for example. They will open your door and instruct you to exit the vehicle – often accompanied by an offence weapon.
The thief wants only your vehicle, so if you are unfortunate enough to find yourself in this situation, avoid a struggle and exit the vehicle. You're unlikely to be harmed.
However, preventing access for the thief is of course preferable and simply ensuring all vehicle doors are locked before driving off will do just that. As said, speed is always of the essence to car thieves and a locked door presents too much time / risk for them. Some modern vehicles have an auto door locking system which operates as you drive away.
7. Park in Well Lit Areas
Thieves tend to prefer to operate under the cover of darkness. If parking your vehicle at night, choose an area that is well lit. However, this can be an issue in certain locations where councils make savings by switching street lighting off at midnight. An increased deterrent for thieves and vandals is to park in an area which is overlooked by houses where residents could report crime.
Conclusion
Car crimes are often spontaneous, happen very quickly and catch the victim off guard. They want quick and simple, so taking a few simple precautions such as those detailed above can often be enough to deter a thief.