Buying a quality used car is a great way of saving money compared to depreciation value of brand new cars.
Buying a used car can however be fraught with problems if you have little or no experience in what you should be looking for. This used car buying guide looks at 5 basic processes before making the purchase.
These are deciding whether to purchase from a private or trade dealer, the running costs of the car you have in mind to purchase, used car security checks, car bodywork condition and signs of damage and the engine and other mechanical parts.
This used car buying guide will aid novice car buyers, or those with little experience in purchasing used cars by providing knowledge before their purchase.
Buying a used car from private or trade
There are benefits to buying a used car privately and from a trader. A like-for-like make and model is likely to be cheaper from a private seller. It is highly unlikely that a private seller will offer any form of warranty as cars are usually driven away on a 'bought as seen' basis.
A trade seller on the other hand will in most cases offer some form of warranty. Usually in the form of mechanical and often covers the car for 3 or more months.
A car dealer should abide by the Sale of Goods Act and if there's a failure to abide by a contract, it's much easier to seek compensation. You could be covered in other areas too. If paying by credit card and the dealer is not complying with the terms of contract, compensation may be sought from the credit card company. Buying a used car from either a private seller or trade dealer is generally a choice between saving money or security.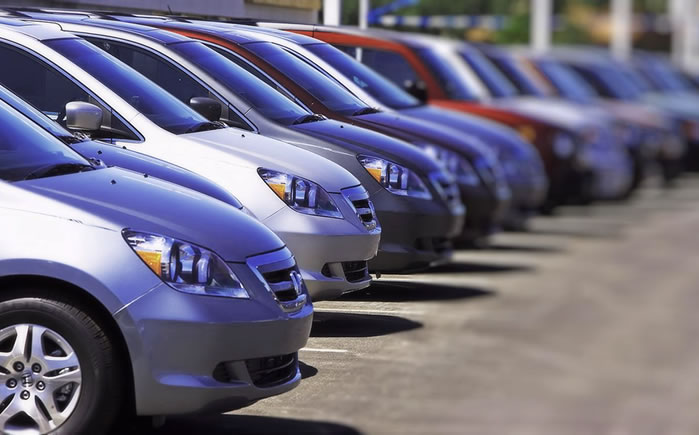 Used car running costs
You will probably have an idea of the type of car you would like to purchase. Before doing so, get an idea of the total running costs before purchasing.
Get at least 3 insurance quotes, to include websites that compare multiple providers. See tips for reducing car insurance for further advice on reducing car insurance.
Calculate the annual cost of the vehicles tax by visiting here
Search for car MPG calculator web sites to estimate the cost of fuel for the car.
Look at the cost of tyre replacement.
Get a quote for servicing and also ask if this particular make of vehicle is expensive on repairs. Older cars that rely heavily on electronics and computers can potentially be costly if things start to go wrong.
Used car security checks
Before viewing a second hand car, some security checks can help to verify that the car is genuine. Before going to see the vehicle, ask the seller for:
Vehicle registration number
Vehicle make and model
Expiry date of the tax disc
MOT test number (if applicable)
Further checks
Ensure you have the cars registration number and make of vehicle at hand and visit this DirectGov web site. This free service will allow you to see the:
Manufacture year of the used car
Date it was first registered
The engine capacity
Colour
Expiry date of the current tax disc or if it has been declared SORN
Vehicle excise duty rate
The results
The results provided should of course match with the car in question and with what the current keeper is claiming. There are various other services that can provide a more in-depth report on a vehicle for a small fee. These checks can include:
Insurance write-off and accident damage
Mileage history
Outstanding finance
Chassis number
Scrapped
Number of previous owners
These services can easily be found by conducting a web search and is an essential first step towards purchasing a used car and peace of mind.
MOT status
Cars older than 3 years must hold a valid MOT certificate for legal use on public roads. Check the MOT status of the vehicle to ensure it has a genuine current MOT certificate. This DirectGov link will allow you to check a vehicles:
MOT test date
The odometer reading (vehicles mileage)
MOT expiry date
What you need
This service only allows you to check MOT status from 2005 which is when MOT's were computerised. To use this service, you will need the vehicles registration number and one of the following:
MOT test number from the VT20 test certificate or VT30 refusal certificate
V5C registration reference number
Making arrangements to view the vehicle
Arrange to view the car in daylight and at the sellers home, not in a public place. If the seller is the registered keeper of the vehicle, does the address you are viewing the vehicle at match that on the V5C registration documents?
Vehicle inspection
Used car bodywork inspection check
Take your time when inspecting the cars bodywork and take with you some, or ideally all of the following items:
A pen and our used car checklist forms to help you remember what to look for
A music CD
Small magnet to help detect car body filler
Car paint thickness gauge
Look at the paintwork
Initially when conducting an inspection, look at the paintwork. The car should be the same colour as reported in your security checks. If not, ask why. If the paintwork looks new or you suspect that it has been resprayed, look for signs of a respray. A respray may indicate that the car has been involved in an accident or could be covering rust. A car that has been in a bad accident usually has issues at a later date and covered rust resurfaces at some point. You may find indications of overspray:
Under the wheel arches
Inside door posts
Between car body panels
The bodywork
A car paint thickness gauge can be purchased relatively cheaply. These devices Are simple to use and can detect an area of the car that has been resprayed (has thicker paint) or contains body filler (been in some form of accident or used to fill rust holes). Use the magnet to gently stick to areas where rust is common. Most common areas are around wheel arches, lower door panels and other areas that the vehicle is in contact with water more frequently.
The magnet will not stick if body filler is under the paintwork. Open the doors and look along the lower rim for signs of rust. Now look at the body panels of the car. All the gaps between the panels should be the same width throughout the length of the panel. Misaligned panels can be an indication of an accident. Stand at either the front or rear of the car and look along the side, ensuring your head is the same height as the side of the car. All lines and panels of the car should be flush and straight. Any misaligned panels or ripples in the body work can be an indication of an accident.
Windscreen
Check the windscreen thoroughly. Any cracks or chips can spread and a crack or chip on the driver's side can fail an MOT.
Lights
Check front and rear light covers for any cracks or chips. Chipped or cracked front headlight can fail an MOT and on certain models of vehicles can be expensive to replace.
Wipers
Check front and rear wipers for signs of corrosion and excessive wear.
Car tyres
Look at the condition of the tyres. Check for cuts and bulges, how much tread they have left and look for signs of uneven wear. The tyre legal limit check section can provide further information for legal tyre checks and wear.
Used car interior check
Check the condition of the interior for any tears, holes or stains in the fabrics. If floor mats are present, look under for signs of wear or damage. Ensure all seat belts work correctly and that there are no tears or damage in the ribbon. Check all interior lights are working. Open the boot of the car, check condition and ensure the spare tyre is present along with the jack and wheel wrench.
Electrics
Test all electric windows, sunroof and locks. Test the windshield washer and wipers front and rear. Check heating and air conditioning unit if applicable. Faulty air conditioning units can be expensive to repair. Turn on ignition and turn on all light and hazard lights, walk around vehicle to ensure all are working. Test any other electrical features the car might have and of course the car stereo and the CD player.
Used car engine check
Ask to see the car service history. An engine that does not have regular oil changes often tends not to last as long. Other than the car service records, there are some indications on how well that car engine has been maintained. The engines general appearance should be clean, free from spilt or burnt oil. Check the engine coolant reservoir to ensure the fluid is clean and the reservoir is free from a build-up of deposits. See what is engine coolant for a guide on how engine coolant works and how to check coolant levels. Ensure battery terminals are clean.
Check engine dipstick for engine oil levels and to ensure oil is clean. Gritty black deposits on the dipstick may indicate a badly maintained engine. See how to check engine oil for a complete in-depth guide on checking your car's engine oil and topping up. Remove the oil filler cap on top of the engine and inspect the underside of the lid. Thick build-up of deposits may again indicate a poorly maintained engine.
Start the car and check for any smoke that is emitted from the exhaust, although this is not always a cause for concern. White smoke is often water residue being burnt off from the exhaust. Blue smoke emitted from the exhaust upon start up can indicate leaking valve seals which are allowing oil to enter the firing chambers and can be costly to repair. Ensure the car is started from cold and listen to the engine once started. Any excessive rattles or tapping may be cause for concern. Ensure all engine management lights on the car dashboard are no longer illuminated.
Test driving a used car
Initially check the handbrake and the clutch if it's manual transmission. Before moving off, ensure the handbrake is on and select first gear. Now find the biting point, continue to raise the clutch very slowly until the car is just about to stall. Don't worry if the car does stall, this is a good sign. If the car moves forward with the handbrake fully applied, this is a sign the handbrake is worn or damaged or the rear drum brakes are worn and not securing the car. If the car remains still but the engine continues to rev and shows little sign of stalling, this is a sign the clutch is highly worn and slipping. A new clutch can be a costly procedure.
Slowly move the car off and gently steer to the left and right to ensure power steering is working correctly. Steering should be easy to move with no mechanical noises whilst steering. Ensure as you are driving that the gears change smoothly, easily and without and grating. In a safe area, accelerate quite harshly, check rear view mirror for signs of smoke.
If possible drive on various road types. Bumpy uneven roads will signify any rattles or noises that shouldn't be there. Also take the car on a faster 60 or 70 mph stretch of road to test how the car handles under speed. Look out for vibrations and if the car pulls in one direction. It may be worth checking out the sellers location on maps before testing the car to locate varied roads when test driving. Don't be afraid to put the car through its paces. Keep it safe of course, but push the car to find any weaknesses.
Deciding whether to buy the car
This of course depends on whether you have gotten as far as a test drive and what notes if any you have made on the check lists. If you have made notes on the check list forms that aren't so significant to make you walk away, you can use these to bargain the price down or if purchasing from a car dealer, ensure the faults are rectified before finalising payment. If you would like to secure the car from a dealer with a deposit, before signing any contract, ensure they draft up an agreement stating they will fix the faults before the car is taken away. Ensure the agreement is signed for.
Tips for buying a used car
If you are considering purchasing a second hand car, it's always a worry that you may be buying a piece of junk that's going to be constantly in the repair garage. An ideal situation is if you happen to know a good mechanic who is willing to come along with you to take a look. The mechanic will of course know exactly what to look and check for, making your decisions a little easier. An option is also to inquire at a garage and ask if a mechanic is willing to accompany you to check the vehicle over for a fee. Failing that, this buying a used car guide should offer enough tips for anyone with little or no mechanical knowledge enough advice for what to look for and what to test whilst looking at buying a used car.
Vehicle inspection services
Another option is to purchase a vehicle inspection service. A vehicle inspection service provides you with a qualified technician who will travel to the location of the used car, in which it will undergo a series of safety, electrical and mechanical tests. The results are then forwarded to yourself, usually within the same day. The report can offer impartial advice on whether the vehicle should be purchased. Vehicle inspection services do of course come at a price, but for those with little or no knowledge at purchasing a used car, this service can offer peace of mind.
Haggling
Whether you have used a mechanic, a vehicle inspection service or have inspected the vehicle yourself, use any faults you have found to haggle the price down. Even superficial faults such as slight scratches on the paintwork or a small stain on a seat fabric can be used in the haggling process. Start off much lower than the asking price, the more faults you have found, the lower you start and bring all the faults the sellers attention. Ensure you remember them all by taking notes. The seller will naturally keep raising the price, but taking all faults into consideration, a satisfactory price will hopefully be settled on.
Used car checklist
Print the used car checklist sheet Pdf below to help you remember what to look for when viewing a used car and make any notes on faults that may be found.