If you are intending to drive on the continent, chances are your first stop will be France.
If you have no experience at driving in France, and you intend on taking your own vehicle, you will initially need to decide on the most appropriate method for you to cross the English Channel. You will of course have the option of the channel tunnel or ferry to France.
Other than issues such as ferry / sea sickness determining the outcome of your choice, the deciding option is usually determined by the importance of either the costs or time it takes to cross the channel. Advantages of the Eurotunnel compared to ferry is speed and frequency of departures.
Starting off in Folkestone, Kent, your journey will take you on car shuttle trains under the channel tunnel exiting at Sangatte in Calais all in around 35 minutes.
Other benefits of taking the Eurotunnel are no fuel supplements, or luggage restrictions. There are also plenty of departures at three per hour at peak times.
The benefits of using a ferry to cross the English channel is generally cost. Prices can be that of around one third compared to Eurotunnel although they vary. Those that enjoy sea travel can find the ferry crossing to France a preferred method of travel although slower.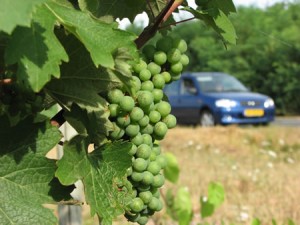 Disadvantages often time related can take around one hour longer for similar destination. Bad weather can see a significant increase in arrival times and in severe weather conditions, ferries may be cancelled.
There are however many regular ferry links from many UK ports that visit various European destinations.
Legal and recommended requirements for driving in France
Exploring France by car offers the freedom to go where you want, when you want, to take in the scenery and visit famous locations at your convenience. Once you have decided on the best method in getting yourselves and your vehicle over to France, it is of course essential to make sure you're legal and follow the French rules of the road.
Valid passport
You must take a valid passport if you intend on crossing the English Channel by ferry or via Eurotunnel. Customs officials will check your passport prior to departure. All children who are not already included on a current valid British passport will need to hold their own passport if they are to travel abroad.
Minimum age driving in France
Upon passing the driving test you are legally permitted to drive solo at the age of 17 in the UK, but the minimum age for driving in France is 18 years of age.
Driving in France with a UK licence
You will need to take along your full, valid UK driving licence, both the photo ID card and the paper counterpart. You are not permitted to drive in France on a provisional driving licence as these documents are national and do not allow the issued licence holder to drive outside of the territory it was issued. If you still hold the old-style paper driving licence, although this is acceptable, you must carry with you photo ID at all times. It is advisable to apply for the new photo ID licence before traveling.
Vehicle documents
As in the UK, it is a legal requirement to keep your vehicle insured whilst driving on public roads. It's advisable to take proof of vehicle insurance should any complications arise. Your UK motor insurance should cover you whilst driving in France although this may be the bare minimum legal requirement. If you are not entirely sure how your current insurance covers you within the European Union (EU), contact your provider to make any upgrades if necessary. For driving outside of the EU, a Green Card proves that your car insurance coverage meets the minimum legal requirements for that country. Ask your insurance provider if they can issues you with a Green card. See Green Card car insurance for further information. The V5 log book document shows proof of the registered keeper of the vehicle. ensure this is kept up to date with your correct details shown. Take also a valid MOT certificate if applicable. See when do I need an MOT for further information on when a vehicle legally needs an MOT and the legal issues of driving without one.
Compulsory equipment
Reflective jacket and warning triangle
It is compulsory for drivers in France to carry with them a reflective jacket and warning triangle in case of breakdown or accident. Failure to carry such equipment may result in a 90 euro fine. The warning triangle should to be placed at a distance of 100 metres from the car on motorways and 30 metres on other roads.
Headlight converters
UK vehicles are by default designed for driving on the left with headlights that are positioned so not to dazzle oncoming drivers. Headlights must be either professionally altered or converter kits purchased so not to dazzle drivers in France or any other country that drives on the right. Authorities may impose a fine on motorists who have not had their headlights adjusted.
Speed camera detectors in France
Although it is still currently legal in the UK to use speed camera detectors, it is prohibited in France and if caught can see you hit with a fine of up to €1,500. Any device that is capable of detecting speed enforcement cameras such as GPS or Sat Nav systems are illegal in France from January 2012. Along with high fines, French authorities also have the power to confiscate any offending equipment. If using a Sat Nav whilst driving in France, disable the option to detect speed cameras. The device manufacturer may also provide a free software update that removes the function for detecting speed cameras.
Seat belts and children
Just as in the UK, it is a legal requirement to wear seat belts, both front and rear when driving in France. French rules make it illegal for children under the age of 10 to ride in the front of the vehicle. Children under the age of 10 must be seated at the rear and those under the weight of 15kg must be seated in a child seat.
| Driving in France checklist | Compulsory | Recommended |
| --- | --- | --- |
| Minimum driving age | 18 | |
| Passport | | |
| Full national driving licence (1) | | |
| Original vehicle registration document (V5) | | |
| Valid vehicle insurance | | |
| GB sticker (2) | | |
| Warning triangle | | |
| Reflective (high visibility) jacket (3) | | |
| Headlight adjustment | | |
| Breathalyser | | |
| First aid kit | | |
| Fire extinguisher | | |
| Spare bulb and fuse sets | | |
| Spare car keys | | |
| Tyre inspection and vehicle service | | |
| European Health Insurance Card (4) | | |
| Travel medical insurance | | |
| European breakdown cover | | |
See numbers on table above
Must be a full driving licence, not a provisional. Both parts, the photo card and paper counterpart. If you do not hold the new style of driving licence, the old style must be accompanied by photo ID such as a passport.
A GB sticker must be displayed on the back of your car, unless your vehicle has European registration plates, or 'Europlates' that already display this information.
A reflective high visibility jacket must be within reach of the driver without having to exit the vehicle.
A European Health Insurance Card (EHIC) allows you to get state healthcare at a reduced cost and sometimes for free. Although a EHIC offers many benefits, it's not an alternative to travel medical insurance.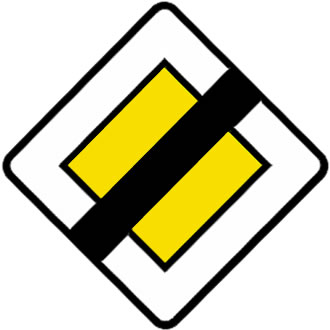 French road signs
You will of course need to get accustomed to driving on the right in France, but other than this, many of the rules for driving in France are very similar to those in the UK. There are a few exceptions however, most notably the French yellow diamond road signs. These can cause confusion to motorists, especially tourists who are not too familiar with the regulations.
Essentially the yellow diamond without a cross going through it means you have priority. So you are traveling down the high street and vehicles emerging from side roads need to give way to you, just like in the UK. However, if you see the yellow diamond with a cross going through it, you need to give way to vehicles emerging from a side road on the right.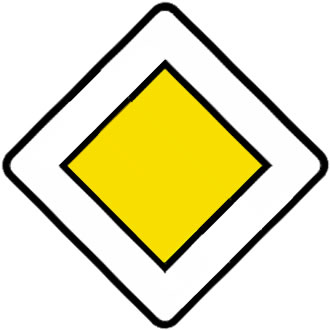 Typically the 'Priorité à Droite' – give priority to traffic on the right – signs are located when entering towns and villages. Exiting towns and villages you will see the yellow diamond road sign without a cross meaning 'normal' driving rules resume where other vehicles need to give way to you.
Motorists should of course always remain vigilant at all times for all road signs, but be particularly careful for the yellow diamond as the rules change significantly. Also worthy of note are the signs displaying the name of the town as you enter it.
These are typical in the UK except in France these name signs have red borders. As well as informing you of the name of the town or village, it also signifies an urban speed limit. Exiting a town, displayed will be the town name sign with a red cross going through it, signifying the end of the speed limit.
Driving in France tips
Driving on the right
If you have never driven outside of the UK, once you have crossed the English Channel, you will need to drive on the right. Driving on the right in France for the first time can be intimidating and takes a little preparation and practice. Read out tips for driving on the right to prepare yourself.
Take an old fashioned map
A Sat Nav provides an excellent navigation aid. They do occasionally get a little lost themselves however. Take along an up-to-date map of France as an extra aid should any difficulties arise.
European Health Insurance Card
Many of us take our health for granted and if something goes wrong, especially in a foreign country, it's wise to be prepared. The European Health Insurance Card (EHIC) provides UK residents with state healthcare in all European Economic Area (EAA) countries at a reduced cost or sometimes for free. Each countries state healthcare is different however and so an EHIC shouldn't be taken as a replacement of travel insurance.
Medical / travel insurance
Full medical / travel insurance is an important option to consider as it may provide more extensive cover than the state healthcare available in France. As an example, an EHIC will not cover flights back to the UK if applicable.
Breakdown cover
If your car breaks down it's a huge inconvenient and stressful situation. If it breaks down in a foreign country, the potential problems can become even greater. European breakdown cover is essential in such circumstances.
French speed limits
French speed limit signs are displayed in km/h unlike the UK speed limit signs that are displayed in mph. French speed limits are also reduced by law when the road surface is wet. Be cautious not to exceed the speed limit in France as penalties are typically harsher than those in the UK. French authorities often deploy mobile speed detector units along with fixed speed detectors cameras that are concealed (unlike those found in the UK). It's also an offence met with harsh penalties if caught to use any equipment that can detect speed enforcement cameras.
| Type of Road | Max. Speed (Dry Roads) | Max. Speed (Wet Roads) |
| --- | --- | --- |
| Motorway | 130km/h (80mph) | 110km/h (68mph) |
| Dual carriageways and roads with a central reservation | 110km/h (68mph) | 100km/h (62mph) |
| Other roads | 90km/h (55mph) | 80km/h (50mph) |
| Built up areas | 50km/h (30mph) | 50km/h (30mph) |
Petrol and diesel
Unleaded petrol is usually a little more expensive in France compared to the UK, although diesel is almost always cheaper. Driving throughout France may see you using a considerable amount of motorways unless your intention is to see the countryside and local villages. Fuel prices on motorways are significantly higher than those found in towns and especially supermarkets. Be aware that some unmanned automatic fuel pumps where you pay at the pump will only accept French credit cards, so if possible, have cash alternative available.
Motorway tolls in France
There are many motorway tolls in France and many of them can be hugely expensive. Prices vary from around 8 Euro to over 70 Euro. Prices vary throughout the year and increase over time. Upon entering a motorway, a signs displaying the word 'Péage' meaning 'toll' informs you that the motorway you are entering requires a toll payment. Although it may seem obvious to avoid paying French motorway tolls by avoiding the motorways, journey times are likely to be significantly increased, even with the use of a Sat Nav.
Guides RELATED TO France and Europe