Most of us have seen them – drivers sitting in their car waiting whilst keeping the engine running. Are the drivers cold and have the heater on or perhaps they're hot and are using the air con?
Who knows, but what ever the weather, there's always those that simply can't be bothered to turn the engine off. It seems particularly those of diesel engines that appear unable to find the off switch, with their loud clattering engine kicking out a stink to anyone walking past.
So why do drivers of diesel cars keep the engine running? There are some theories from letting the turbo idle so to cool down; allowing oil to circulate in the engine; or indeed to save wear on the glow plugs or starter motor.
Essentially though, it's all nonsense. It's annoying for pedestrians walking through this wall of toxic stench, for residents dealing with noise and pollution and it's not too great for the environment either.
Modern engines whether diesel or petrol are perfectly capable of being turned off immediately after stopping without any damage occurring. In fact most modern vehicles now come with start / stop technology to reduce fuel consumption and CO2 emissions. But what about the legalities of not turning off?
Is it Illegal to Sit in Car with Engine Running?
On a public road, it indeed is illegal to sit in your car whilst keeping the engine running within the UK. The Highway Code states:
'You MUST NOT leave a parked vehicle unattended with the engine running or leave a vehicle engine running unnecessarily while that vehicle is stationary on a public road'. Generally, if the vehicle is stationary and is likely to remain so for more than a couple of minutes, you should apply the parking brake and switch off the engine to reduce emissions and noise pollution.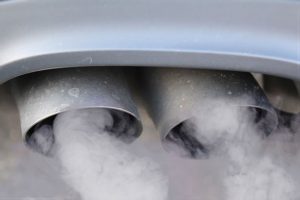 However it is permissible to leave the engine running if the vehicle is stationary in traffic or for diagnosing faults.'
Is There a Fine?
A fixed penalty notice under Road Traffic (Vehicle Emissions) Regulations 2002 of £20 can be issued by Parking Enforcement Officer (Traffic Warden). This can rise to £40 if it is not paid within the time specified on the penalty notice. Fixed penalty notices are dealt with via local councils.
Are There any Exemptions?
A Parking Enforcement Officer should use discretion and will in the first instance, will ask the driver to turn off their engine. If refused, the officer may issue a penalty notice. This legislation covers all vehicles on public roads including buses, taxis and private cars.
This law does not apply to vehicles traveling in slow moving traffic due to congestion; vehicles stopped at traffic lights; vehicles that are undergoing repair or being tested and where a vehicle engine is on to defrost a windscreen.
Does it Use More Fuel to Keep Restarting?
As modern engines become more emission and fuel efficient, restarting uses less fuel. Roughly every 10 minutes of vehicle idling costs at least one-tenth of a litre in wasted fuel.
Is This a Reasonable Law?
Air pollution, particularly in cities can affect the health of many. Exhaust emissions contain a range of air pollutants such as carbon monoxide, nitrogen dioxide, hydrocarbons and particulate matter.
Whilst emissions from stationary vehicles represent a small contributor to the overall levels of air pollution, they can be of concern to individuals with health concerns such as asthma and other respiratory conditions.
How do I Remain Within the Law?
There's no specific guide, more common sense. If you are waiting and parked in your vehicle for 30 seconds or more, turn off your engine.