Learning to drive is often highly expensive, stressful and time consuming. Finding a good driving school can reduce overall cost, reduce stress and the amount of lessons required.
Of course each individual has their own ability for learning to drive. The costs and amount of driving lessons required is not only due to the learner's own ability, but also due to how good the driving school is that will be teaching you.
There are many driving schools to choose from. They vary from national or local driving schools, to independent driving instructors and separating the good from the bad can be difficult when you're not sure what to look for.
This section will provide useful tips and advice on how to find a good driving school, along with the type of questions you need to ask the driving instructor before committing to a course or making payment upfront.
Ask Around and Look for Reviews
As with any goods or services we purchase, we tend to search for reviews to help us decide. Here's where to start:
Search the internet for driving schools that cover your area and take particular note of those that have good reviews.
Ask friends or family members for recommendations.
Many driving schools have a social media presence. Once you have a few schools in mind, search for them on social media to check for positive or negative comments.
Driving School Specialisms
You'll often find that driving schools advertise certain areas of expertise and this can be important when compiling a list possible driving schools.
No one wants a grumpy driving instructor. Make note of driving schools that mention 'good with very nervous learners' or 'nervous learners welcome'. This usually translates to a patient driving instructor.
Other specialisms may include good with older drivers.
Intensive courses.
Experienced.
Reliable and punctual.
Questions to ask a driving school
With a little research, you should have compiled a list of driving schools that require a little further investigating. To further narrow your decision, you now need to contact the school and ask specific questions to determine whether they're the best driving school to fit your needs. Here are some important questions to consider asking a driving school: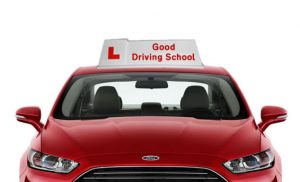 1. Are you fully qualified?
There are essentially two types of driving instructor. These are:
A potential driving instructor (PDI) is a instructor in training. They are registered with the Driver and Vehicle Standards Agency (DVSA), have undergone a basic level of training and passed a criminal record check in order to receive a trainee licence. They can only teach under a fully qualified driving school or instructor. A PDI must display a pink licence in the windscreen.
A fully qualified, or approved driving instructor (ADI) has passed all three tests and can teach under their own driving school name. An ADI must display a green licence in the windscreen.

You may choose to learn with a PDI but you will of course be getting less experience for your money. To counter this, a PDI should ideally be offering reduced fees. A good driving instructor will always adapt their teaching methods to each individual learner. A PDI may struggle with this due to their inexperience.
Choosing an ADI offers you the security that they have undergone and passed all DVSA exams. This doesn't necessarily mean they have extensive experience or that they are a particularly good instructor.
Important
Always check to ensure a driving instructor holds a valid licence. If an individual offers to teach you to drive for payment, this is illegal and should be reported to the DVSA.
You can also check with the DVSA to search for an approved driving instructor. This will ensure that a driving instructor is qualified and has undertaken all necessary DBS checks (previously known as CRB checks). The search will also highlight whether an instructor is committed to the voluntary Continuing Professional Development (CPD) scheme and if the instructor has agreed to abide by the ADI Code of Practice. You'll also be able to see the current grade of a driving instructor.
2. How Long Have You Been A driving Instructor?
All driving instructors have lesson plans in which they use to teach learners. All learners are different and a good driving instructor will adapt the method in which they teach to best suite a learner. This is very important else a learner can easily become confused and frustrated. Choosing a instructor that has at least two or three years experience ensures that they have mastered this important skill.
Additionally, an experienced and local instructor will know the test routes that the examiner takes test candidates on. There's always difficult parts of test routes and if a driving school knows these parts, it'll certainly benefit the learner.
3. Will I have the same driving instructor for each driving lesson?
This is important as an instructor who has been teaching you will understand your abilities and exactly where you are in terms of progress. Different instructors will have to assess your level and will need to get accustomed to the best way of teaching you. It will also take you some time to gain a good understanding of a different instructors teaching methods.
4. Will I have the same car for each lesson and the driving test?
As a learner, you'll get used to the way a car operates and drives. An alternative car will feel very different and will take time to get accustomed to. Another important reason that you have the same car is reference points often used for driving test manoeuvres. The chances are you'll use these and a different car means changing many of these reference points.
5. What is your pass rate?
A driving school's pass rate can be manipulated or exaggerated to look better than they officially are, so take the pass rate you're given as only a minor factor for choosing a good driving school. Look for driving test pass rate of at least 60% You can find out more about instructor pass rates and also the pass rates of individual driving test centres:
6. How much are your driving lessons?
Opting simply for the cheapest driving lessons can be false economy. A driving school or instructor offering lessons well below the local average is perhaps struggling for work or new to the area. If the instructor is new to the area, it may be possible they are not so familiar with the test routes. A good driving school often has no need to offer excessively cheap lesson prices due to recommendations. Further information can be found in the Are cheap driving lessons or schools good? section.
7. Do you offer driving lesson discounts?
Many driving schools offer either student discounts, NHS discounts and block booking discounts. For block booking discounts to become applicable, a pre-paid amount of lessons is often required.
8. How long are your driving lessons?
Some driving schools only offer 2 hour lessons. This for some learner drivers can be a little too long. Many other schools offer 1, 1.5. 2 or longer lessons that cater for all. Also ensure that the lesson lasts for the entire time duration stated.
9. Is there any car sharing involved?
Good driving schools offer a one-on-one tuition. Occasionally a driving school or instructor may use a certain degree of car sharing where you may pick another learner up during your lesson. this is to save the instructor time between lessons. This can also be off-putting for the learner who happens to be driving.
10. Can you pick me up from a different location?
Most good driving schools offer this service. It can certainly be beneficial for you if you can be picked up form an alternative location such as a friends, work or college.
First driving lesson
Armed with the top 10 questions to ask a driving school, you will have hopefully narrowed your choice down significantly and will help you find a good driving school.
The next step is to take and assessment lesson with your chosen school. This preliminary lesson will establish a few things. For the instructors part it will gauge your ability, how well and quickly you pick up the learning to drive process and if you are suited to an intensive course if that is your preferred method.
For your part, you will be able to establish if you feel comfortable with the instructor and also if you clearly understand their teaching method (bearing in mind you will likely be nervous and a little confused being your first driving lesson). See First driving lessons on what to expect in detail. If all goes well, you can discuss with your instructor a suitable course of lessons, methods of payment and any discounts that may apply to you.
Not Happy with Instructor
If at any point you do not feel confident or happy with your instructor, don't be afraid to try a different instructor. Staying with a driving school where you're not making sufficient progress will ultimately cost more.