You will be expected to know level crossing lights and sign meanings in order to pass the driving theory test and if a level crossing is incorporated into the test routes of your practical driving test, the examiner will expect you to deal with such potential hazards appropriately and safely.
This tutorial explains the most common level crossing lights, signals and signs found on UK roads applicable to car drivers.
Level crossing signs are typically found on the approach to a crossing to warn drivers of the hazard ahead. They are often then followed by further signs and depending on the type of crossing, possibly light signals that inform drivers when to stop.
Approaching a level crossing
Level crossing signs are used to warn motorists of a level crossing ahead. For the theory test, you will also be expected to know the various types of Level crossings, and Level crossing safety, rules and fines. Below provides information for the various types of level crossing signs and their meaning.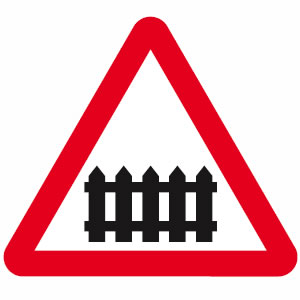 Gated or barrier level crossing sign
These signs indicate a level crossing ahead that uses either automatic barriers or gates operated manually by railway staff. Information can be found in the level crossing tutorial.
---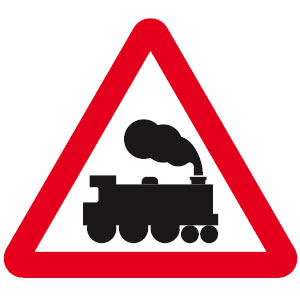 Level crossing without a gate or barrier sign
Level crossing without a gate or barrier can be seen on quiet roads where motorists must give way to trains similar to a road junction. Information can be found in the level crossing tutorial.
---
---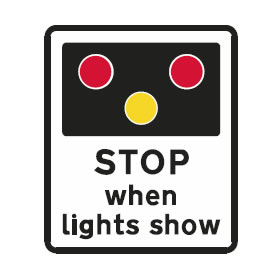 Stop when lights show sign
The stop when lights show sign provides motorists with advanced warning of light signals at a level crossing. These signs can be used at gated, barriers or open level crossings.
---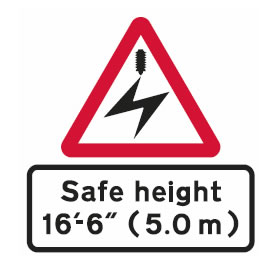 Level crossing safe height sign
Safe height signs at level crossing for high sided vehicles warning of overhead electrical cables. On the approach to a junction, the plate may include an arrow to indicate the direction of the level crossing
---
---
before making the crossing
A combination of lights and signs or only signs may be used at level crossings depending on whether the crossing is automatic, manually operated by railway staff, open or user operated. Road marking may also be located on the crossing. See level crossing safety, rules and fines for information on level crossing road markings.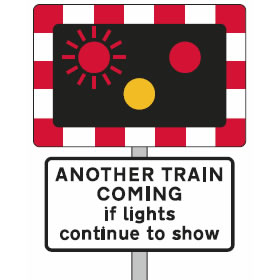 Automatic level crossing lights
Amber lights will initially be seen along with audible warning sound, followed by flashing red lights. These are to warn a train is approaching and that the level crossing barriers will come down. Upon seeing either the amber or red flashing lights you must stop. Although the red lights will flash all the time that the barriers are down, the audible warning may stop.
If another train is approaching, the barriers will remain down and the red lights will continue to flash. If there is an audible warning, the sound will change.
---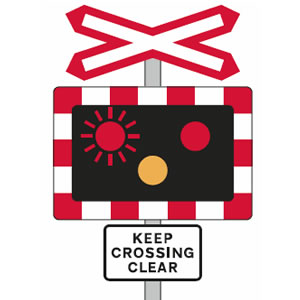 Open level crossing lights
Open level crossings use the St Andrew's cross. Open level crossings have no gates or barriers. As with automatic crossings, you must always stop when the traffic light signals show and only proceed when the lights are extinguished.
---
---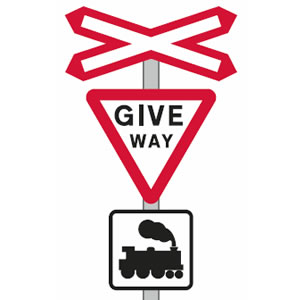 Open level crossing signs
These signs are used to mark open level crossings without barriers or gates and do not have warning light signals. A give way sign is placed over the symbol of a locomotive.
Always be extra cautious at level crossing with give way signs and be prepared to stop at the give way line marking if a train is coming. The various road markings found at level crossings can be found in the level crossing tutorial.
---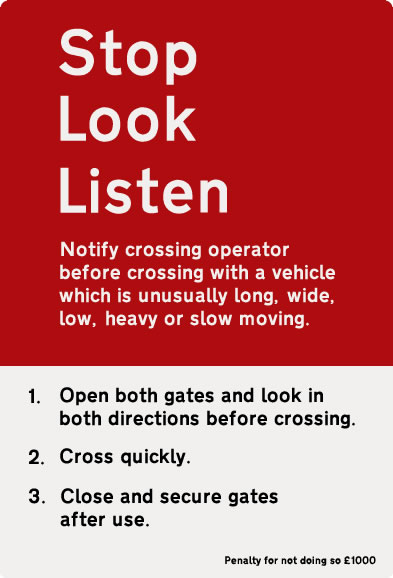 User operated level crossing signs
Some level crossings located in quiet areas are user operated. User operated level crossings have gates that the person intending to cross must open and close. Stop Look and Listen signs are placed each side of the crossing providing warnings and instructions on how to cross safely.
---
Guides and tutorials related to level crossings