Tyre pressure monitoring systems (TPMS) are used to alert the driver that one or more tyres has become under-inflated, often by around 25% or more. After you have inflated tyres back to the correct pressure, the low tyre pressure light may still illuminate on your Audi A1 or Audi S1 due to the system being triggered. In this instance, you will need to reset the tyre pressure monitoring system.
Reset Audi A1 Tyre PRessure Light Using MMI
You can reset the tyre pressure monitor light system on your Audi A1 or S1 using the Multimedia Interface (MMI). Using control buttons on the centre console and follow directions on your media screen to reset the TPMS.
Before resetting the tyre pressure monitoring system on your Audi A1, ensure you have inflated all tyres to the correct pressures. If you are unsure of the correct pressures, check the tyre pressure sticker that can be found inside driver door on the 'B' pillar. This is important as the current tyre pressures will be stored as the correct pressures in the TPMS.
Secure your vehicle, ensure it is stationary and the engine is turned off.
Turn the ignition key to the ON position without starting the engine.
Using the rotation button, navigate to Car

.

Then Servicing and Checks

.

Then Tyre Pressure Monitoring

.

Now Store Tyre Pressure

/

Yes Store Now

.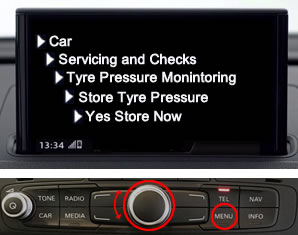 Audi A1 Tyre Pressure / Monitor Warning and Fault Lights
There are two fault lights associated with tyre pressures and the tyre pressure monitoring system (TPMS) on the Audi A1 / S1.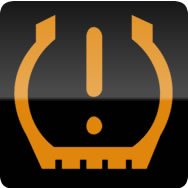 Low Tyre Pressure Warning Light
This symbol illuminates on the Audi A1 to inform the driver that one or more tyres has under-inflated. Check pressures as soon as possible.
---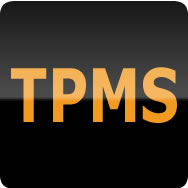 Tyre Pressure Monitoring System Fault
All new vehicles come equipped with a tyre pressure monitoring system (TPMS). There are 'direct' TPMS which utilise pressure sensors in each wheel and there are 'indirect' TPMS which Audi use. These systems do not have sensors in each tyre, but instead rely on other systems such as the ABS to determine pressures. If you have a TPMS fault light, seek assistance from a qualified technician.
Frequently Check Tyre Pressures
Tyre pressures, including the spare (if you have one) should be checked around once each month. For the most accurate pressure reading, check when the tyres are cold. Driving with under-inflated tyres will increase fuel use and will decrease vehicle stability and the life of your tyres.
Tyre Pressure Warning Light and the MOT
Since the beginning of 2015, taking your car in for an MOT test and where your car has a tyre pressure monitoring system (TPMS) fault light on the dashboard, it will result in an MOT test failure.