If a fault occurs within your Vauxhall Astra, it may be displayed as a dashboard warning light along with a message, it may be displayed as a fault code or as a combination.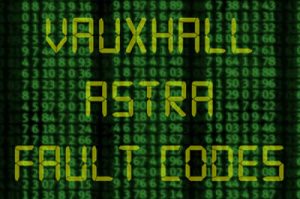 If you have a fault light, you can view the Vauxhall Astra dashboard warning lights that will help you to understand the fault related to the symbol.
Detailed below are the Vauxhall Astra fault codes that are displayed on the centre console in the event of a malfunction. The fault code list details all possible codes and related faults up to the latest and newest version of the Vauxhall Astra.
Vauxhall Astra Fault Codes List
| Code | Fault |
| --- | --- |
| 2 | The radio remote control has not been detected. Press the clutch pedal to restart. |
| 4 | Air conditioning off. |
| 5 | The steering wheel is locked. |
| 6 | Press the brake pedal to release the electric parking brake. |
| 7 | Turn the steering wheel, switch the ignition off and then back on. |
| 9 | Turn steering wheel, then restart the engine. |
| 12 | The vehicle is overloaded. |
| 13 | Compressor has overheated. |
| 15 | The centre, high-mounted brake light has malfunctioned. |
| 16 | The brake lights have failed. |
| 17 | Malfunction with headlight leveling. |
| 18 | Failure of left low beam. |
| 19 | Failure of rear fog light. |
| 20 | Failure of right low beam. |
| 21 | Failure of left sidelight. |
| 22 | Failure of right sidelight. |
| 23 | Failure of reversing light. |
| 24 | Failure of number plate light. |
| 25 | Failure of left front indicator. |
| 26 | Failure of left rear indicator. |
| 27 | Failure of right front indicator. |
| 28 | Failure of right rear indicator. |
| 29 | Check trailer brake light. |
| 30 | Check trailer reversing light. |
| Code | Fault |
| --- | --- |
| 31 | Check left trailer indicator. |
| 32 | Check right trailer indicator. |
| 33 | Check trailer rear fog light. |
| 34 | Check trailer rear light. |
| 35 | Change the battery in the radio remote control key fob. |
| 48 | Side blind spot alert system requires cleaning. |
| 49 | Lane departure warning system is unavailable. |
| 53 | Fuel filler cap requires tightening. |
| 54 | Water in diesel fuel filter. |
| 55 | The diesel particle filter is full. |
| 56 | Tyre pressure imbalance on front axle. |
| 57 | Tyre pressure imbalance on rear axle. |
| 58 | Tyres without Tyre Pressure Monitoring System (TPMS) sensors detected. |
| 59 | Open then close driver window. |
| 60 | Open then close front passenger window. |
| 61 | Open then close rear left window. |
| 62 | Open then close rear right window. |
| 65 | Vehicle theft attempted. |
| 66 | Anti-theft alarm system requires servicing. |
| 67 | Steering wheel lock requires servicing. |
| 68 | Power steering system requires servicing. |
| 69 | Suspension system requires servicing. |
| 70 | Level control system requires servicing. |
| Code | Fault |
| --- | --- |
| 71 | Rear axle requires servicing. |
| 74 | Adaptive Forward Lighting (AFL) requires servicing. |
| 75 | Air conditioning requires servicing. |
| 76 | Side blind spot alert system requires servicing. |
| 77 | Lane departure warning system requires servicing. |
| 79 | Engine oil requires topping up/ |
| 81 | Transmission requires servicing. |
| 82 | Change engine oil soon. |
| 83 | Adaptive cruise control requires servicing. |
| 84 | Engine power has been reduced. |
| 89 | Service vehicle soon. |
| 94 | Before exiting the vehicle, shift to park. |
| 95 | Airbag requires servicing. |
| 128 | Bonnet open. |
| 134 | Park assist fault - clean bumper sensors. |
| 136 | Parking assist system requires servicing. |
| 145 | Check windscreen washer fluid level. |
| 174 | Low vehicle battery charge. |
| 258 | Parking assist system is off. |