Provided are contact details for Barnet Driving Test Centre, test route tips, test booking information and help passing the driving test in Barnet.
TEST CENTRE CONTACT DETAILS
Practical Driving Test Centre Address
Raydean House
15 – 17 Western Parade
Barnet
Greater London
EN5 1AD 
Test Centre Details:  To access Barnet Driving Test Centre there are 7 steps. No wheelchair access or bell for wheelchair users to inform the test centre staff of their presence. Public access is not available to the car park but it is still used to finish driving tests if the roads are busy, or for bay parking manoeuvres or taxi tests. Wherever possible, please avoid parking outside residents houses on Raydean Road. Great North Road has no current restrictions. No toilets are available at Barnet Driving Test Centre.
Test Centre Provides Tests For: Car, taxi, Approved driving instructor – part two and Approved driving instructor – part three
THE DRIVING TEST IN Barnet
Barnet Driving Test Centre is situated in a busy urban environment. A good standard of driving will be required as a diverse selection of roads will be taken on the driving test. Residential streets will require a good deal of control as they may be narrow and hazardous due to oncoming traffic. Higher speed primary route 'A' roads a likely to be tested as are rural roads.
A good knowledge of driving manoeuvres and the emergency stop will be required. Driving tests are typically more difficult in busy locations due to the density of traffic and complex road systems.
Barnet driving test routes
The driving test from Barnet will feature the most difficult roads and road systems in the test centre area. These are to prove to the examiner you have a high standard of driving and safety. Gaining a good understanding of the driving test routes for Barnet will provide you with the best possible chance of passing the driving test.
BOOKING A DRIVING TEST AT Barnet DRIVING TEST CENTRE
If your driving test centre is located in a busy area, it may be of benefit to book your driving test in between the times of 10am and 4pm. This way you will miss out on rush hour traffic that can be problematic for learner drivers. Alternatively, some driving test centres offer test bookings on Saturdays. Driving test fees at the weekend are increased. Driving tests cannot be booked through the test centres directly. To book a driving test, there are two options; by telephone or online.
Book a driving test by phone
To book a practical driving test at the Barnet driving test centres by phone, please see the book a driving test section for DVSA (previously called the DSA) telephone booking contact details. The DVSA telephone number is an automated test booking line. A DVSA assistant can offer help via the options given.
Book your driving test online
To book your driving test online for Barnet Driving Test Centre, see the book a driving test section for all DVSA internet booking contact information.
Rescheduling or cancelling the driving test
To gain a full refund for the driving test at Barnet, cancellations must be made at least 3 working in advance of the test date. The same conditions apply for rescheduling if you wish to change the date. The above contact details can be used for these methods.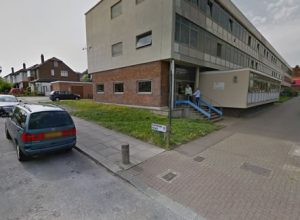 Barnet DRIVING TEST CENTRE PASS RATES
The Driving test pass rates section contains all pass rates for all UK driving test centres including Barnet test centre.
Barnet TEST CENTRE TELEPHONE NUMBER
Barnet test centre telephone number may be located via the driving test centre contact numbers section. Practical tests cannot be booked via these numbers and should only be used to contact the test centre manager for any concerns or issues you may have regarding your test.
PRACTICAL DRIVING TEST CENTRE REVIEWS
Write a review of Barnet Driving Test Centre. Rate this test centre based on your experience of using them. Tell people how your test went and what your examiner was like. If you intend on mentioning names, please use only first name or initials. It's quick and simple – no signup necessary and only your nickname will be displayed. To ensure your review meets our guidelines, please read our Terms and Conditions prior to submission.
Average rating:
28 reviews
Dec 10, 2022
Test centre has no toilet so make sure to go toilet before test.
Routes are challenging , so you shouldnt go for the test unless your instructor actually thinks you test ready.

I failed first time and passed the second time. I felt like the examiners were fair and actually judged you on your ability to drive. I know a lot people complain about the examiners here but legit all you have to do is drive as well as you drive on your lessons , while shutting the nerves away. Good luck everyone and keep up
Dec 8, 2020
After I had my test today, I checked the reviews and my examiner was Tony. Contrary to other posts, I found him a good communicator and patient. Unfortunately I failed but he clearly and fairly explained my faults. I would have no concerns about the Barnet testing centre again.
Sep 26, 2019
I passed first time with Richard. He is very nice and fair with the minors I got. I found him a good examiner. He remained very calm and never use sharp tone of voice or make you feel uncomfortable throughout the test. I would definitely recommend to have.
Apr 4, 2019
Very good experience and Examiner was excellent men and I have 39 minutes during the test examiners make me comfortable and good chat and he's very good man ever seen I'm finally I passed my driving licence for the second time first time what was at Wood Green
Nov 9, 2018
Great experience. My examiner was friendly and made me feel comfortabale throughout my test. Wasn't grumpy like the other examiners at this centre and was happy to help throughout the test i.e what road to turn into