Download driving test routes for your Sat Nav, home PC and Mac, iPhone, iPad, Android Smartphones and tablets, Google Earth and Google Maps. Help and support is available for your test routes. See below for details.
Driving Test Routes Formats
TomTom, Garmin & Navigon satellite navigation devices
Transfer driving test routes to your Sat Nav device. Your device will navigate through the various test routes used by your examiner.
Google Earth for PC, Mac, iPhone, iPad & Android phone
Don't have a Sat Nav device? Our driving test routes, motorcycle test routes are now available to open in Google Earth software.
---
Select your Test Centre Routes
---
How will the driving test routes for Sat Nav benefit me?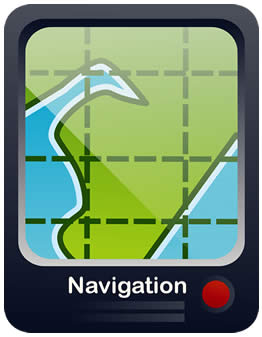 Many might say that it's not important to know your driving test routes before taking a driving test as you should be good enough to drive confidently and safely on any road, regardless whether it's a test route or not. Whilst that is true, it is also known that driving examiners intentionally use the most difficult roads and traffic systems on test routes that are within the test centres route radius. Many of these routes can be a challenge to experienced drivers, let alone a learner driver.
So by gaining experience of a driving test route by simply loading it into your Sat Nav will provide you with knowledge of these difficult and challenging areas of the test route that you may encounter during the driving test.
Essentially, by simply following the pre-programmed routes on your Sat Nav, you will be guided from the driving test centre where your test will start, around each of the routes and back once again to the test centre where you will finish. The test routes are designed by the testing examiners who conduct daily tests from their designated centre. They, of course know the local roads and routes better than anyone, so are in the best position for building these routes and incorporating the most challenging areas.
What if the test routes change?
Any driving test route is subject to change at the examiners discretion. This is usually a result of road, weather or traffic conditions. At the end of the day however, a road is a road. These driving test routes for the Sat Nav are to provide you primarily with a guidance on the difficult areas of the test routes which fail the majority of tests. Although all test route roads are incorporated, it's the difficult areas that need most practice.
Which satellite navigation systems will your driving test routes support?
You will be given a choice of TomTom, Garmin, Navigon and Google Earth. Files are sent via a Zip file to your email address. Upon receiving the file, it simply needs to be unzipped and placed onto your sat navs memory card. If you experience any problems, support is at hand.
About our driving test routes
Google Maps for PC, Mac, iPhone, iPad & Android phone
Google Maps allows you to view your routes in detail using PC, Mac, iPhone, iPad and Android phones.
Purchasing Driving Test Routes.
Using the navigation below search for your local driving test centre
Select the format you wish to purchase
Enter your email address
Purchase your via PayPal  (PayPal account NOT required)
Routes are delivered instantly via email
Technical support
For more information and technical support please email us support@drivingtesttips.biz
---