Cancelling the Driver and Vehicle Standards Agency (DVSA) practical driving test can be easily done either online or by telephone.
Providing that a certain time notice is met, a full refund of your driving test booking fee is given. The links and information provided on this page will allow you to cancel a driving test from any UK practical test centre.
You do not need to contact test centres directly to change a driving test date, to check a driving test date or to cancel a driving test as test centres are not directly responsible for test bookings. You are able to use this service to cancel the driving test booking of your practical test between 6.00 am and 11.40 pm.
HOW MUCH NOTICE TO CANCEL the DRIVING TEST
For entitlement of a full refund of driving test fees, three clear working days, including Saturdays notice must be given. Unless this criteria is met, the DVSA are not able to offer a refund and you will lose your test fee.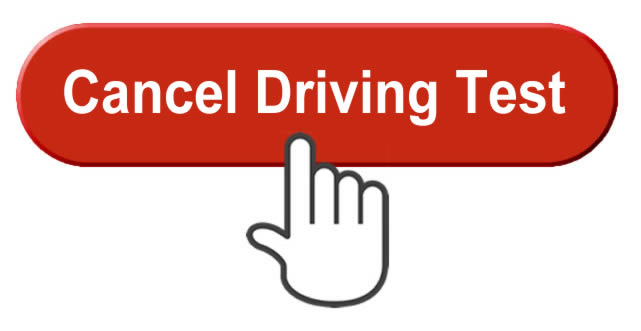 Cancel driving test refund
If the above notice is given, the full practical driving test fee will be refunded.
Cancel driving test online
The easiest method to cancel a driving test is online. Please ensure you have at least two pieces of the information required below at hand:
your valid Great Britain or Northern Ireland provisional driving licence number
your application reference number
your theory test pass certificate number
Cancellation Form
To cancel your practical driving test online, please fill in and submit this online form. If you are experiencing difficulties cancelling the driving test online, the DVSA offer alternative methods to cancel the driving test.
Cancel driving test by phone
The easiest way to cancel a practical driving test is online. You may also cancel your test by telephone. The telephone numbers provided are an automated service, although if you do need to speak to a DVSA member of staff for assistance, follow the prompts given. Opening times are from 8.00 am to 4.00 pm, Monday to Friday and long delays can be experienced on occasions.
To cancel you practical driving test by telephone or to speak to a member of staff for assistance, call 0300 200 1122. You may also e-mail the DVSA. It may take a few days before a response is made. Please include two of the three pieces of information listed above in your e-mail.
Cancel a practical driving test in Northern Ireland
You can cancel your driving test appointment online to receive a full refund provided you give three clear working days' notice. To cancel a practical driving test in Northern Ireland, please visit the online form. Alternatively, to cancel your Northern Ireland driving test by telephone, call 0845 2472 472
Other Test Related Information
For a list of commonly asked questions about the practical driving test, see: