The answer to the question of 'how to pass the driving test' is knowledge, determination and experience and based on the experience of qualified driving instructors working with the DVSA, we provide some of the key factors that will help you pass the driving test.
We look at statistical data compiled by the Driver and Vehicle Standards Agency (DVSA) – the organisation that operate the practical driving test. This data shows us specific areas where driving tests are prone to failure. In fact, this data shows us that specific test failures are repeated year-on-year, so in our top 10 tips on passing the driving test, we'll target these areas.
We will then combine this data with the knowledge of highly experienced driving instructors with high pass rates. This valuable advice based on years of teaching, along with the DVSA government statistics puts you in the driving seat to pass the driving test. There's no secret for passing the driving test, so let's get started, here's how to pass the driving test:
1. Get Prepared
Preparation is a major advantage to gaining success – when you know what you're getting into, there will be no unexpected surprises. Have a good read-up on what to expect on the driving test. This is an in depth guide that starts from arriving at the test centre to finishing the test.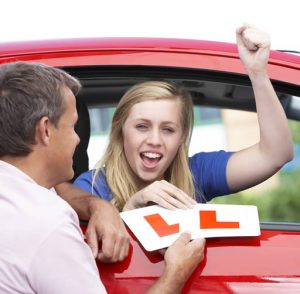 Add to this, the new Show Me Tell Me questions and answers, though they are the same questions for everyone, answers can be car specific, so get to understand the car that you're taking on the driving test. You can't fail if you get the questions wrong, but it'll help to keep the stress levels low if you know what you're doing. You can also take the Show Me Tell Me quiz to test yourself.
One other thing to consider is test centre toilets. Test candidates are obviously nervous and can often require the toilet and that's the last thing you want to be thinking about on your test. However, not all test centres have them, so popping into your local supermarket on the way might help. The driving test centre listings offer details on which facilities are offered.
2. Get to Know the Driving Test Routes
Examiners use test routes that often involve some of the most challenging roads and traffic systems within your test centre area. Statistically, candidates who are familiar with the test routes have a greater chance of passing the driving test. You don't need to know each and every road that the examiner will take you on, just the difficult parts. How to pass the driving test using test routes:
Study the test routes – You can view the test routes for your test centre or download an app to follow them on your sat nav device.
Driving instructor – An experienced and local driving instructor will know exactly the routes examiners use and in particular, those difficult parts that fail many tests.
You can view the test routes or download an app for your mobile / sat nav device:
3. Get to Know your Test Centre
Statistics show that many driving tests are failed shortly after leaving the test centre. The likely cause is driving test nerves which are at their highest right at the start. Here's how to pass the driving test when leaving the test centre:
Get familiar – Familiarise yourself with leaving and exiting the test centre. If possible, practice entering and leaving in your car, but if this is prohibited, park up elsewhere and walk into the test centre. Look at how easy it is to enter and exit the centre, how busy the road is, is there a pavement to cross that might be difficult to see pedestrians?
Practice the roads – Those that suffer with nerves are at the most risk of making mistakes at the start. Practice and get to know the roads in and around the test centre which is where you'll be driving at the start of the test.
4. Junctions
Keeping with statistics, the number 1 reason for driving test failures each and every year is due to junctions, or more specifically 'lack of observation'. In general, we're referring to T-junctions, but roundabouts and crossroads are also considered junctions. Here's how to pass the driving test at junctions:
Approaching – Observe road signs and approach junctions slowly. This will allow you plenty of time to observe and decide whether to stop and give way, or proceed.
Stopping – If you do stop, stop with the front of your vehicle just before the give way line to allow for the best observation into the new road. Approaching slowly allows for an accurate stopping position.
Observing – Before moving out into a new road, always look both ways at least twice. If the junction is 'closed' and difficult to see into the new road, very slowly edge forward until you can clearly see.
Making progress – Avoid feeling pressured into making progress too quickly. Stay calm, consistent and safe.
5. How to Pass the Driving Test with Manoeuvres
Manoeuvres represent a part of the driving test with relatively high failure statistics, though in reality, with plenty of practice, manoeuvres are the part of the test where you have the most control. Based on statistics where manoeuvres go wrong, this is how you pass the driving test whilst conducting a manoeuvre:
Control – Hitting kerbs and mounting pavements is not what the examiner wants to see. Always conduct a manoeuvre at a very slow pace.
Observation – The examiner wants to see you constantly observing everything around you and act accordingly.
Correct yourself – If you go off-course, pull forward and try again.
Don't give up – If a manoeuvre goes terribly wrong, ask if you can start again. The examiner may or may not allow this, but it's worth a try.
Practice manoeuvres until you're absolutely confident and that you complete them successfully on every attempt. The reverse around the corner and turn in the road are no longer conducted. On the new driving test, you'll be required to carry out one of these manoeuvres:
6. How to Pass the Driving Test During Independent Driving
The new driving test now has an increased independent driving section from 10 to 20 minutes. Most candidates (4 out of every 5 tests conducted) will follow directions from a sat nav, whilst the remainder will follow road signs. Independent driving is essentially the test candidate following signs or directions will very little assistance from the examiner. This can be stressful for some, particularly if things start to go wrong, so here's how to pass the driving test during independent driving:
Making a wrong turn – Independent driving is about remaining calm and safe, not about following directions correctly. If you go the wrong way or make an incorrect turn, commit to it and keep calm. The examiner or the sat nav will put you back on route.
Stressing out – Being 'left to it' can get stressful, particularly if you make a mistake. If the stress gets too much, pull over in a safe, convenient and legal position (SCALP) and explain to the examiner that you need a few moments to compose yourself.
It doesn't matter if you get a little lost, just do it safely. For a full description of the new independent driving section of the test, see:
7. Be Persistent
The vast majority of candidates make mistakes during the practical driving test and when this happens, they often think failure is a certainty. Some are lucky enough to get a clean test report, though in reality this doesn't happen too often. So when you make a mistake, avoid dwelling on it, stay positive and be persistent. It may just be a minor fault, so put it behind you and concentrate on doing your best.
8. Choose Your Test Time Carefully
The time of day at which you take your driving test can have a significant impact on the outcome, particularly if you live in a busy town or city. Most busy areas suffer from rush-hour traffic. This involves frenzied drivers desperate to get to work on time, or eager to get home and they often have little patience for a learner driver.
Booking your driving test at a time to avoid rush-hour may prove beneficial due to less traffic and calmer roads. Certain test centres offer Saturday bookings also, so if your area is generally quieter on a Saturday, this may prove beneficial – though please note; weekend bookings will typically incur a slightly higher fee.
9. Make Sure You're Ready
Sounds obvious, but many tests are failed simply because the candidate wasn't ready and hadn't had enough driving lessons. There isn't a specific amount of lessons you need to take as everybody has different abilities. You will however be looking at a minimum of 30 professional lessons, perhaps closer to 45 hours upwards.
If possible combine private tuition with professional tuition from a driving instructor, though it's important to follow what you have already learnt from the instructor and to not allow the parent or friend to teach you. This can cause confusion with conflicting information and could ultimately have a detrimental affect. Think of private tuition as driving experience – all of which is essential. Affordable learner driver insurance can be obtained on a daily basis.
10. Take a Mock Driving Test
When both your instructor and yourself feel that you're nearing test standard, take a mock driving test and ideally take it with an entirely different driving instructor / school. The benefits of this are that you will be sitting next to a complete stranger under test conditions which will help you to prepare for the real thing. Also, the instructor will be unfamiliar with your driving and as a result, may pick up on certain other areas that can be improved on. For further information, see
More Tips on How to Pass the Driving Test
Ensure you're comfortable. Wear comfortable clothing and shoes for the driving test.
Have something to eat before the test. Tests are stressful and can zap energy quickly.
A bad driving instructor will cost you more. See good driving schools for advice on finding the best driving instructor.
The basics are easy to forget. Other common reasons for failure are incorrect or lack of mirrors and forgetting to check the blind spot. If you're not too great at looking in the mirrors, see keep forgetting to check mirrors for help.
Observe others driving – whilst being driven with friends or family, run through the process in your mind of performing everything correctly as though you were driving.
If you are not entirely clear on what you need to do, ask the examiner to repeat.