You are entitled to change a UK practical driving test date free of charge to either a later date or an earlier date than your current practical driving test date if one is available.
By frequently checking the availability of earlier driving test dates, a short notice test may become available. You should make sure however that you either have a suitable car ready for a short notice test or that your driving instructor can accommodate this new date for you.
The Driver and Vehicle Standards Agency (DVSA) may ask you for your driving instructors reference number when changing a driving test date. You can still change your test date if you do not know this information.
HOW TO CHANGE DRIVING TEST DATE
You can change a driving test date booking from any UK practical test centre by using the information on this page. You cannot change a driving test date by contacting test centres directly.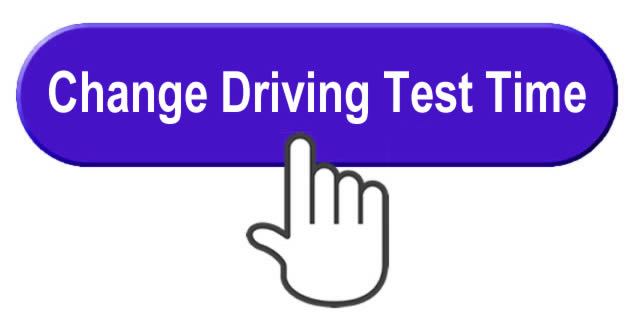 How much notice to change driving test
Three working days' notice including Saturdays is required to change a driving test date. If you are not able to provide sufficient notice, you will need to cancel your driving test and lose the test fee and then re-book it.
How many times can you change driving test date
You are entitled to change the driving test date up to three times. If you need to change the date of your practical driving test more than three times, you will need to cancel your test before you will be able to make any changes to the dates or times.
Providing you allow a minimum of three clear working days' notice (including Saturdays) you will get a full refund when cancelling the test.
Change driving test online
To change the practical driving test booking date, you need two of these three details:
your valid Great Britain or Northern Ireland provisional driving licence number
your application reference number
your theory test pass certificate number
Online Form
To change your driving test date or time, visit the DVSA online form ensuring you have all applicable information at hand.
Change driving test date by phone
If you experience any problems when changing the driving test date online, you can also change the driving test date by telephone. Ensure you have the applicable information at hand and call the DVSA on 0300 200 1122. If you are experiencing problems changing your driving test date or time, you may speak to a DVSA member of staff.
If you need to speak to a member of the DVSA staff, listen to the options provided to be put through. Opening times are from 8.00 am to 4.00 pm, Monday to Friday and long delays can be experienced at certain times of the day.
Emailing the DVSA
You may also e-mail the DVSA. It may take a few days before a response is made. Please include in your email two of the three pieces of information listed above to confirm your identity.
Change a practical driving test in Northern Ireland
You can change your practical driving test appointment online to provided you give three clear working days' notice. To change a practical driving test in Northern Ireland, please visit the online form. Alternatively, to change your Northern Ireland driving test by telephone, call 0845 2472 472