Provided are contact details for Basildon Driving Test Centre, test route tips, test booking information and help passing the driving test in Basildon.
TEST CENTRE CONTACT DETAILS
Practical Driving Test Centre Address
Paycocke Road
Basildon
Essex
SS14 3JS
Test Centre Details:  Car parking and a disabled parking bay is available at Basildon MPTC Driving Test Centre for test candidates and a ramp for access to test centre for wheelchair users. Male and female toilets available.
Test Centre Provides Tests For: Car, Taxi, Motorcycle Module 1 and Motorcycle Module 2
THE DRIVING TEST IN Basildon
Basildon Driving Test Centre is situated around a mixture of busy town roads and rural roads. Excellent driving skills will be required for small residential roads and higher speed rural roads. The Basildon driving test routes involve all traffic systems.
A thorough knowledge of roundabouts, junctions, one-way-systems and crossroads will be essential. To find out more information for the type of roads you will be taking from Basildon Driving Test Centre, visit our driving test routes section.
If your driving test centre is located in a busy area, it may be of benefit to book your driving test in between the times of 10am and 4pm. This way you will miss out on rush hour traffic that can be problematic for learner drivers. Alternatively, some driving test centres offer test bookings on Saturdays. Driving test fees at the weekend are increased.
BOOKING A DRIVING TEST AT Basildon DRIVING TEST CENTRE
Driving tests cannot be booked through the test centres directly. To book a driving test, there are 2 options; by phone or online.
Book a driving test by phone
To book a practical driving test at the Basildon driving test centres by phone, visit the book a driving test section which contains all DVSA (previously call the DSA) practical test telephone numbers. The DVSA telephone number is an automated test booking line. A DVSA assistant can offer help via the options given.
Book your driving test online
To book your driving test online for Basildon Driving Test Centre, see the book a driving test section for all DVSA contact and online test booking information.
Rescheduling or cancelling the driving test
To gain a full refund for the driving test at Basildon, cancellations must be made at least 3 working in advance of the test date. The same conditions apply for rescheduling if you wish to change the date. The above contact details can be used for these methods.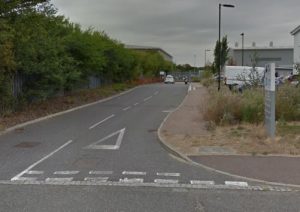 Basildon DRIVING TEST CENTRE PASS RATES
The driving test pass rates section contains many of the test pass rates for many of the UK practical driving test centres, possibly including Basildon Driving Test Centre.
Basildon TEST CENTRE TELEPHONE NUMBER
Basildon Driving Test Centre telephone number may be either located on this page or via the driving test centre contact numbers section. Practical tests cannot be booked via these numbers and should only be used to contact the test centre manager for any concerns or issues you may have regarding your test.
PRACTICAL DRIVING TEST CENTRE REVIEWS
Write a review of Basildon Driving Test Centre. Rate this test centre based on your experience of using them. Tell people how your test went, whether you passed or failed the test and what your examiner was like. It's quick and simple – no signup necessary and only your nickname will be displayed. To ensure your review meets our guidelines, please read our Terms and Conditions prior to submission.
Average rating:
45 reviews
Sep 23, 2019
They fail you for non existent faults but it's Thier words against yours, you can't really do anything .
Sep 21, 2019
They fail you for non existent faults but it's Thier words against yours, you can't really do anything .
Jul 27, 2019
Do not take your motorbike test here. There is one busy roundabout in particular where the lines on the road are confusing at best. Most test routes go through this roundabout on purpose. I failed twice here both times for one thing. I was sure i'd passed as i rode well and disagree with their views. I then without any further lessons went to another test centre and because of what i would call increased nervousness i rode badly and thought i had failed, to my delight though i'd passed. Basildon has just above a 50% pass rate where as some have 80% they will fail you for a minor and call it a serious fault!!!!!
Jul 12, 2019
Do not take your test here if you can help it. They are looking for any reason to fail you and have a 50% pass rate (worst in the country)
Jun 7, 2019
I had an old woman loraine, she clearly got bullied as a kid cuz she pointed out things that were non existent. And she failed me cuz i supposedly did something wrong when indrove near perfect.