Provided are contact details for Basildon Driving Test Centre, test route tips, test booking information and help passing the driving test in Basildon.
TEST CENTRE CONTACT DETAILS
Practical Driving Test Centre Address
Paycocke Road
Basildon
Essex
SS14 3JS
Test Centre Details:  Car parking and a disabled parking bay is available at Basildon MPTC Driving Test Centre for test candidates and a ramp for access to test centre for wheelchair users. Male and female toilets available.
Test Centre Provides Tests For: Car, Taxi, Motorcycle Module 1 and Motorcycle Module 2
THE DRIVING TEST IN Basildon
Basildon Driving Test Centre is situated around a mixture of busy town roads and rural roads. Excellent driving skills will be required for small residential roads and higher speed rural roads. The Basildon driving test routes involve all traffic systems.
A thorough knowledge of roundabouts, junctions, one-way-systems and crossroads will be essential. To find out more information for the type of roads you will be taking from Basildon Driving Test Centre, visit our driving test routes section.
If your driving test centre is located in a busy area, it may be of benefit to book your driving test in between the times of 10am and 4pm. This way you will miss out on rush hour traffic that can be problematic for learner drivers. Alternatively, some driving test centres offer test bookings on Saturdays. Driving test fees at the weekend are increased.
BOOKING A DRIVING TEST AT Basildon DRIVING TEST CENTRE
Driving tests cannot be booked through the test centres directly. To book a driving test, there are 2 options; by phone or online.
Book a driving test by phone
To book a practical driving test at the Basildon driving test centres by phone, visit the book a driving test section which contains all DVSA (previously call the DSA) practical test telephone numbers. The DVSA telephone number is an automated test booking line. A DVSA assistant can offer help via the options given.
Book your driving test online
To book your driving test online for Basildon Driving Test Centre, see the book a driving test section for all DVSA contact and online test booking information.
Rescheduling or cancelling the driving test
To gain a full refund for the driving test at Basildon, cancellations must be made at least 3 working in advance of the test date. The same conditions apply for rescheduling if you wish to change the date. The above contact details can be used for these methods.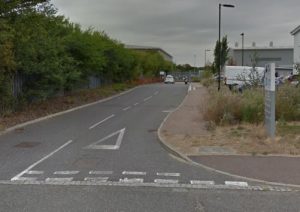 Basildon DRIVING TEST CENTRE PASS RATES
The driving test pass rates section contains many of the test pass rates for many of the UK practical driving test centres, possibly including Basildon Driving Test Centre.
Basildon TEST CENTRE TELEPHONE NUMBER
Basildon Driving Test Centre telephone number may be either located on this page or via the driving test centre contact numbers section. Practical tests cannot be booked via these numbers and should only be used to contact the test centre manager for any concerns or issues you may have regarding your test.
PRACTICAL DRIVING TEST CENTRE REVIEWS
Write a review of Basildon Driving Test Centre. Rate this test centre based on your experience of using them. Tell people how your test went, whether you passed or failed the test and what your examiner was like. It's quick and simple – no signup necessary and only your nickname will be displayed. To ensure your review meets our guidelines, please read our Terms and Conditions prior to submission.
Average rating:
49 reviews
Aug 11, 2022
Why do people blame examiners for their own failings? If you are not ready then you will not pass! You all slate people that are doing their job and assessing what you do, if you are shite you will not pass! Stop blaming other people, have a good long look at yourself!!!
Jul 27, 2022
I just had my driving test and Jeff was my examiner he quickly put me at ease and was extremely kind and professional with everything, he make me feel relaxed and calmed my nerves. I'm so glad I got him and at the end off the test when he told me I had passed he made me feel so confident and said some really really kind words that I'll never forget. Thank you Jeff for being such a lovely examiner. If your luckily enough to get him he is honestly the best.
Jun 4, 2022
5 starts for kevil. best examiner ever xxxx please give him a raise
Apr 28, 2022
I don't normally put reviews to any, but I got overwhelmed with good cheer. I just had my practical driving test earlier today and was supervised by the Driving Instructor named Mr Jeff. I would like to extend my overly appreciation to him being very professional and very nice. He makes you feel comfortable. Unluckily, I have not passed my driving test yet I went home with positive feeling. He has been very transparent explaining my failure and even gave some tips and advise which boosts confidence and get more motivated. Furthermore, he also appreciated what I have done great which makes you not to feel as a failure.
Sir, you're one of a kind. You have portrayed what a professional ethics really mean.
Once again, Salute to Mr Jeff and hopefully I will surely pass my next test.
Sep 23, 2019
They fail you for non existent faults but it's Thier words against yours, you can't really do anything .