Detailed below are the Belfast Theory Test Centre contact address details, services offered and advice for taking your theory test.
Driving Theory Test Centre Address
5th Floor, Chambers of Commerce House
22 Great Victoria Street
Belfast
BT2 7LX
Toilets:
Disabled access:
Translator Booth: No
Welsh Online: No
Tests Available: Car, motorcycle, lorries, buses and coaches
Telephone Number: 02895211040
BOOK A THEORY TEST AT Belfast THEORY TEST CENTRE
The DVSA (Driving and Vehicle Standards Agency) are responsible for all theory test bookings throughout the UK. Booking a theory test is easily completed either by telephone or via the internet. You'll need your provisional driving licence number at hand. Pearson Professional conduct the theory tests. Email contact details can be found within the booking section.
Book a theory test by telephone
Theory tests are easily booked via the automated telephone service for Belfast Theory Test Centre, Northern Ireland.
Please see the book a driving theory test section for telephone booking details. This is an automated service though an option is available to speak to a DVSA representative if required.
Book a theory test online
For online theory test bookings at Belfast Theory Test Centre. see the book a driving theory test section for all DVSA contact information, booking information including the theory test.
CANCEL OR RESCHEDULE THE THEORY TEST
It's free to reschedule a theory test for an alternative date. Three working days notice must be provided for rescheduling and cancelling the theory test. If cancelling, a full refund may not be obtained unless this notice is met.
ONCE YOU HAVE BOOKED YOUR TEST
When your theory test has been booked, you'll receive an email from the DVSA detailing the date, time and reference number of your booking in Belfast. Although it's not essential to take this along to your theory test, it is advisable to print the email and take it along to your test in case any problems arise.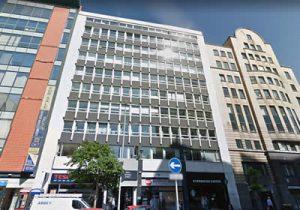 ATTENDING YOUR THEORY TEST
Leaving the Europa Hotel cross the road and turn left towards the city centre. The theory test centre is located on the right hand side, in the Chamber of Commerce Building at 22 Great Victoria Street on the 5th Floor. Ensure you arrive for your theory test in good time as late arrivals may be refused entry and as a result may lose the test booking fee. For security reasons, you'll need to show your provisional driving licence.
REVIEW THE THEORY TEST CENTRE IN Belfast
Provide a brief review of your experience of Belfast Theory Test Centre in Northern Ireland. For example, tell us how easy it is to find the test centre, whether there are parking facilities available. Were the staff polite and are there adequate facilities for test candidates. And of course don't forget to tell us if you passed. Reviews are quick and simple, no sign up and only your nickname will be displayed. To ensure your review meets our guidelines, please read our Terms and Conditions prior to submission.
Average rating:
3 reviews
Aug 31, 2017
No possibility of contacting the centre directly.
Mar 2, 2016
'No stars' for ease of contact. I am coming to the test centre tomorrow and wanted to check something. However, there seems to be no way to contact you. The number quoted on the letter (0845 6006700) just gives options that are completely irrelevant to my query and even when I press one of the options in an attempt to get to speak to someone, I am just hanging on and on the line listening to music. In my view, this is really not good enough.