There are over 80 UK DVSA theory test centres available to take your theory test. You are likely to find a theory test centre in your area.
All theory tests are developed and managed by the Driver and Vehicle Standards Agency (DVSA) and the theory test centres are managed and run by Pearson Professional.
This section provides information to all UK theory test centres along with address and location maps to help you find the centre, plus tips and advice for for when you arrive and for taking your test. Theory test booking information is also provided.
Not all towns have theory test centres, though most large towns and cities do. Simply use the A – Z menu below to select the town or city where you would like to take your theory test.
FIND Theory Test Centres
Once you have found your closest theory test centre by using the menu provided below, you may visit the learning to drive section to find all contact details for booking your theory test. Booking a theory test can be made online or by telephone.
Book a theory test
When booking a theory test you will need at hand:
Great Britain or Northern Ireland provisional driving licence number
e-mail address to get your booking confirmation – you can't book online if you don't have one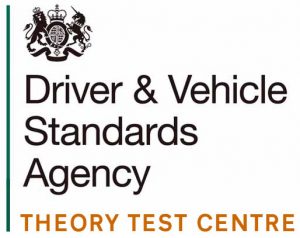 Theory test confirmation
Once you have booked your theory test, the DVSA will e-mail you a confirmation of your theory test centre booking, date and time.
Check, change or cancel the theory test
If you did not receive a theory test confirmation e-mail or have forgotten the date and time of your test, you can check the date and time online. To check your theory test date you will need to have at hand your provisional driving licence as you will need to provide the licence number.
To change or cancel the theory test booking that you have already booked, to make changes or to receive a refund in cancelling, 3 full working days' notice must be provided. To check, cancel or change the theory test date, visit the learning to drive section for details on how to do so.
What should I bring to a theory test
You must bring with you your provisional driving licence. This is just the plastic card and the paper counterpart is no longer required (if you were issued one). It is highly unlikely that you will be permitted to take the theory test if you do not provide your licence. You will also lose your test fee. The learning to drive section provides information if you have lost your provisional driving licence or the paper counterpart.
Arriving for the theory test
Theory test centres are often located in busy town or city centres, where often there is no parking close by. They are often located close to train stations however. Ensure you plan your journey in good time to arrive at least 10 to 15 minutes early. Late arrivals that miss your allotted theory test booking slot will be refused access to the test and will lose the theory test booking fee.
Failed Theory Test
If you failed the theory test, you must wait at least 3 clear working days before applying for another.