There are many forms of road markings and lines. Road markings and road lines can be found along the road or across the road to provide awareness to hazards, to give drivers rules or for directions.
A large part of the theory test is based on road markings and lines knowledge and of course this knowledge is also essential when learning to drive and taking the driving test.
This section provides all UK road markings and lines with diagrams and meanings for theory test revision and for those learning to drive.
Many of the explanations can be followed through to an alternative page for an extended in-depth explanation to help with the theory test and practical driving test training.
---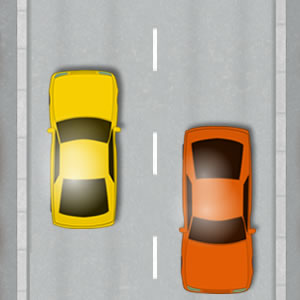 Centre broken white line
Centre broken white line on a single carriageway road. This line is used to provide a visual divide between both carriageways traveling in opposing directions. Many roads use this dividing line although certain roads such as quiet residential back-roads or some rural roads and lanes may have no markings at all.
---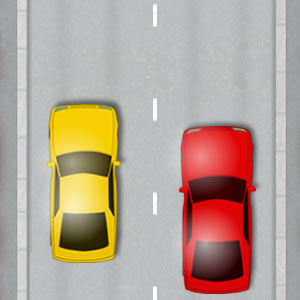 Lane line
Lane line found on single or dual carriageway roads separating traffic travelling in the same direction. As can be seen in the image, the white dashes on lane lines are smaller with much larger gaps than a normal centre line that can be seen in the image above.
---
---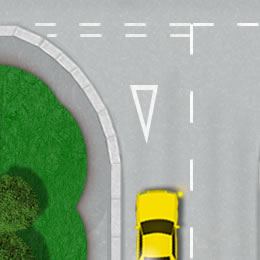 Give way road markings
The upside down triangle road marking found just before a junction represents the triangle give way sign. The triangle road marking is used to provide an extra visual aid warning drivers of a junction just ahead. this road marking may not be used on roads where there is relatively little traffic. Give way road markings are also represented by one or two broken white lines across the carriageway. See give way signs and road markings for further information.
---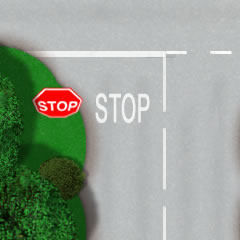 Stop lines and road markings
Unlike the dashed give way lines, stop lines at junctions are wide and solid and are usually accompanied by the word 'STOP' written on the road surface just before the line and also a stop sign. By law you must stop at a stop line regardless of whether the road appears clear and safe to proceed without the need to stop. See stop road signs and markings for further information.
---
---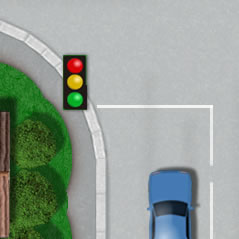 Stop line at traffic lights
Solid white stop lines are also located at traffic lights. The stop line although similar to that found at junctions as above, is not as wide. See traffic lights and how they work for further information.
---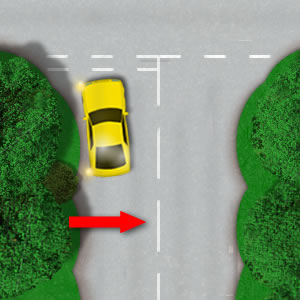 Hazard warning line
Hazard warning lines are used to mark hazards ahead such as a bend in the road or an approach to a junction. As can be seen in the image to the left, the white lines are much longer than usual with small gaps between. Hazard warning lines replace a centre line or lane line. Signs may also be used to indicate the nature of the hazard. See hazard warning line for a further explanation.
---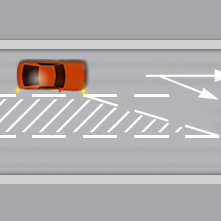 Hatched road markings
Hatched road markings or diagonal white lines are surrounded by either continuous solid white lines or broken lines. Hatched road markings are often used to separate opposing flows of traffic. See hatched road markings for further information.
---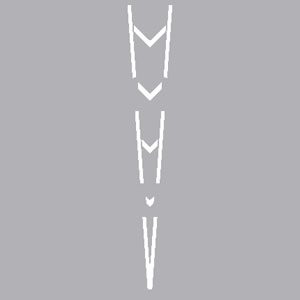 Dividing chevron markings
Part of the carriageway where traffic travels in the same direction on either side of the chevron marking. Vehicles should not enter the chevron area unless safe to do so. This marking is likely to be found in one-way streets with central islands and where an exit lane leaves at a junction.
---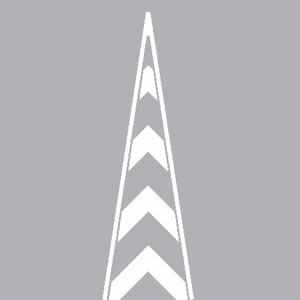 Chevron road markings with solid line
Chevron road markings with a solid white line forming a continuous boundary prohibit traffic from entering are used in such areas as dual carriageway and motorway slip-roads. See Dual carriageway for further information. It is also used for segregated left-turn lanes at roundabouts.
---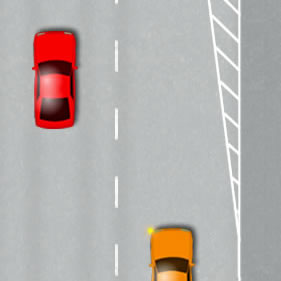 Lane reduction hatched road markings
These hatched road markings are used for a reduction in lanes. The solid white line forms a continuous boundary prohibiting vehicles from entering except on an emergency. See hatched road markings for further information.
---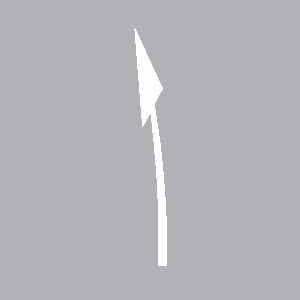 Directional arrow marking
Arrow indicating the direction in which to pass hatched markings and double white lines, or the route that high vehicles should take under a low arch bridge
(may be reversed)
---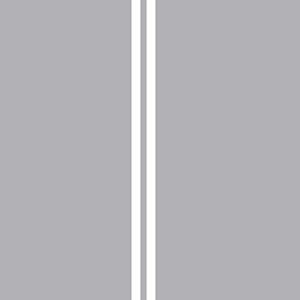 Double white lines
Double white line road markings must not be straddled or crossed except to turn into or out of a side road or property, avoid a stationary vehicle blocking the lane you are traveling in, or overtake a cyclist, horse or road works vehicle moving at not more than 10 mph. See double white lines for the different types of double white line road markings and how to deal with them on a driving test.
---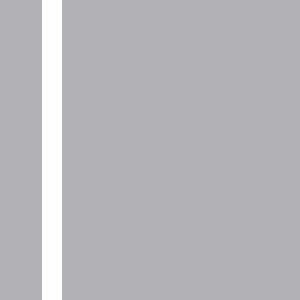 Single white line roadside
Single white line at the edge of the carriageway, other than at junctions, a single white line exits on private drives and lay-bys. Used on the left-hand side of the road and alongside the central reservation of dual carriageway roads. See single white line for other types of white lines found at the edge of the road, where they are found and any parking restrictions that may be imposed.
---
---
Cycle lanes and boxes
Cycle lanes and cyclist boxes are designed to keep a safe distance between motorists and cyclists. The cycle lanes section offers a guide to all motorists to the meaning of road markings surrounding cycle lanes and how to correctly deal with cycle boxes. See also cycle lane road signs
---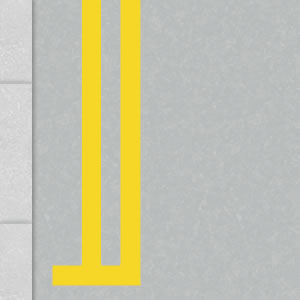 Double yellow lines
Double yellow lines generally means no waiting at any time. There are various sign, marking and exceptions that do allow motorists to wait on double yellow lines for a short period of time. The double yellow lines sections explains what the various signs and markings mean, plus who is legally permitted to wait on double yellow lines.
---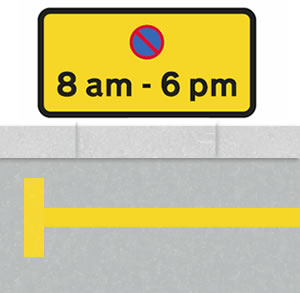 Single yellow line
Single yellow line road markings are put in place to inform motorists that part-time parking restrictions are in force. Restrictions are based either on a certain road or within a controlled parking zone. The single yellow line section explains who can park, under what circumstances and when.
---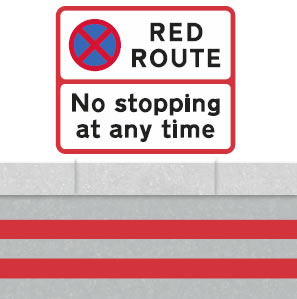 Red routes
Red routes are red single and double lines that enforce stopping, loading and parking restrictions. Red route double red lines laws are rigorously enforced by local police traffic wardens, the council's own parking attendants or by CCTV and motorists that do not abide by the rules receive high fines. Red routes are located in cities usually on high traffic density arterial carriageways. See what are red routes for further information.
---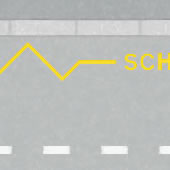 Yellow zig zag lines
Yellow zig zag line road markings are located outside of schools, hospitals, police and fire stations. Although there are certain circumstances zag zag road markings can be parked on, this section explains when you can and can't park on the zig zags. See yellow zig zag lines for further information.
---
---

Zig zag road lines
Zig zag road lines in the UK are either white or yellow. Although they are placed to inform motorists of similar rules, white zig zag lines are placed in different locations to yellow and can be enforced by different authorities resulting in varying penalties and fines. See zig zig road lines for further information on the various penalties, who enforces them and what the typical fine charge is.
---

Keep clear road markings
Keep clear road markings are used to improve traffic flow and to reduce congestion. Read more about Keep clear road markings, any law that applies to them and how they can affect a driving test.
---

Road traffic lane markings
Road lane markings are placed to inform drivers of the appropriate lane needed for a destination. The road lanes tutorials offers advice on what the markings mean, the changing lanes guide provides advice for safely changing lanes. Also available is lane discipline advice and road positioning.
---

Bus lane road markings
Bus lane road markings are used to inform drivers when they may turn into a bus lane or when they should be avoided. Many motorists are fined each year due to entering bus lanes when it is prohibited. The bus lane road markings section helps those taking the theory test.
---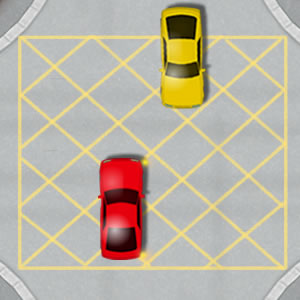 Box junctions
Yellow criss-cross lines painted on the road signify that there is a box junction. The yellow criss-cross lines found at box junctions are designed to keep the junction free-flowing with traffic at all times as It is a prohibition to enter a box junction if your exit is not clear. See box junctions for further information on how to use box junctions and the law.
---

Take the theory test road markings quiz
When you feel confident in your ability to understand road markings, take the free road markings theory test quiz and test your knowledge. See Road markings theory test quiz.
---
Related information to the theory test
Once you have studied your road lines and markings, take a look at the road signs tutorials and knowledge tests.