Due to security issues, the Driver and Vehicle Standards Agency (DVSA) are very strict in terms of the correct documents being supplied upon taking a theory test.
Such security measures are to help prevent among other things, individuals taking theory tests and practical driving tests on behalf of others. Therefore it is important you know what to take to a theory test.
Previously it was essential that you took both parts of your driving licence to a theory test. This is no longer necessary. When you arrive at the centre to take your theory test, ensure you have your plastic photocard, though it is not any longer necessary to take the paper counterpart with you, if you were issued one.
An old-style GB licence consists of one paper document which does not display your photograph. If you have the old-style paper driving licence, you must take your signed driving licence and also a valid passport. Again, failure to supply both of these documents will result in your theory test being cancelled and loss of test fee. If you do not have a valid passport, you must apply for a new-style driving licence and take this along to your theory test.
Unlike the aforementioned documents, your theory test confirmation letter or printed e-mail is not essential but is generally a good idea to take with you in case any issues of bookings arise.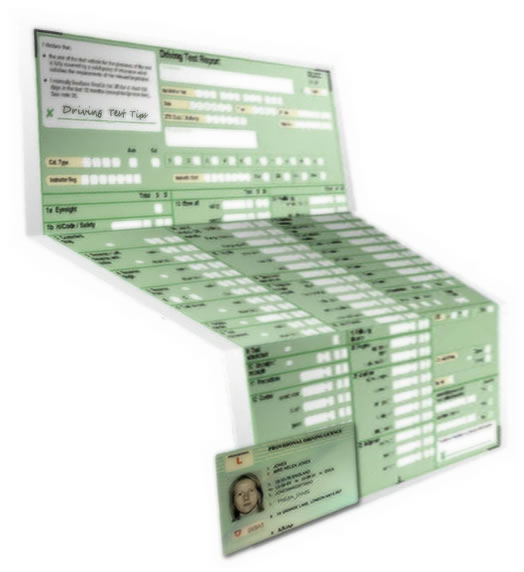 Can I take theory test without my counterpart
We are often asked the question can i take theory test without my counterpart? Although it is highly likely you will be unable to take the theory test without the paper counterpart, it may be worth telephoning the DVSA to ask if there is any other form if ID that you can take in place of the counterpart.
Asking at the theory test centre directly or calling them will not provide a solution. The DVSA must be contacted directly. All DVSA contact information can be obtained in the learning to drive section.
If you have lost one or both parts of your provisional driving licence, you will have to apply for a new one before taking the theory test. Obtaining a new licence can take up to 15 days and may result in you having to cancel or reschedule the theory test.
To cancel the theory test and receive a refund, 3 full working days including Saturdays must be given else a refund will not be provided. The same notice must be provided for rescheduling.
Arriving for the theory test
Try and arrive in good time for your theory test, taking into account that theory test centres are often located in busy city centres where car parking can be difficult. If you arrive late, it is likely you will be refused access to the test and will also lose your booking fee.