Detailed below are the Birmingham Pearson Professional Theory Test Centre contact address details, services offered and advice for taking your theory test.
Driving Theory Test Centre Address
38 Dale End
Birmingham
B4 7NJ
Toilets:
Disabled access:
Translator Booth: No
Welsh Online: No
Tests Available: Car, motorcycle, lorries, buses and coaches
Telephone Number: 01212270490
FINDING Birmingham THEORY TEST CENTRE
Theory test centres are typically located close to train stations often requiring a short walk only.
Birmingham Snow Hill Train Station
Colmore Row
Birmingham
West Midlands
B3 2BJ
Station telephone number: 0121 6342040. Train station is approximately 0.4 miles (8 minute walk) from Birmingham theory Test Centre.
Arriving by car: There is a multi-story car park (Londonderry House, Dalton Street) just 2 minutes walk to the theory test centre.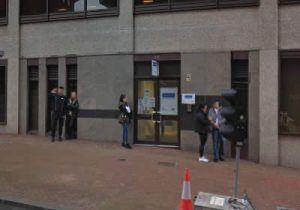 BOOK A THEORY TEST AT Birmingham THEORY TEST CENTRE
The DVSA (Driving and Vehicle Standards Agency) are responsible for all theory test booking throughout the UK. Bookings can be made either via telephone or the internet. To book your theory test, you'll need your provisional driving licence number. Pearson Professional conduct the theory tests. Email contact details can be found within the booking section.
Book a theory test by telephone
Theory tests can easily be booked via telephone for all UK theory test centres. To arrange a theory test in Birmingham, please see the book a driving theory test section for telephone booking details. This is an automated service though an option is available to speak to a DVSA representative if required.
Book a theory test online
For online theory test bookings at Birmingham Theory Test Centre. see the book a driving theory test section for all DVSA contact information, booking information including the theory test.
CANCELLING AND RESCHEDULING THE THEORY TEST
Theory tests can be rescheduled free of charge and cancelled to obtain a full refund. To reschedule or cancel (and receive a refund) please allow three clear working days notice.
ONCE YOU HAVE BOOKED YOUR TEST
When you have completed the booking process of your theory test, the DVSA will e-mail you confirmation of the time and date of your test along with a reference number. In the event of any complications, it is advisable that you print your theory test confirmation e-mail and take it with you to Birmingham Theory Test Centre.
ATTENDING YOUR THEORY TEST
Allow for plenty of time to arrive for your test as late entrants may be refused admission and will lose the test fee. Ensure you take along your provisional driving licence. For security reasons, test candidates that do not provide their licence may be refused entry and may lose the test fee. If you have lost your licence, you'll need to contact the DVLA to order a new one.
REVIEW THE THEORY TEST CENTRE IN Birmingham
Provide a brief review of your experience of Birmingham Theory Test Centre. For example, tell us how easy it is to find the test centre, whether there are parking facilities available. Were the staff polite and are there adequate facilities for test candidates. And of course don't forget to tell us if you passed. Reviews are quick and simple, no sign up and only your nickname will be displayed. To ensure your review meets our guidelines, please read our Terms and Conditions prior to submission.
Average rating:
1 reviews
Jan 4, 2019
I passed my test there earlier this year. Finding the centre took a few minutes more than anticipated due to road works (at the time). Bit of a dodgy area but my test was booked for around 10 or 11am so the only people about were workers really. All the staff I met were great- I was asked if it was my first time there and responded with a yes so I was given a rule sheet to read through and sign. Everything was professional- yes they have to check that you have nothing on your person which will help you cheat but they do this in a polite and noninvasive way. You get a locker to out your valuables in and then get led into a room where you do the test. There was a lady who would walk around every now and then, making sure no one was cheating or to help someone with computer issues. After the test, you leave the room, empty out your locker, return the key and get your results. I was so excited when I go my results that I got my phone out to take a picture of my sheet (I was in the reception area and not the test area but missed the sign stating phones weren't allowed). One of the receptionists simply requested I put my phone away as they weren't allowed to be used and I apologised which she smiled at and told me I could use it once I'd left the premises. From what I saw at the centre, they have to deal with a lot of rude people including people who refuse to believe they've failed or who don't put their phone away when asked, people who turn up late and still insist on being allowed in or people without the relevant identification. It's no wonder that they can seem to be a bit standoffish. All in all, a decent experience for the test and helpful staff.