Detailed below are the Bournemouth Pearson Professional Theory Test Centre contact address details, services offered and advice for taking your theory test.
Driving Theory Test Centre Address
3rd Floor, Roddis House
Old Christchurch Road
Bournemouth
BH1 1LG
Toilets:
Disabled access:
Translator Booth: No
Welsh Online: No
Tests Available: Car, motorcycle, lorries, buses and coaches
Telephone Number: 01202233822
FINDING Bournemouth THEORY TEST CENTRE
Theory test centres are typically located close to train stations often requiring a short walk only.
Bournemouth Train Station
Holdenhurst Road
Bournemouth
BH8 8HX
Station telephone number: 0345 6000 650. Train station is approximately 0.9 miles (77 minute walk) from Bournemouth Theory Test Centre.
Arriving by car: Pay-and-display parking is available either on Hinton or Westover Road, a short walking distance to the theory test centre.
BOOK A THEORY TEST AT Bournemouth THEORY TEST CENTRE
When you make a theory test booking, it is handled by the DVSA (Driving and Vehicle Standards Agency). The DVSA handle all theory test bookings throughout the UK. You can book either via the internet or over the phone. To book your theory test, you'll need your provisional driving licence number. Pearson Professional conduct the theory tests. Email contact details can be found within the booking section.
Book a theory test by telephone
Theory tests can easily be booked via telephone for all UK theory test centres. To arrange a theory test in Bournemouth, please see the book a driving theory test section for telephone booking details. This is an automated service though an option is available to speak to a DVSA representative if required.
Book a theory test online
The most popular method for booking a theory test is via the internet. Time and date availability is displayed whilst booking. To book your theory test in Bournemouth, see the book a driving theory test section for all DVSA contact information, online booking information for the theory test.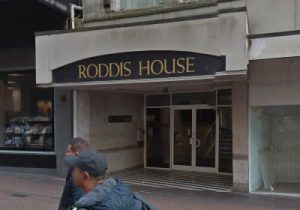 CANCELLING AND RESCHEDULING THE THEORY TEST
The time and date of your theory test can be changed though you must allow a minimum of three clear working days notice. Three working days notice must also be provided if you wish to cancel your test and obtain a full refund.
ONCE YOU HAVE BOOKED YOUR TEST
When you have completed the booking process of your theory test, the DVSA will e-mail you confirmation of the time and date of your test along with a reference number. In the event of any complications, it is advisable that you print your theory test confirmation e-mail and take it with you to Bournemouth Theory Test Centre.
ATTENDING YOUR THEORY TEST
Arrive at Bournemouth Theory Test Centre in good time as arriving late may see you refused entry to the test and a lose of the test fee. Inadequate forms of identification can also see test candidates refused entry to the test. Please ensure you take your provisional driving licence photocard. If you have lost your licence, you'll need to contact the DVLA to order a new one.
REVIEW THE THEORY TEST CENTRE IN Bournemouth
Write a quick review to let those who intend on taking their theory test in Bournemouth how it went. For example, tell us how easy it is to find the test centre, whether there are parking facilities available. Were the staff polite and are there adequate facilities for test candidates.
And of course don't forget to tell us if you passed. Reviews are quick and simple, no sign up and only your nickname will be displayed. To ensure your review meets our guidelines, please read our Terms and Conditions prior to submission.
Average rating:
2 reviews
Mar 26, 2019
I took my test there today I passed first time, but even if I hadn't I still wouldn't be able to fault the two gentlemen that were in charge today. Bit nervous and arrived early, the man on the desk put me at ease with a friendly and helpful manner which I can only say also applied to the other man who was watching the tests. Thank you both. I would recommend anyone to take their test here.
Aug 6, 2018
Good professional rating from me, the rules were enforced and you knew what you could and couldn't do. they were very clear instructors and the test was clear as well. I had someone looking at us the whole time, so I dont know what the guy below me is going on about. probably salty he didn't pass his test