Provided are contact details for Croydon Driving Test Centre, test route tips, test booking information and help passing the driving test in Croydon.
TEST CENTRE CONTACT DETAILS
Practical Driving Test Centre Address
111 Canterbury Road
Croydon
Greater London
CR0 3HH
Test Centre Details:  Male and female toilets available at Croydon driving test centre. There is limited car parking for test candidates.
Test Centre Provides Tests For: Car, Taxi
THE DRIVING TEST IN Croydon
Croydon Driving Test Centre will feature many diverse and complex roads systems during your driving test. Various types of roundabouts including large and busy multi-lane to small residential mini roundabouts, crossroads, junctions and one-way-systems will feature and a good standard of driving will be expected.
Narrow lane residential roads will feature, requiring a good level of car control and observation for oncoming vehicles. High speed 'A' roads to include the A23, A235 and A236 are likely to feature. The driving test examiner will assess your ability for a minimum of one driving test manoeuvre and a 1 in 3 chance of the emergency stop procedure.
The roads that you will take on your driving test from Croydon can be busy, incorporate many difficult roundabouts and traffic systems. Gaining an understanding of the Croydon driving test routes will benefit you in understanding the type of roads the examiner will be taking you on.
It is advisable to arrive at Croydon Driving Test Centre around 10 minutes early to ensure you will be on time for the driving test. Examiners often wait for around 5 minutes due to late arrivals but often no longer. Arriving too late will result in the test being cancelled and and forfeiting the test fee.
BOOKING A DRIVING TEST AT Croydon DRIVING TEST CENTRE
Driving tests cannot be booked through the test centres directly. To book a driving test, there are 2 options; by phone or online.
Book a driving test by phone
To book a practical driving test at the Croydon driving test centres by phone, visit the book a driving test section for all DVSA (recently changed from the DSA) practical test booking telephone numbers. The above DVSA telephone number is an automated service. The option to speak to a DVSA assistant is available if required.
Book your driving test online
To book your driving test online for Croydon Driving Test Centre, see the book a driving test section for all DVSA contact and online test booking information. If your driving test centre is located in a busy area, it may be of benefit to book your driving test in between the times of 10am and 4pm.This way you will miss out on rush hour traffic that can be problematic for learner drivers. Alternatively, some driving test centres offer test bookings on Saturdays. Driving test fees at the weekend are increased.
Cancelling or rescheduling your practical test
A full refund is available if you wish to cancel the driving test in Croydon provided 3 clear working days notice is given. The above conditions must also be met if rescheduling the test. The above contact information can be used for these purposes.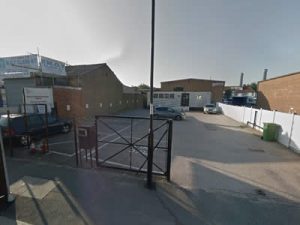 Croydon DRIVING TEST CENTRE PASS RATES
Driving test pass rate statistics vary considerably depending on which test centre your practical is taken at. Browse the driving test pass rates section for information on your UK DVSA test centre pass rates.
Croydon TEST CENTRE TELEPHONE NUMBER
Though it is possible to call driving test centres directly, if you wish to book or alter a driving test, this must be done via the DVSA (see above). Croydon Driving Test Centre telephone number may be either located on this page or via the driving test centre contact numbers section. Test centres can be contacted only for an up to date status of tests, such as whether they are still being conducted in bad weather for example. See driving tests in bad weather for further information.
PRACTICAL DRIVING TEST CENTRE REVIEWS
We all like reviews these days. Reviews provide an invaluable insight into a product or service. Write a Croydon Driving Test Centre review to tell everyone what your experience was like at this test centre, whether you passed or failed your test, what the test routes were like and what your examiner was like. It's quick and simple – no signup necessary and only your nickname will be displayed. To ensure your review meets our guidelines, please read our Terms and Conditions prior to submission.
Average rating:
8 reviews
Oct 20, 2020
Not only am I leaving a bad review here, I am officially making a complaint to the DVSA for how I was treated. Roger from the Croydon test Centre fro the get go, was intimidating, rude, demanding and demeaning. He believes he has some sort of power and he was instantly rude to me. I will do everything in my power to ensure that this low life loses his job and can no longer work with the public.
Jan 18, 2019
Shouted on me. Very bad experience
Nov 22, 2018
I have read some very bad reviews about this test centre so I was dreading my test today. I need not have worried my examiner was called Barry, he was very professional and a man of few words but the words he did say kept me calm at a very nerve racking time. Barry explained my faults very well at the end. I think it's good to give praise where it's due and he was excellent.
Sep 26, 2018
Roger is a grade A ****, rude and unnecessarily harsh
Aug 10, 2018
not do go to this test centre, go somewhere else if you wanna pass. and if you get Nick as an examiner, but go home because he will fail you FOR NO REASON. failed me twice for NO VALID REASON. they love failing people, thats all they're good at.
Croydon Driving Test Centre review