If the battery light comes on while you are driving, this indicates a problem with the charging system. The car's charging system comprises of three main components. If the dashboard battery warning light remains on, it may indicate a problem with one of the following: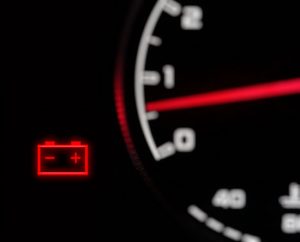 Alternator / alternator belt – The alternator generates electricity and is used to charge the car battery and to provide power to vehicle utilities
Battery – The car battery stores electricity and is used to start your car and to power various electrical utilities when the alternator is unable to do so
Voltage regulator – Ensures the alternator provides sufficient power to charge the battery, whilst also ensuring excessive power isn't produced that otherwise might cause damage
Cables and connections – The various cables and connections (including the battery terminals) that link the charging system may have corroded or become loose over time which may cause a connection fault
Ignition and Starting
The battery warning light will come on with the ignition and should go out shortly after the engine has started. This is normal. If the battery symbol stays on after the engine has started or comes on whilst driving, there is a fault.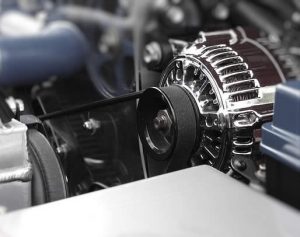 What to do if the Car Battery Light Comes on
Do not turn your car engine off as you may not be able to restart it if there isn't sufficient charge remaining in the battery. One of the biggest battery power drains is starting the car.
Depending on the fault, if there isn't enough electricity being generated, there is the possibility that your car may break down. To keep your car going as long as possible, turn off anything in your car that draws power, except of course your lights if you're driving at night. This should include heater, air conditioning and window demisters being the biggest energy drains. Though utilities such as interior lights and the stereo use very little power, it's still best to turn these off and don't forget anything that you might have plugged into the USB port such as a mobile phone or sat-nav.
It's advisable to now drive directly to a car service repair station. Once you have reached your destination, turn the car engine off. Start off by checking the battery terminals. Make sure they are tightly secured to the battery and that they are free from corrosion. You can clean any corrosion with a wire brush. Check also the alternator belt. If this is lose or broken, it will not charge the battery. If neither of those fix the fault, you'll need to have your alternator and battery tested.