Provided are contact details for Bromley Driving Test Centre, test route tips, test booking information and help passing the driving test in Bromley, Kent.
TEST CENTRE CONTACT DETAILS
Practical Driving Test Centre Address
121 to 123 Burnt-Ash Lane
Bromley
Kent
BR1 5AB
Test Centre Details: Test centre is located in a residential area with limited parking. There is a pay and display car park located round the back of the test centre. Please enter the car park via Brindley way and not through the alley way between the shops. Male and female toilets available.
Test Centre Provides Tests For: Car
THE DRIVING TEST IN Bromley
If you exit the car park and start the driving test by going through the shops onto Burnt-Ash Lane, be cautious of pedestrians, especially just before entering Burnt-Ash Lane. Located around Bromley test centre are many residential streets, typically used on tests due to small 'closed' junctions and mini roundabouts. These types of roads are frequently used for driving test manoeuvres and the emergency stop procedure.
Sections of dual carriageway may include the A205 and A20. Speed limits along these roads vary. Large, multi-lane roundabouts may feature during your test, especially from main roads such as the A205 and A20.
---
BOOKING A DRIVING TEST AT Bromley DRIVING TEST CENTRE
Driving tests may be conducted on a part-time basis from certain test centres. Weekend tests may also be available depending on the test centre and are charged at a higher rate. There are two ways in which you can book your test:
Book a driving test by phone
The book a driving test section contains the DVSA telephone numbers for booking a practical driving test at Bromley driving test centre by telephone. This is done via an automated process though a DVSA assistant can be reached between certain hours.
Book your driving test online
To book your driving test online for Bromley Driving Test Centre, see the book a driving test section for all DVSA online test booking information.
Rescheduling or cancelling the driving test
If you intend on cancelling or rescheduling your driving test, this can be done free of charge providing you allow three clear working days' notice. Saturday is classified as a working day.
Bromley DRIVING TEST CENTRE PASS RATES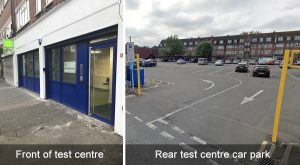 The Driving test pass rates section contains all pass rates for all UK driving test centres. As Bromley driving test centre is temporary and new, results are not yet published for this test centre.
Bromley TEST CENTRE TELEPHONE NUMBER
Bromley test centre telephone number may be located via the driving test centre contact numbers section. Practical tests cannot be booked via these numbers and should only be used to contact the test centre manager for any concerns or issues you may have regarding your test.
PRACTICAL DRIVING TEST CENTRE REVIEWS
Reviews now offer all of us essential information on products and services, so write a review of Bromley driving test centre to tell everyone of your experience – good or bad. It's quick and simple – no signup necessary and only your nickname will be displayed. To ensure your review meets our guidelines, please read our Terms and Conditions prior to submission.
Average rating:
12 reviews
Aug 11, 2022
I had the best experience with Shane! I Passed second time with three minor fault. He made me feel really relaxed, calm and with lots of laughter. I was nervous but he realy make be calm which make the test more enjoyable. He was so happy and professional. Would definately recommend.
Aug 27, 2021
I had my test this afternoon and passed. I had Lisa as my examiner, she was very professional and she made me feel at ease had a good laugh.
Aug 19, 2021
I had my test this morning and failed due to a serious fault from my side so can only blame me but the overall experience was reassuring.I had Eva as my examiner and she was very nice and professional.Hopefully next time will pass!
Apr 25, 2021
Had the best experience with Shane! Passed first time. He made me feel really relaxed and I didn't even feel like it was a test. He was so happy and professional. Would defo recommend
Oct 3, 2020
Had my test three weeks ago and Shane made me calm and relaxed after that one mistake near Bickley station. I got my licence.

Thank you Shane,

Stephen