Provided are contact details for Chilwell Driving Test Centre, test route tips, test booking information and help passing the driving test in Beeston, Nottingham.
TEST CENTRE CONTACT DETAILS
Practical Driving Test Centre Address
Unit 24, Eldon Business Park
Eldon Road
Beeston
Nottinghamshire
NG9 6DZ
Test Centre Details:  Parking is permitted on Eldon Road just outside the driving test centre.
Test Centre Provides Tests For: Car, Approved driving instructor part 2, Approved driving instructor part 3
THE DRIVING TEST IN Chilwell
The 40 minute driving test from Chilwell Test Centre will primarily feature urban driving due to the lack of country roads within the vicinity. Expect a high level of testing on various types of roundabouts, junctions and crossroads, from quiet back-roads to busy main streets.
The test typically take you onto residential streets where the examiner will request a manoeuvre, along with the possibility emergency stop which is performed on quiet roads. The emergency stop isn't requested on each test. During the allotted test time, 20 minutes is set aside for independent driving.
As the routes head away from the test centre, there's a possibility of taking to the A52 dual carriageways. Examiners develop the test routes to include as many varied roads and traffic systems as possible.
BOOKING A DRIVING TEST AT Chilwell DRIVING TEST CENTRE
Driving tests are usually easier when the roads are less busy. Ideally choose a test time for when roads are quieter in your area. Certain test centres also offer Saturday tests, though these cost more than weekdays. During the booking process, this will tell you which days tests are available from your test centre. Driving tests are booked via the DVSA and can be made either by telephone or online:
Booking a driving test by telephone
To book a practical driving test at Chilwell Driving Test Centre by telephone, see the book a driving test section. This section contains the telephone numbers required to book your test.
Booking your driving test online
Alternatively, you can book your test online. Online booking is beneficial as the system displays available test dates and times in real-time. See the book a driving test section for details.
Rescheduling or cancelling the driving test
Cancelling or rescheduling your practical test can be done providing you allow three clear working days notice. You'll be unable to receive a refund or reschedule your test if it's less that the required notice. The above contact details can be used for these methods.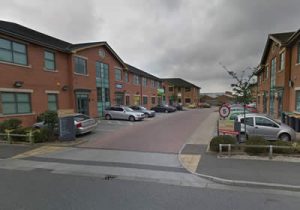 Chilwell DRIVING TEST CENTRE PASS RATES
Driving test pass rate statistics vary considerably depending on which test centre your practical is taken at. Browse the driving test pass rates section for information on your UK DVSA test centre pass rates.
Chilwell TEST CENTRE TELEPHONE NUMBER
Test centres should generally not be contacted directly other than to speak to the manager regarding a booking. For example, this could be to ask if a test is still going ahead due to bad weather.
See driving tests in bad weather for further information. Test centre telephone numbers may be found in the driving test centre contact numbers section
PRACTICAL DRIVING TEST CENTRE REVIEWS
Reviews offer others an insight into your experience whether good or bad. Write a Chilwell Driving Test Centre review to tell everyone what your experience was like at this test centre, whether you passed or failed your test, what the test routes were like and what your examiner was like. It's quick and simple – no signup necessary and only your nickname will be displayed. To ensure your review meets our guidelines, please read our Terms and Conditions prior to submission.
Average rating:
3 reviews
Sep 10, 2021
Hello All,
Even though i didnt pass my test, I felt reassured by the instructor- Nick, who was right in his decisions. I felt he was fair in his assessment
Jul 1, 2019
Excellent centre. Passed first time.
Nigel Coombes RE:David Robers
Jul 6, 2018
Ok i will re write this scenario and explain Chilwell driving test centre only allows so many people per day to pass and will find any way to fail you .now for the actual scenario the female driving examiner was in the wrong in the actions that she did and said to my son in law.I myself am a professional driver so i know whats right and whats wrong.on the approach to a roundabout of which as 4 lanes (bardils),the examiner told David to get in the 3rd lane when in actual fact he needed the 1st or 2nd lane as they was going straight on .he did not want to argue with the examiner but knew she had got him to drive in the wrong lane.and doing so she then said that he got a major for it .so for her mess up and knowing full well she was in the wrong she needs to go back to learn how to drive herself .she did this on purpose so she could fail him.now the fact is David passed his test in 2006 but had it revoked because his brother passed himself off as David a few years later to the police and so got a court case which he never knew about and lost his licence because of it .