Provided are contact details for Tottenham Driving Test Centre, test route tips, test booking information and help passing the driving test in Greater London.
TEST CENTRE CONTACT DETAILS
Practical Driving Test Centre Address
Tottenham Annex Building
Selby Centre, Selby Road
Tottenham
Greater London
N17 8JL
Test Centre Details: When arriving for your test appointment, please park in the designated bays situated close to the Annex building and report to the entrance lobby. Please do not arrive more than ten minutes before your test appointment as this will impede test candidates with appointments prior to yours. No practicing on site.
Facilities: Male and female toilets are available.
Test Centre Provides Tests For: Car
THE DRIVING TEST IN Tottenham
The driving test from Tottenham will feature predominately urban driving, starting off from a residential area – relatively quiet streets ideal for test manoeuvres and the emergency stop procedure.
Further outside of the test centre, roads become busier with multi-lane roundabouts, busy junctions and crossroads. Based on the test centre location, the 40 minute driving test is likely to include dual carriageway sections such as the A10 or the North Circular. Around 20 minutes of independent driving will also be included in the test.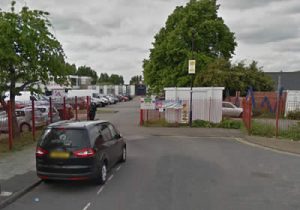 Though knowing each and every section of the Tottenham driving test routes isn't necessary, examiners choose specific roads and routes to test candidates to the highest level. Sections of these routes are often challenging, so choosing a good driving instructor who knows the difficult areas may prove beneficial.
BOOKING A DRIVING TEST AT Tottenham DRIVING TEST CENTRE
There are two methods for booking a driving test, both of which are detailed below. During the booking process, you'll be asked for information from your theory pass certificate and your provisional driving licence.
Book a driving test by phone
The telephone booking service is automated, though if required a member of the Driver and Vehicle Standards Agency (DVSA) staff can be reached.  The book a driving test section details the process and telephone numbers needed to book a test at Tottenham Driving Test Centre.
Book your driving test online
Booking your test online is often the preferred option as free test slots are shown on-screen. To make a test booking at Tottenham Driving Test Centre, see the book a driving test section.
Rescheduling or cancelling the driving test
Driving Tests can be rescheduled or cancelled. Changing your driving test date can be done providing three working days' notice is given. To cancel your test and receive a full refund from DVSA bookings, three working days' notice must also be provided. Saturdays are also classed as a working day.
Tottenham DRIVING TEST CENTRE PASS RATES
Driving test pass rates vary based on location of test centre. This is usually due to the difficulty of routes and traffic density. The driving test pass rates section may show driving test pass rate statistics for your practical test centre.
Tottenham TEST CENTRE TELEPHONE NUMBER
If you wish to book, cancel or reschedule a driving test, this must be done via the DVSA methods as detailed above. Direct contact with test centres must only be made if you have a question in direct relation to your test. This may be if it is still going ahead due to bad weather for example. (see driving tests in bad weather for further information).
Your test centre contact telephone details (including Tottenham Driving Test Centre) may be located driving test centre contact numbers section.
REVIEWS FOR YOUR DRIVING TEST CENTRE
Write a review for your experience at Tottenham Driving Test Centre and let us know how your test went. Did you pass or fail, were the test routes easy or hard, how was the test examiner and how were the facilities at the test centre? It's quick and simple – no signup necessary and only your nickname will be displayed. To ensure your review meets our guidelines, please read our Terms and Conditions prior to submission.
Average rating:
28 reviews
Feb 27, 2022
My third test but first in Tottenham. My examiner was Miz who instantly made me feel calm. He answered any questions I had and was extremely fair with his marking. Thankfully I passed but I couldn't have done it if I didn't have an examiner as kind and friendly as Miz - he deserves special recognition for his great work.
Nov 8, 2021
Had a great examiner called Chris, very friendly and made me feel very comfortable. Did my test at 2:05, the roads were pretty clear and he gave very clear instructions as well. The examiners in this test centre are usually harsh, had a previous driving test where the examiner was very cold and serious, I tried to talk to him to calm my nerves however he made it clear I was not to speak to him and just drive
Oct 6, 2020
Just wanted to say I passed, was out under a lot of pressure, robust cold approach told not to talk unless I'm spoken too, just follow the road signs it's a test not a boarding school. Make sure you go in with confidence and practice. I'm a good driver, tottenham examiners know ur nervous and set you up to fail.
Oct 5, 2020
With everything that's going on in the world today it takes some of us a lot of courage to even get to the stage of booking a test let alone actually not being able to sleep all night because you suffer from anxiety due to nerves, I would highly recommend that if any examiners read the reviews if they could kindly take this into consideration before giving students a clinical approach before a test, some of us have social anxiety & other conditions that aren't always Visible, I understand you have a job to do by all means we all want to be safe on the road, it just wouldn't kill you to give a kind and calm approach, yes some of us want a car for the sake of going out but there are others who actually need to use this form of transport to get essentials like medication for family or take a relative to hospital for appointments that are high risk, the fact that we have anxiety over being around anyone out of our own household in itself can tip a person over. Please be more aware of mental health when approaching students. Thank you! Good luck to anyone taking tests, stay safe.
Oct 5, 2020
Don't even wanna sound like a Sore loser but this was my experience, I Had a man called Patrick who was pushy to start the exam early when I first got to the car park even though I was early, failed me for 3 majors, mirrors which I was religiously looking at, saying I was in the right lane at traffic lights going straight not causing any hazards or anyone to slow down, when I was in the left? I don't understand why he lied?! Driving too slow 25? around a bend on a 30 narrow road outside a school and petrol station!! I didn't cause any hazards or slow any cars down, Someone work this out. Lol. parallel parking up hill secured the car which was fine, he told me to carry out a emergency stop, didn't even give me a chance to even come out of my parking position from up hill parallel parking and told me to emergency stop straight away, the car obviously went down hill as soon as it started moving he then said I accelerated ? He had me out to fail from the start, seems like he just wanted the shift to be over to go home, LOL I don't understand, prob won't take my test in Tottenham again. Honestly starting to think they can only pass a certain amount of ppl a day after he lied about me being in the right lane. For anyone wondering.. my route was around Tottenham back roads, Lordship lane, was my first test in Tottenham. Good luck to anyone if you get Patrick LOL refuse if you can.