Provided are contact details for Featherstone Driving Test Centre, test route tips, test booking information and help passing the driving test in Wolverhampton.
TEST CENTRE CONTACT DETAILS
Practical Driving Test Centre Address
Cat & Kittens Lane
Featherstone Lane 
Wolverhampton
West Midlands
WV10 7JD
Test Centre Details:  Stepped access to test centre. Arrangements will be made if you have a disability. Male and female toilets available at Featherstone driving test centre. There are no parking spaces at this centre.
Test Centre Provides Tests For: Car, Lorries, large vehicles and buses, Approved driving instructor part 2
THE DRIVING TEST at Featherstone
Featherstone Driving Test Centre is likely to incorporate a diverse selection of road types. Rural roads are likely to be part of the practical test. The Featherstone driving test routes incorporate 'A' roads such as the A325 and A327.
The driving examiner will be testing your ability at busy roads systems such as crossroads, roundabouts and various junction types. By browsing the Featherstone driving test routes section, you will gain a good understanding on the various road types and traffic systems that the examiner will take you on.
BOOKING A DRIVING TEST AT Featherstone DRIVING TEST CENTRE
Available are two options for booking the practical driving test.
Book a driving test by phone
The book a driving test section contains the DVSA telephone numbers for booking a practical driving test at Featherstone driving test centres by phone. This telephone number directs you to an automated test booking line, although if you browse the option you can talk to a assistant.
Book your driving test online
Often the preferable method to book a driving test at Featherstone LGV Driving Test Centre is via the internet. This option displays to you all the available test slots allowing you to choose a time and day that is suitable for you.
Rescheduling or cancelling the driving test
3 working days notice is required to cancel the driving test at Featherstone if you require a full refund. The same conditions apply if you wish to reschedule. Cancellations and rescheduling can be done via the contact details above.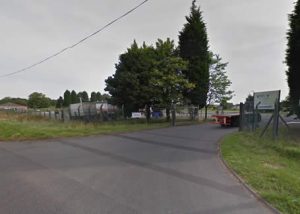 Featherstone DRIVING TEST CENTRE PASS RATES
Driving test pass rate statistics vary considerably depending on which test centre your practical is taken at. Browse the driving test pass rates section for information on your UK DVSA test centre pass rates.
Featherstone TEST CENTRE TELEPHONE NUMBER
You can call a practical driving test centre to inform them that you may be late. An examiner will typically wait for around 5 minutes for you to arrive before cancelling the test. Or the test centre manager can be contacted to see if a test is still going ahead, usually due to bad weather.  See driving tests in bad weather for further information.
Test centres cannot be contacted directly to book or amend tests however, and this must be done via the DVSA (as above). Featherstone Driving Test Centre may be listed in the driving test centre contact numbers section.
PRACTICAL DRIVING TEST CENTRE REVIEWS
We all like reviews these days. Reviews provide an invaluable insight into a product or service. Write a Featherstone Driving Test Centre review to tell everyone what your experience was like at this test centre, whether you passed or failed your test, what the test routes were like and what your examiner was like. It's quick and simple – no signup necessary and only your nickname will be displayed. To ensure your review meets our guidelines, please read our Terms and Conditions prior to submission.
Average rating:
22 reviews
Jul 22, 2021
Never ever use Featherstone as an LGV test centre. My examiner; who I understand retired, but is now working part time is a complete joke. On my first attempt shouted 'stop' in the lane near centre, when a bus was 400 yards away, no danger to anyone & we were travelling at 10 mph !! Second attempt, 3 weeks later with the same idiot, who lost track of the 'independent driving' & started advising directions, & then 10 minutes later stated 'independent driving' was over !! failed again due to too many minors...waste of time/money.
I was assessed by three instructors with over 80 years combined experience, who were critical & professional during my class 2 training, advising that I was a safe, competent & careful driver. Our Country needs LGV drivers, but I will not be one of them.
Sep 7, 2019
I can't speak for anyone else's personal experiences or similarly how exaggerated the reviews may be. I passed my Class 1 first time today with examiner Mark Goodwin. The minor faults that I did receive I can fully understand and see how I could have done it differently. Yes some examiners out there may be a -little- more forgiving on marking but end of the day, you just get lucky if you happen to get one of those. Do everything as you're meant to and you won't fail.
Jun 28, 2019
My examiner Bob was a1. Lovely guy who put me at ease right away! Passed with only 5 minors! Don't be put off by the reviews on here like I nearly was! I guess most people only review when they have a bad experience but if you drive to test standard then you will pass! Thanks again Bob!!
Apr 5, 2019
Examiner Mark Goodwin is honestly out to make you fail. He even went to the point of being abusive after the test. I made numerous complaints about him. He even popped up on my Facebook recommendations, so he has obviously looked me up on there as well. Be careful if you have him, you have been warned.
Oct 2, 2018
Passed today first time with a few minors. Examiner was considerate and friendly and as long as you drive in a good manner and don't do anything foolish you'll do just fine. Looks like most reviewers here are just pi**ed off after failing.
Page 1 of 5:
«
‹
1
2
3
4
5
›
»