Provided are contact details for Salford Driving Test Centre, test route tips, test booking information and help passing the driving test in Manchester.
TEST CENTRE CONTACT DETAILS
Practical Driving Test Centre Address
Salford Fire Station
Liverpool Street
Salford
Greater Manchester
M5 4LE
Test Centre Details:  Salford Driving Test Centre does not provide test candidate toilet facilities. Upon arriving for your driving test, park on Blucher Street alongside the Fire Station facing towards Liverpool Street and report to the reception at the front of the building where your driving examiner will meet you.
Test Centre Provides Tests For: Car
THE DRIVING TEST IN Salford
Salford Driving Test Centre is essentially surrounded by dual carriageways. Ensure you have plenty of dual carriageway driving experience along with the busy multi-lane roundabouts that accompany them.
The driving test from Salford will take you from these busy areas into quieter residential areas where the driving examiner will ask for one of the possible four driving test manoeuvres. These areas are also often used for conducting the emergency stop in which there is a one in three tests conducted possibility of this being requested.
The approximate 40 minute driving test will involve independent driving of which around 10 minutes is set aside for. Test centre routes are designed by the examiners who conduct practical tests at their local test centre.
The routes are designed in such a way so to involve as many diverse roads and traffic systems as possible, often including very challenging parts. Gaining knowledge of the test routes provides valuable insight into the type of roads that will be taken during your test. Driving test routes may be available to view or a downloadable app for your mobile device in your area, including Salford Driving Test Centre.
BOOKING A DRIVING TEST AT Salford DRIVING TEST CENTRE
Tests are conducted from Monday to Friday at many of the UK practical driving test centres. Saturday tests may be an optional booking in busy areas, though this does incur a slightly higher booking fee.
Book a driving test by phone
Practical driving tests can be booked over the telephone via an automated service. To book a test at Salford Driving Test Centre, see the book a driving test section for booking contact telephone numbers. Although this is an automated service, a Driver and Vehicle Standards Agency (DVSA) assistant can be reached by following the prompts.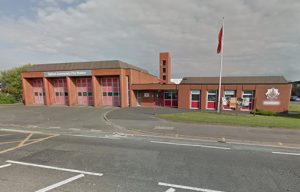 Book your driving test online
The majority of test candidates book their driving test over the internet as the available free test slots are made visible to be taken. To make a test booking at Salford Driving Test Centre, see the book a driving test section.
Rescheduling or cancelling the driving test
Driving Tests can be rescheduled or cancelled. Changing your driving test date can be done providing three working days' notice is given. To cancel your test and receive a full refund from DVSA bookings, three working days' notice must also be provided. Saturdays are also classed as a working day.
Salford DRIVING TEST CENTRE PASS RATES
Throughout the UK practical driving test centres, pass rates vary. Certain centres, often in very busy areas may have a slightly lower pass rate and in this situation, some test candidates decide to take their test at an alternative test centre. The driving test pass rates section may show driving test pass rate statistics for your practical test centre.
Salford TEST CENTRE TELEPHONE NUMBER
Please note that direct contact with driving test centres cannot be made for test booking, cancelling or rescheduling. this can only be made directly with the DVSA (see above). Practical test centres can be contacted directly (including Salford Driving Test Centre) for reasons such as to inform the test centre manager you may be slightly late, or any issues you have with the test such as if it is still to proceed due to bad weather (see driving tests in bad weather for further information). See the driving test centre contact numbers section for further information.
REVIEWS FOR YOUR DRIVING TEST CENTRE
Tell others about your experience at Salford Driving Test Centre and let us know how your test went, did you pass or fail, how was the test centre, were there toilets or parking facilities? Were the test routes difficult? How were the test examiners? It's quick and simple – no signup necessary and only your nickname will be displayed. To ensure your review meets our guidelines, please read our Terms and Conditions prior to submission.
Average rating:
2 reviews
Apr 4, 2017
Exactly the same as the pervious review same examinerror as soon as I seen the examiner I was set to fail. Her attitude towards me wasn't welcoming, body language wasnt positive, very abrupt and a little rude. Made me feel anxious from the start. when asking me about the saftey checks stood back from the car, arms folded and uninterested i tryed to brush this off explain I had learning difficulties I feel this was used as an excuse to fail me. Marked down on my monover (3 point) even though I did it exactly how I should of when I did notice my mistake corrected it Immidiate and still marked down on the littlest things. Some directions were clear others not so clear expected me to pull up on the left in one street on a speed bump didn't give me enough time to process the information, uppn pulling up told me to leave a cars length between without enough time to assess and counter for this.
Feb 21, 2017
The examiner wasn't helpful she failed from the start of the test. she didn't tell me to go back to the test centre she left me on road in the middle of the road. she give me 8 serious and she didn't let me go to test centre way before that. for any one taking the test there do not it there because they will fail you no matter what. The examiner failed me at start of the test before i even started the car because a big car coming in tight road and other car made a noise that is only reason why she failed me. the examiner A.smith is the name of examiner just to let you know