Provided are contact details for Borehamwood Driving Test Centre, test route tips, test booking information and help passing the driving test in Borehamwood.
TEST CENTRE CONTACT DETAILS
Practical Driving Test Centre Address
Ground Floor
Unit 1
Stirling Court
Stirling Way
Borehamwood
WD6 2BT
Test Centre Details: Parking facilities available for test candidates marked DVSA. Please use the barrier-controlled car park. For gaining access, you'll need to enter a code which will be on the appointment letter. Male and female toilets are available
Test Centre Provides Tests For: Car
THE DRIVING TEST IN Borehamwood
Borehamwood Driving Test Centre is located in and around busy urban roads and street. A thorough understanding of one-way-systems, junctions, roundabouts and crossroads is essential. Included with these busy systems, quiet, narrow residential roads are often taken during the driving test where hazards can occur due to narrow lanes and oncoming vehicles.
A possibility of rural roads will represent a different hazard due to high speeds and the ability to negotiate bends correctly (see country road driving). High speed primary route 'A' roads such as the A1, A411 and A1081 are also likely.
A good understanding of joining such roads with reference to oncoming traffic speed is important. One in four of the driving test manoeuvres will be asked for with a 1-in-3 chance of the emergency stop procedure.
To find out more information for the type of roads you will be taking from Borehamwood Driving Test Centre, visit our driving test routes section to gain an understanding on the various road types and traffic systems you will encounter.
BOOKING A DRIVING TEST AT Borehamwood DRIVING TEST CENTRE
Many UK practical driving test centres are located in busy towns or cities. These locations are typically subject to rush hour traffic at certain times of day. Booking a practical test around these times and not during may provide you with a less stressful test. Alternatively, some driving test centres offer test bookings on Saturdays. Driving test fees at the weekend are increased. Driving tests cannot be booked through the test centres directly. To book a driving test, there are two options; by phone or online.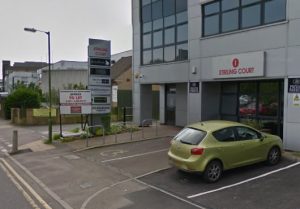 Book a driving test by phone
To book a practical driving test at the Borehamwood driving test centres by phone, see the book a driving test section for all DVSA (previously known as the DSA) test booking numbers. The DVSA telephone number is an automated test booking line. A DVSA assistant can offer help via the options given.
Book your driving test online
To book your driving test online for Borehamwood Driving Test Centre, see the book a driving test section for all DVSA contact information and online booking details.
Cancelling or rescheduling the test
To gain a full refund for the driving test at Borehamwood, cancellations must be made at least 3 working in advance of the test date. The same conditions apply for rescheduling if you wish to change the date. The above contact details can be used for these methods.
Borehamwood DRIVING TEST CENTRE PASS RATES
The driving test pass rates section contains many of the test pass rates for many of the UK practical driving test centres, possibly including Borehamwood Driving Test Centre.
Borehamwood TEST CENTRE TELEPHONE NUMBER
Borehamwood Driving Test Centre telephone number is 020 32101056. Please note that driving test booking times and dates cannot be changed, cancelled or amended by calling the test centre directly. All test amendments including the initial booking must be made with the DVSA (see above).
PRACTICAL DRIVING TEST CENTRE REVIEWS
Write a review of Borehamwood Driving Test Centre. Rate this test centre based on your experience of using them. Tell people how your test went, whether you passed or failed the test and what your examiner was like. It's quick and simple – no signup necessary and only your nickname will be displayed. To ensure your review meets our guidelines, please read our Terms and Conditions prior to submission.
Average rating:
31 reviews
Jun 14, 2022
I am pleased to say that I pass at Borehamwood driving test centre.
Lily was my driving examiner she was so kind and warm, I felt really without any stress or nerves to show her that I can drive safe. Thank you Borehamwood centre for having such a good driving examiner like Lily. I definitely highly recommend this driving centre for all new learners. Safe driving everyone!
May 31, 2022
The same way that there is drivers that shouldn't be driving on these roads , there are examiners that shouldn't be driving examiners. i will leave as that.
May 10, 2022
Lily was my examiner. Just what I needed for a pass. She knew I was tensed and kindly spoke to me and helped me relax enough to drive safely. She is a star.
May 10, 2022
I passed my test today with Lily. At the beginning, I was very tensed, I opened up to her that I felt so tensed, and she was so kind. She engaged me in a kind conversation that helped me relax, and I ended up passing with 3 minors first time. Don't know if I could have passed if she never helped me get through my nerves.
Mar 28, 2022
I had my test in the centre and staff is very rude,specially a indian lady that even was not my examiner she was very rude and intimidating..my examiner was a little man i cant remember his name dave or jame, so this one made me fail ,he made me drive for more than 1 hour to look for minors mistakes to fail me..so he got it at the end and fail me ,he converted my minors for serious..i hate this centre,,never again in this centre, i feel robbed ,they should work in a temporary basis