There are two test centres in Canterbury. A practical test centre dedicated for car and taxi practical tests and a test centre for LGV
The Canterbury Driving Test Centres are located in busy areas. Expect the driving test routes to be challenging and to include small and large, multi-lane roundabouts, mini roundabouts and junctions.
Expect high speed 'A' roads to be included in the driving test such as the A28 and A2050. These will require a good understanding of approaching traffic speed to join. Rural roads are often a feature of the driving test.
These high sped roads often have narrow lanes and sharp bends that can be hazardous (see country road driving for tutorials). Narrow and difficult to manoeuvre residential streets may provide hazardous conditions due to oncoming vehicles.
Where are the driving test centres in 
Canterbury
Below is the address and details of the practical driving test centres in Canterbury.
Canterbury Driving Test Centre
Practical Driving Test Centre Address


25 New Dover Road


Canterbury
Kent


CT1 3AS

Test Centre Details:  

Access to the driving test centre is via 2 steps. If required, candidates with mobility impairment can be met by the 

driving examiner

 in the test centre car park. 

Unisex toilets are available at the test centre although there are no disabled WC facilities. Limited car parking spaces available.

Test Centre Provides Tests For: Car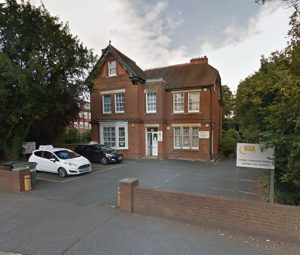 CANTERBURY LGV DRIVING TEST CENTRE
Practical Driving Test Centre Address
Hersden
Near Canterbury


Kent




CT3 4HB

Test Centre Details:  

Male and female toilets are available. Limited parking is available at this centre

Test Centre Provides Tests For: Vocational – Lorries, large vehicles and buses
Canterbury

 DRIVING TEST Routes

To gain a better understanding of the various road types and traffic systems that you are likely to encounter during your test from Canterbury Driving Test Centre, visit our driving test routes section.
BOOKING A DRIVING TEST AT
Canterbury

 DRIVING TEST CENTRE

Most practical test centres are situated in or around busy towns and cities. Such areas are often subject to peak traffic congestion. Booking your test around these times will avoid stressful rush hour traffic during your test. Certain test centres also offer Saturday tests, though there is a slightly higher fee charged. To book your practical driving test from either of the Canterbury test centres, see below:

Book a driving test by phone
The book a driving test section contains the DVSA telephone numbers for booking a practical driving test at Canterbury driving test centres by phone. This telephone number directs you to an automated test booking line, although if you browse the option you can talk to a assistant.

Book your driving test online
To book your driving test online for Canterbury Driving Test Centre, see the book a driving test section for all DVSA online test booking information.

Rescheduling or cancelling the driving test
3 working days notice is required to cancel the driving test at Canterbury if you require a full refund. The same conditions apply if you wish to reschedule. Cancellations and rescheduling can be done via the contact details above.
Canterbury

 DRIVING TEST CENTRE PASS RATES

Driving test pass rates vary considerably depending on which test centre your practical is taken at. Browse the driving test pass rates section for information on your UK DVSA test centre pass rates.
Canterbury

 TEST CENTRE TELEPHONE NUMBER

Though it is possible to call driving test centres directly, if you wish to book or alter a driving test, this must be done via the DVSA (see above). Canterbury Driving Test Centre telephone number may be either located on this page or via the driving test centre contact numbers section. Test centres can be contacted only for an up to date status of tests, such as whether they are still being conducted in bad weather for example. See driving tests in bad weather for further information.
PRACTICAL DRIVING TEST CENTRE REVIEWS
In order to help others that are taking their driving test, or to simply tell us whether you passed or failed your driving test, write a review of Canterbury Driving Test Centre. Rate this driving test centre based on your experience using them, what was your examiner like and how difficult were the test routes? It's quick and simple – no signup necessary and only your nickname will be displayed. To ensure your review meets our guidelines, please read our Terms and Conditions prior to submission.
Average rating:
5 reviews
Mar 3, 2020
Very rude people
Jul 7, 2018
Agree with others. Awful test center...old lady sue is rude and you fail no matter what attempted twice. And she makes you feel sh*t for failing.
May 22, 2017
Wish I cud give 0 stars. Avoid this test centre grumpy woman 85 years old pensioner will fail u no matter what even tho you drive like a expert she will still fail u people please book ur test else where This 85 old grumpy pensioner is jealous of young girls/boys that she can't tolerate young people driving car, failing people for silly sh*t
Feb 2, 2017
Had my driving test today and thought I did perfectly, however i failed apparently and was given a comment from my examiner regards to my profession and the way I drove could have been related now I am sure he M failed me due to my job which I will be now going for a full refund and also a formal complaint as I know what he said did not happen.