Provided are contact details for Cheadle Driving Test Centre, test route tips, test booking information and help passing the driving test in Cheadle.
TEST CENTRE CONTACT DETAILS
Practical Driving Test Centre Address
Cheadle Fire Station
Turves Road, Cheadle Hulme
Manchester, Greater Manchester
Sk8 6AY
Test Centre Details:  Cheadle Driving Test Centre site location doesn't have available toilet facilities, and there's a strict no smoking policy anywhere on site. On arrival, follow signs for the access road and park at the rear of the Fire Station. For security reasons, please wait in the car for the examiner to arrive. Do not arrive more than 5 Minutes before your test.
Test Centre Provides Tests For: Car
THE DRIVING TEST IN Cheadle
The practical driving test from Cheadle Driving Test Centre will comprise mainly of town driving and little rural country roads. Within Cheadle, expect to cover various roundabouts types from small mini roundabouts to larger multi-lane roundabouts on busy A-roads.
Many of the larger roundabouts will lead off dual carriageways such as the A34 which is likely during the driving test. The driving examiner will take you through varying test routes to include large and small, closed residential junctions and crossroads.
Expect around 20 minutes of the 35 to 40 minute driving test duration for the independent driving part. One driving test manoeuvre is typically requested, although on occasions two are asked for. The emergency stop procedure although not compulsory on each test must be perfected as around one in every three practical tests conducted, the emergency stop is requested.
Practice as many road and traffic system types as possible, especially around the driving test centre itself as many tests are failed on leaving the centre. By browsing the Cheadle driving test routes section, you will gain a good understanding on the various road types and traffic systems that the examiner will take you on.
BOOKING A DRIVING TEST AT Cheadle DRIVING TEST CENTRE
It can be beneficial to consider the time you intend on booking a driving test. If the test centre is located within a busy area, booking the driving test outside of rush hour, usually between 10am to 3pm may prove beneficial to you as other drivers are often calmer outside of rush hour. Driving tests cannot be booked through the practical test centres directly. To book a driving test, there are two options; by phone or online.
Book a practical driving test by phone
To book a practical driving test at the Cheadle Hulme driving test centre by telephone, please visit the book a driving test section for all Driver and Vehicle Standards Agency (DVSA) telephone booking numbers. The DVSA telephone number is an automated test booking line. A DVSA assistant can offer help via the options given.
Book your practical driving test online
To book your driving test online for Cheadle Driving Test Centre, see the book a driving test section for all DVSA contact details and information on booking a practical test online.
Rescheduling or cancelling driving test
To gain a full refund for the driving test at Cheadle, cancellations must be made at least 3 working in advance of the test date. The same conditions apply for rescheduling if you wish to change the date. The above contact details can be used for these methods.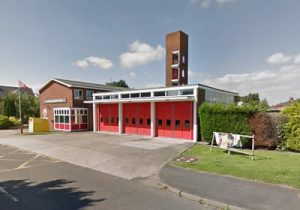 Cheadle DRIVING TEST CENTRE PASS RATES
Driving test pass rates vary considerably depending on which test centre your practical is taken at. Browse the driving test pass rates section for information on your UK DVSA test centre pass rates.
Cheadle TEST CENTRE TELEPHONE NUMBER
Though it is possible to call driving test centres directly, if you wish to book or alter a driving test, this must be done via the DVSA (see above). Cheadle Driving Test Centre telephone number may be either located on this page or via the driving test centre contact numbers section. Test centres can be contacted only for an up to date status of tests, such as whether they are still being conducted in bad weather for example. See driving tests in bad weather for further information.
PRACTICAL DRIVING TEST CENTRE REVIEWS
In order to help others that are taking their driving test, or to simply tell us whether you passed or failed your driving test, write a review of Cheadle Driving Test Centre. Rate this driving test centre based on your experience using them, what was your examiner like and how difficult were the test routes? It's quick and simple – no signup necessary and only your nickname will be displayed. To ensure your review meets our guidelines, please read our Terms and Conditions prior to submission.
Average rating:
0 reviews