Provided are contact details for Colwick Driving Test Centre, test route tips, test booking information and help passing the driving test in Colwick.
TEST CENTRE CONTACT DETAILS
Practical Driving Test Centre Address
Private Road No 5
Colwick Industrial Estate 
Nottingham
Nottinghamshire
NG4 2JU
Test Centre Details:  Ramp access to test centre for wheelchair users. Male, female and disabled toilets available. Parking spaces available.
Test Centre Provides Tests For: Car, Taxi, Motorcycle Module 1, Motorcycle Module 2
THE DRIVING TEST IN Colwick
The driving test from Colwick Driving Test Centre incorporates a great deal of urban driving on busy and fast paced roads. Driving tests can also take rural country roads into villages outside of Nottingham. These road types can be dangerous and challenging, especially for learner drivers due to their high speed and sharp bends. See the country road driving tutorial for further help.
These villages or quieter residential areas are used frequently for test manoeuvre purposes of which 1 will be requested during the test. Likely is the emergency stop as it is asked 1 in every 3 tests conducted.
Expect the driving examiner to test your ability, control and safety all roundabout types, junction and crossroad systems. These can vary in size from small unmarked to large multilane.The driving test from Colwick Driving Test Centre takes around 35 – 40 minutes of which 20 minutes will be requested for independent driving.
Booking the test from Colwick is ideal at the times of 10am to 4pm from Colwick as this will reduce traffic density due to rush hour. Checking the Saturday tests availability from Colwick may provide a benefit if traffic congestion is less on these days. A slightly higher test fee is charged for weekend bookings. By browsing the Colwick driving test routes section, you will gain a good understanding on the various road types and traffic systems that the examiner will take you on.
BOOKING A DRIVING TEST AT Colwick DRIVING TEST CENTRE
Driving tests cannot be booked through the test centres directly. To book a driving test, 2 options are available; by phone or online.
Book a practical driving test by telephone
To book a practical driving test at the Colwick driving test centre by telephone, see the book a driving test section for practical test booking telephone numbers. The telephone number provided is an automated booking service, although a DVSA (previously call the DSA) operator can be reached by listening to the options provided when calling.
Book your driving test online
To book your driving test online for Colwick Driving Test Centre, see the book a driving test section for all DVSA contact information and online test booking details.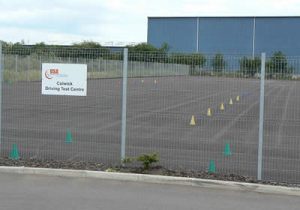 Cancel or reschedule 
Cancelling or rescheduling the driving test from Colwick is easily done via the contact methods above. 3 clear working days notice must be given to the DVSA if you wish to receive a full refund if cancelling. The same notice applies to reschedule the driving test.
Colwick DRIVING TEST CENTRE PASS RATES
Driving test pass rate statistics vary considerably depending on which test centre your practical is taken at. Browse the driving test pass rates section for information on your UK DVSA test centre pass rates.
Colwick TEST CENTRE TELEPHONE NUMBER
Though it is possible to call driving test centres directly, if you wish to book or alter a driving test, this must be done via the DVSA (see above). Colwick Driving Test Centre telephone number may be either located on this page or via the driving test centre contact numbers section. Test centres can be contacted only for an up to date status of tests, such as whether they are still being conducted in bad weather for example. See driving tests in bad weather for further information.
PRACTICAL DRIVING TEST CENTRE REVIEWS
We all like reviews these days. Reviews provide an invaluable insight into a product or service. Write a Colwick Driving Test Centre review to tell everyone what your experience was like at this test centre, whether you passed or failed your test, what the test routes were like and what your examiner was like. It's quick and simple – no signup necessary and only your nickname will be displayed. To ensure your review meets our guidelines, please read our Terms and Conditions prior to submission.
Average rating:
29 reviews
Apr 22, 2021
First day of tests after covid's second lockdown. The centre was very busy with 8 cars leaving simultaneously. An army of examiners came out the centre and I was eager to get the test done. Hazel was my examiner and she was lovely. Once we set off, she asked me about my job, and I asked her about hers; naturally we spoke about covid also. We had a nice drive, and she clarified confusing directions with the satnav. After what I thought was a "fine drive", I had passed but with 7 minor faults. She debriefed my instructor and I about these faults and complimented me "nice drive".
After reading previous comments, I must say that if the only way you can pass your test is if you have an examiner that makes you feel comfortable and relaxed, then you shouldn't pass. An examiner isn't there to rub your back while you drive for the rest of your driving-life. As others have said, If you are prepared and can drive well, then you'll pass no matter what. Simple as that.
Thank you Hazel, and thank you Colwick Driving Centre.
Aug 7, 2020
Would be no stars if was possible!!
Why would an instructor not allow air con in temperature of 32°!!!
Absolutely ridiculous! Especially as masks are currently mandatory!!
Disgusted!
Aug 17, 2019
Passed 3rd time with Ed, He was professional, and put me at ease - so thank you!
Jul 12, 2019
Passed first time at Colwick Test centre With Mark, He was a very nice and relaxed examiner and made me feel comfortable during my drive and had a nice chat the whole way, thanks again to my instructor and examiner for making my learning experience so good!
Jun 19, 2019
Passed my test third time at Colwick test centre and had Julie. She was lovely, made me feel at ease and luckily passed third time with two faults. She was very personable and generally lovely person to learner drivers.