Provided are contact details for Dorchester Driving Test Centre, test route tips, test booking information and help passing the driving test in Dorset.
TEST CENTRE CONTACT DETAILS
Practical Driving Test Centre Address
66 Peverell Avenue West
Poundbury 
Dorchester
Dorset
DT1 3SU 
Test Centre Details:  Male and female toilets are available. Parking spaces available at this centre
Test Centre Provides Tests For: Car, Taxi, Motorcycle module 2
THE DRIVING TEST IN Dorchester
A wide variety of roads is likely to be taken at Dorchester Driving Test Centre. Situated close to high speed 'A' roads such as the A37 and A35, dual carriageways are often a feature of the driving test. Rural roads being close at hand are also likely.
Rural roads represent one of the most demanding road types for all drivers. See the country road driving tutorial for advice. The testing examiner will also be assessing your ability at busy town roads and systems such as roundabouts, crossroads and various junction types.
During the test, one of the possible four manoeuvres will be required along with the possibility of the emergency stop procedure. Good tips for the driving test at Dorchester is to check if the test centre provides weekend Saturday driving tests. Traffic is often reduced over the weekends making the test easier.
It's also worth checking the driving test availability times between 10am and 3pm. Booking the driving test within this time periods will miss out on any rush hour. By browsing the Dorchester driving test routes section, you will gain a good understanding on the various road types and traffic systems that the examiner will take you on.
BOOKING A DRIVING TEST AT Dorchester DRIVING TEST CENTRE
Driving tests cannot be booked through the test centres directly. To book a driving test, there are 2 options; by phone or online.
Book a driving test by phone
To book a practical driving test at the Dorchester driving test centres by phone, visit the book a driving test section for details on test booking telephone numbers. The above DVSA (recently renamed from the DSA) telephone number is an automated service. The option to speak to a DVSA assistant is available if required.
Book your driving test online
To book your driving test online for Dorchester Driving Test Centre, see the book a driving test section for all DVSA contact information.
Driving test cancellation and rescheduling
If you decide to cancel or reschedule the driving test from Dorchester, the DVSA require 3 working days notice. Failure to provide notice will result in you being unable to reschedule and you will lose the test fee if you wish to cancel. The above contact methods can be used for cancelling or rescheduling.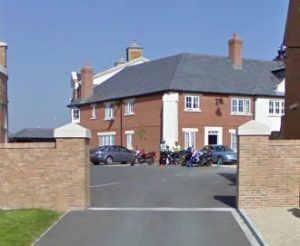 Dorchester DRIVING TEST CENTRE PASS RATES
Driving test pass rate statistics vary considerably depending on which test centre your practical is taken at. Browse the driving test pass rates section for information on your UK DVSA test centre pass rates.
Dorchester TEST CENTRE TELEPHONE NUMBER
You can call a practical driving test centre to inform them that you may be late. An examiner will typically wait for around 5 minutes for you to arrive before cancelling the test. Or the test centre manager can be contacted to see if a test is still going ahead, usually due to bad weather.  See driving tests in bad weather for further information. Test centres cannot be contacted directly to book or amend tests however, and this must be done via the DVSA (as above). Dorchester Driving Test Centre may be listed in the driving test centre contact numbers section.
PRACTICAL DRIVING TEST CENTRE REVIEWS
We all like reviews these days. Reviews provide an invaluable insight into a product or service. Write a Dorchester Driving Test Centre review to tell everyone what your experience was like at this test centre, whether you passed or failed your test, what the test routes were like and what your examiner was like. It's quick and simple – no signup necessary and only your nickname will be displayed. To ensure your review meets our guidelines, please read our Terms and Conditions prior to submission.
Average rating:
2 reviews
May 1, 2019
After driving long way from Devon and taking 5 attempts in London. I took the test today at Dorchester and the examiner failed me this morning. She failed me with 1 serious fault and 6 minor faults. I suffered from severe financial consequences from an unsympathetic DVLA examiner. Spending over 3,000 pounds with 150 driving hours, two theory test attempts and 6 driving attempts but I do not have a full licence to drive. As a result, I face up with many life hardships. My life depends now on the bus and trains services in the village where has one bus and train for every two hours. Do UK DVLA examiners understand many hardships of driving learners face when they failed learning drivers so many times? Before becoming a driving examiner, they also took a test with a hope to pass the test and met the unsympathetic examiner. I feel hopeless to live in this country.
Jun 13, 2017
Took my 2nd test hear. My tester was realy lovely and made me less nervous. I thought I had failed when I stalled but she told me to relax and take my time and then at the end told me I had passed.